Timed Ticketing & Capacity Management: 5 Top Solutions
| Written by
Elissa K. Miller
|

Back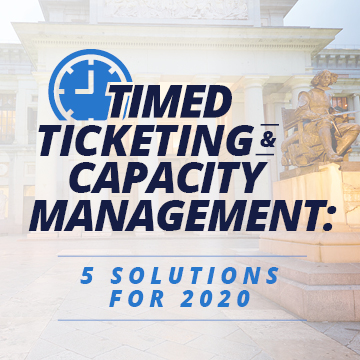 Museums, zoos, aquariums, and other admission-based organizations face challenging circumstances for resuming operations during the COVID-19 pandemic. Prior to reopening, these organizations must create adequate policies for the health and safety of both guests and staff members. One of the solutions that many are choosing to implement is timed ticketing.
Organizations that have high volumes of daily visitors may already employ a timed-entry solution for special exhibits and events, such as IMAX shows and tours. Because of COVID-19 restrictions, organizations that already use timed admissions for some purposes are likely to extend the practice to all admissions. And, organizations that have never used timed ticketing are seeking fast, affordable and functional ways to deploy timed admissions.
What is timed ticketing?
Timed ticketing allows admissions-based organizations to control the number of visitors at a given time by prearranging when guests arrive, limiting the amount of time visitors may spend on-site, and creating entry and exit schedules. This helps reduce entry lines; staggers movement through exhibits and galleries; and allows for regularly-timed, full-scale cleaning.
However, timed ticketing does not guarantee that guests will arrive on time or move through spaces at the same speed. Instead, you'll likely need to implement additional capacity restrictions and procedures to maintain safe capacity limits throughout the space and direct traffic flow.
Reopening as stay-at-home orders are lifted will be easier to manage with the right timed-ticketing solution. When evaluating a capacity-controlled timed-ticketing solution, be sure to prioritize these features:

Mobile Sales and Contact-Free Check-In
A comprehensive timed-ticketing platform will allow customers to purchase tickets online using computers, tablets and mobile phones. Be sure to select ticketing software that supports mobile-responsive design to ensure that all pages are displayed and operate properly on any kind and size device.
In addition to mobile ticket purchasing, your timed-ticketing solution should offer a mobile app that allows staff to use smartphones and tablets to sell tickets to those waiting in line if your organization chooses to support walk-up ticket sales.
If you choose to deploy staff with tablets or smartphones, you will need to take extra safety precautions. For example, a solution that supports near-field communications (NFC) payment methods like Apple Pay and Google Pay ensures that visitors only have to touch their phones. Explore our guide to safely reopening museums for additional suggestions.
There are a number of ways to reduce contact for ticketed visitors who are checking in and, if your organization is selling admission tickets on-site, to more safely manage the purchase. These options include:
Issuing a single group ticket for families to speed entry and cut down on lines and wait times.
Delivering the tickets and digital receipts via email or SMS text message to visitors who purchase tickets on-site.
Setting up mobile check-in stations as needed to reduce entry lines.
Reminding visitors to not touch admissions turnstiles.
A timed entry software solution that enables mobile sales and contactless check-in will increase the speed and safety of your admissions process.

Easy Day-of-Visit Rescheduling and Refunds
If a visitor feels unwell on the day of their planned visit, it should be easy for them to request and receive a refund or reschedule their visit. And, if arriving guests exhibit any symptoms of illness, they should be treated respectfully and allowed to do any of the following:
Have a refund issued directly to them on the spot.
Reschedule the visit by exchanging tickets for a later date.
Convert the purchase amount into a donation.
Convert the purchase amount to an electronic gift card that can be used to buy tickets in the future.
Even before the COVID-19 pandemic, Doubleknot did not charge additional fees for issuing our own electronic gift cards. Specifically, there are:
No additional costs to add the gift card feature.
No additional payment processing fees to convert payments to gift cards.
No additional fees when your customers pay for tickets or other items using electronic gift cards.
Easy rescheduling and refund options enable your supporters to retain the value of their payments while supporting your organization's operations.

Group Reservations Management
Capacity limitations will impact your ability to allow large group visits such as school field trips and birthday parties. If you plan to offer group reservations during this time, you'll need to tightly control headcount with group reservation management tools.
Comprehensive group sales and reservations software allows you to easily manage tours, group visits, field trips, and birthday parties with fine-grained control over capacity, scheduling, payments, and check-in. While group sales features are very similar to timed ticketing in terms of availability and capacity management, additional features for managing availability schedules and group reservations can benefit your organization not only during the pandemic but also beyond.
With the right solution, groups should be able to book, manage, and pay for their visits online, although your organization may allow school groups to pay offline to accommodate school and district policies.
When groups arrive, your team should be able to update headcount immediately and collect any balance due on the spot or issue a billing notification for later payment.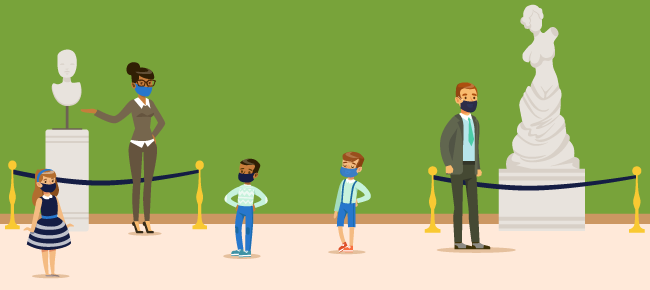 Access to Everything You Sell in Addition to Tickets
In addition to admissions tickets, most museums, public gardens, science centers, aquariums, and similar organizations sell a range of other items, such as memberships, merchandise, and add-on tours. To reduce the number of different systems and ensure that every purchase of any kind is recorded in a single database, your ticketing solution and point-of-sale software should be part of a larger integrated system designed to allow customers to purchase anything your organization offers.
With such capabilities, you'll be able to create context-sensitive upsell opportunities. This feature can promote participation by presenting a range of related options that each visitor might be interested in.
For instance, if an admissions purchase includes a child's ticket, the guest may be receptive to the idea of signing up for a family event. Another upsell opportunity may include when visitors make a reservation during lunch hours. If you're opting to sell food at your cafe during this time, it might make sense to offer a meal deal package.
Additionally, your timed ticketing software should make it easy to offer discounts and promotions so you can effectively increase sales. For example, if groups of 5 or more receive a 10% discount, your timed ticketing software should adjust the price accordingly without being prompted to do so at the time of purchase.
Your staff should be able to easily validate vouchers from third-party sites like Groupon, issue tickets, and track overall usage to determine if your discount program is useful.
This should automatically occur no matter where the visitor purchases their tickets, whether it's on their computer, from their mobile device, at in-person admissions, or from staff using the mobile sales app.
Complete Turnkey Setup
Finally, it's critical to get up and running quickly with your timed ticketing solution so that you can open your doors as soon as it is safe and legal to do so. Fast and effective implementation is crucial to the success of your reopening.
When reviewing timed ticketing solutions, be sure to ask vendors about service and support options before, during, and after the purchase.
With Doubleknot's timed ticketing solution, our professional services team will configure your availability, capacity and pricing to your exact specifications and deliver customized training to your team.
To meet the industry's needs during the pandemic, Doubleknot has successfully launched timed admissions solutions for onboarding organizations in five business days or less.
---
After staying at home for weeks, visitors will be more eager than ever to experience what your organization has to offer. Timed ticketing enables museums, zoos, aquariums, and similar organizations to safely reopen while adhering to health guidelines, so your staff and your visitors will have peace of mind.
To help ensure your organization's success during this time, explore these additional resources: