Museum Software: FAQ + 12 Top Management Solutions
| Written by
Doubleknot Support
|

Back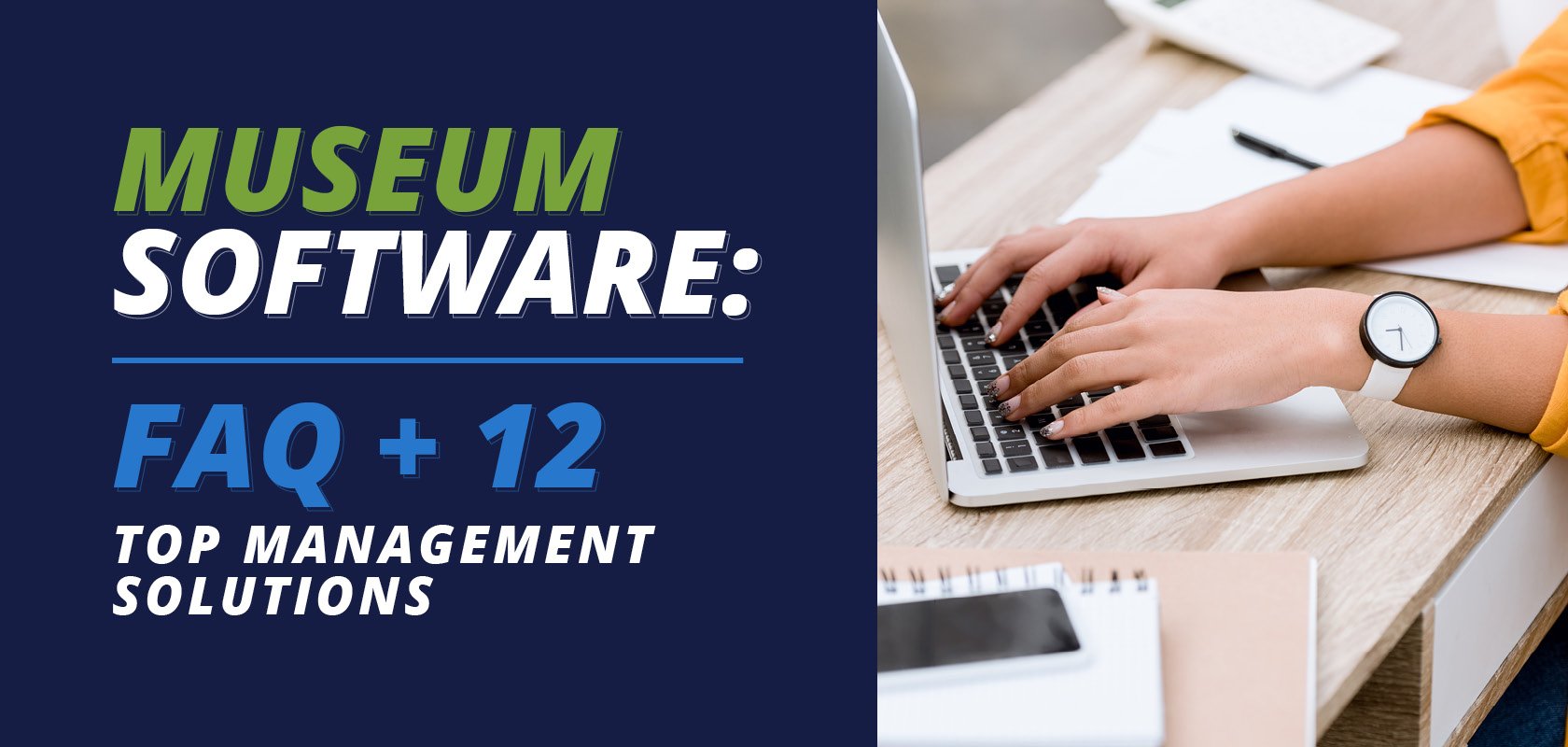 The term "museum management software" is often used in the context of museum archive and collections management solutions. These platforms are critical for researching, organizing, and digitizing exhibitions to make your museum's educational experience the best it can be.
But museum management software can also refer to platforms that streamline your museum's operations. These solutions may include tools for ticketing, membership management, fundraising, event registrations, educational program planning, communications, online sales, and more.
In this guide, you'll learn all you need to know about choosing the right software for your museum, including:
Your museum has unique strengths, goals, and challenges. So, your management software needs to be tailored to your organization to be effective. With a deeper understanding of museum management software, you'll be able to determine what you need and find the best solution.

Museum Software FAQ
Let's get started by answering a few common questions about museum software.
What is museum management software?
Museum management software is technology that helps you organize and streamline every aspect of your museum's interactions with visitors, members, and donors.
As stated previously, the term is also used to describe collections management tools. However, the second type of museum management platform typically provides features for planning, registrations, payment processing, and other operational needs. While some of these features are sold as separate solutions, other platforms are referred to as integrated museum management software because the solution supports many kinds of transaction and administrative activity in a unified platform.
What are some benefits of museum management software?
In many cases, the most immediate benefit of using museum management software is the time your organization saves by streamlining its operations. However, there are several long-lasting benefits you may experience, such as: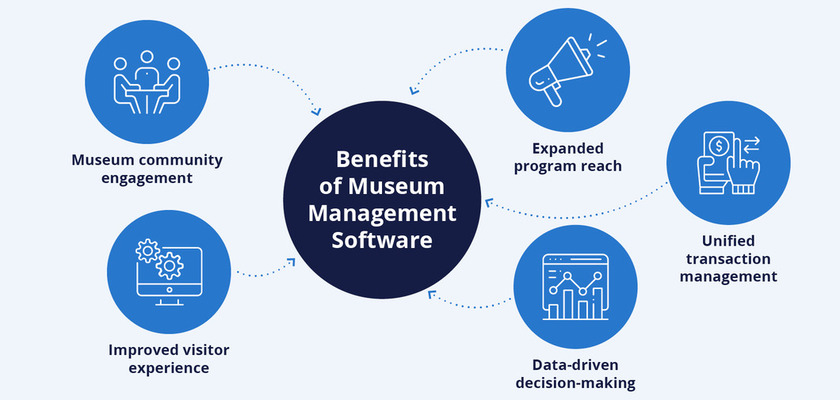 Increasing your programs' reach through better communications and simpler registration processes.
Easier management of all types of sales when online and offline transactions can be run through the same secure system.
Improved decision-making by leveraging analytics and reporting capabilities.
Creating a more positive museum experience for visitors by allowing for shorter wait times and easy application of member benefits.

Building a larger

museum community

through more targeted supporter engagement.
The right software can empower your museum to increase revenue, simplify administration, and deliver an excellent experience for visitors, members, and donors.
What features should you look for in museum software?
The best museum software solutions include the following features: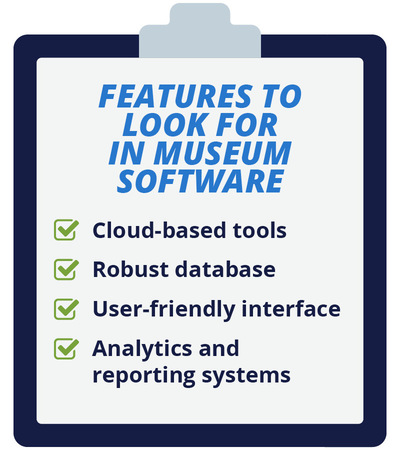 Cloud-based tools

so your IT staff doesn't have to worry about database installation and software updates on each individual computer.
A robust database

that stores information about various visitor, member, and donor transactions in a secure location.
A user-friendly interface

that includes online support for point-of-sale (POS) and mobile sales, ticket printing, and validation.
Complete analytics and reporting systems

since data from all your museum's activities will be housed in one integrated system.
Additionally, you should be able to customize your software to your museum's unique needs. This includes everything from creating dashboards to view and analyze your data in the ways that are most helpful for you to implementing your own structure of membership benefits that are applied across various transactions.
12 Best Museum Software Solutions
Now that you know how leveraging museum management software benefits your organization and what features are most important, let's explore 12 of the top museum software solutions.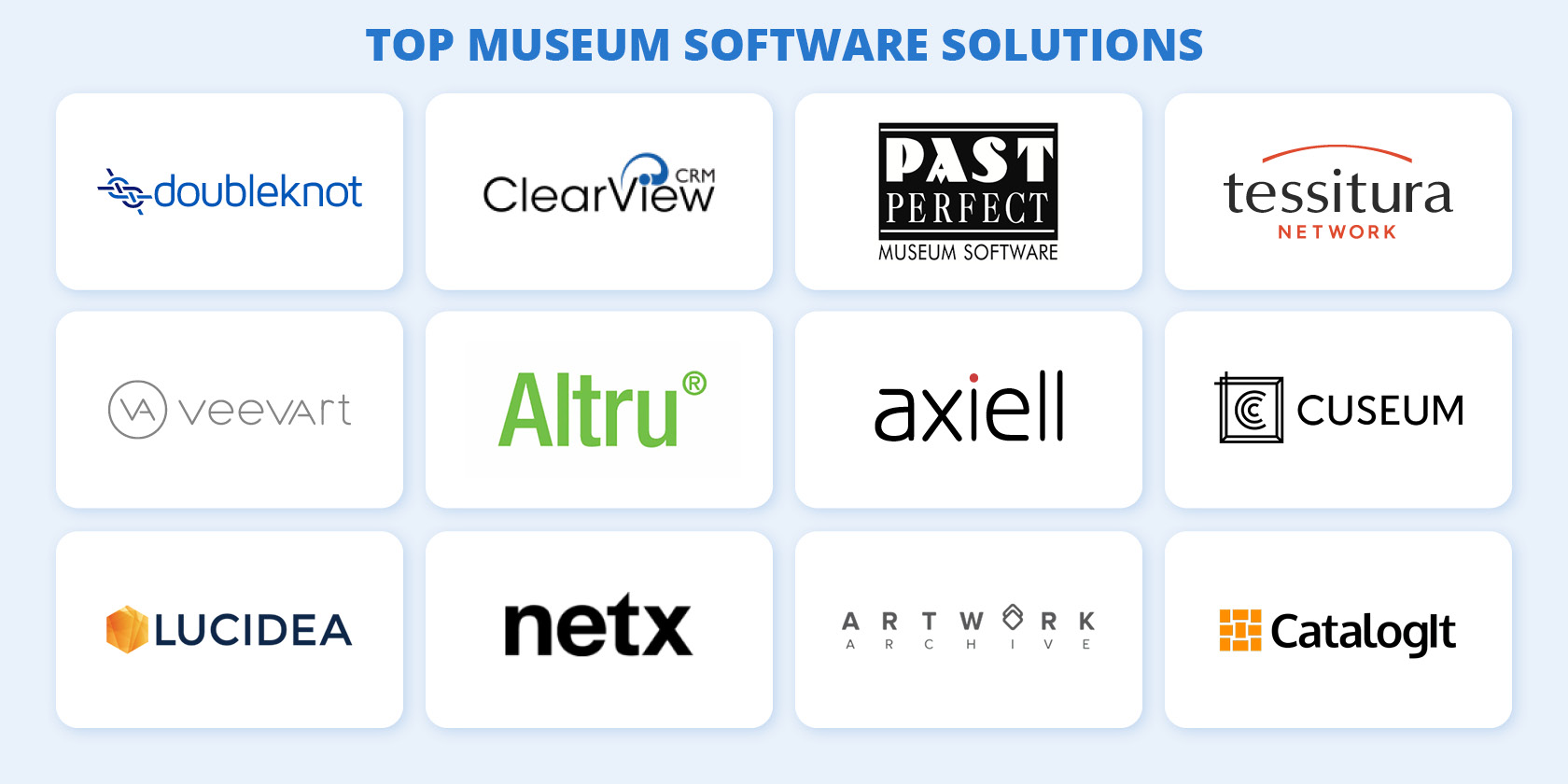 1. Doubleknot: Best Overall Museum Software
Doubleknot is an integrated management and fundraising platform that is tailored to the needs of museums, nature centers, zoos, aquariums, and other cultural organizations. Used by more than 300 organizations in the United States and Canada, this all-in-one solution helps boost revenue, streamline operations, and foster relationships with visitors and members so you can get back to focusing on what matters most: your mission.
Doubleknot's platform supports a variety of essential museum management functions, including:
Ticketing and admissions. The timed-entry ticketing system allows for scalable capacity management, plus you can reduce your organization's paper waste with mobile tickets and receipts.
Membership and donor management. Recruit, recognize, and retain members and donors at every touchpoint through customizable membership portals and multichannel fundraising capabilities.
Education and group sales. Schedule classes, workshops, field trips and more with a user-friendly availability calendar and waitlist management system configured to your museum's offerings.
Event registration. Custom signup forms allow you to collect all of the data you need from participants in any type of event—including securely processed, flexible payments.
POS software. Visitors can purchase all of your museum's offerings from anywhere and take advantage of discounts and promotions through Sales Station, Doubleknot's mobile sales app.
Enhanced communications. Doubleknot's Communications Suite provides drag-and-drop email templates and marketing automation tools to more effectively reach visitors and program participants.
All of these features are part of an integrated system that allows for seamless data transfer and analysis. Doubleknot also integrates with a variety of external constituent relationship management (CRM) applications, so your registration and transaction data can be automatically stored in your supporter profiles.

2. ClearView CRM: Best Constituent Relationship Management Software for Museums
Many types of nonprofits leverage ClearView CRM for their constituent relationship management, including museums. This is because, in addition to the donor management features that are essential to a CRM, ClearView CRM provides tailored support for member management, transaction data processing, and registration tracking within supporter profiles.
Your team can access ClearView CRM's profiles, registration data, and reports from anywhere through a convenient mobile app. Plus, ClearView CRM supports a bidirectional integration with Doubleknot to help your organization eliminate data silos, improve communications, and drive greater engagement and revenue across every channel.
3. PastPerfect: Best Museum Software for Small Orgs
While museums of all sizes can leverage PastPerfect, its combined platform for collection and contact management is especially useful for small to mid-sized organizations. PastPerfect offers both a high-powered desktop version of their solution and a cloud-based web edition for convenient mobile use.
4. Tessitura: Best Museum Software for Enterprise-Level Orgs
On the other end of the museum software continuum, the Tessitura Network offers a management solution that particularly benefits enterprise-level arts and culture organizations.
This platform combines a unified CRM, admissions, fundraising, marketing, e-commerce, and membership management features. Plus, the Tessitura team offers considerable training in platform setup, troubleshooting, and data security for organizations that leverage its software.
5. Veevart: Best Museum Software for Salesforce Integration
If your museum uses Salesforce as its CRM solution, Veevart's management software will be easy to integrate as it's built on top of the Salesforce platform. In addition to the typical ticketing, fundraising, and group scheduling features, Veevart's platform also includes a cloud-based collection management system and accounting tools. This software also supports a wide range of additional integrations with platforms like Square, Stripe, DonorSearch, and MailChimp.
6. Altru by Blackbaud: Best Fundraising-Focused Museum Software
As part of the Blackbaud family of fundraising solutions, the Altru platform is museum management software built with fundraising in mind. Through its unified ticketing and membership management interface, users can get a comprehensive view of each of their visitors, helping to turn them into members and donors.
7. Axiell: Best Museum Software for Global Markets
What sets Axiell apart as a museum management solution is its focus on the global market. Not only do they sell their product in a wide range of countries, but their collection management solution is also tailored to help your organization meet international museum standards. Additionally, Axiell's robust data management system is configured in such a way that it's easy for your organization to publish information online, helping inform global museum research.
8. Cuseum: Best Museum Software for Mobile Engagement
Cuseum is a mobile app-based platform entirely focused on improving the visitor experience at museums. It digitizes everything from tickets to membership cards to guest pass referrals, allowing visitors to quickly access all of their documents from their smartphones. Plus, Cuseum brings unique dimensions to supporter outreach through a built-in SMS marketing tool and accessible multimedia content to supplement your in-person educational offerings.
9. Argus by Lucidea: Best Museum Software for Curation
The web-based Argus platform by Lucidea is built to enhance the museum curation process, from managing collections to expanding online outreach. Argus not only works to streamline workflows between teams through its integrated data management system but also provides an enriched user experience with minimal training required.
10. NetX: Best Museum Software for Digital Asset Management
NetX provides digital asset management for a variety of organizations, including museums. The platform integrates with several collection management systems (such as PastPerfect) to centralize digital collections and make them easily searchable. NetX is also known for its user-friendly interface and comprehensive customer support that includes dedicated onboarding time, recurring check-ins, and direct involvement in the product improvement process.
11. Artwork Archive: Best Art Inventory Museum Software
Artwork Archive is dedicated to helping art museums and collectors organize their artwork inventory while also providing broader management benefits. In addition to intuitive cataloging and reporting tools, the platform includes features for sales, project planning, and scheduling. Plus, Artwork Archive's built-in CRM integrates seamlessly with a discovery tool that helps connect collectors and galleries with individual artists interested in showing their work.
12. CatalogIt: Best Museum Software for Cloud-Based Cataloging
CatalogIt allows both individuals and institutions to track and organize any type of collection through a user-friendly smartphone app. You can quickly take a photo of one of your museum's items, create a detailed entry, and share its story as you coordinate exhibitions and engage visitors online.
Wrapping Up: Additional Resources on Museum Management Software
While every museum software solution has unique features, their primary purpose is to improve the experience visitors have when they come to your museum or interact with your online content.
When choosing a new museum management system, consider not only its track record and primary benefits, but also its ability to integrate a variety of tools and features into a streamlined solution. Also, make sure you can customize the software to meet your organization's individual needs and goals.
To learn more about how museum management software can help your organization, check out these resources: