Zoo Management Software: Choosing a Solution + 8 Top Picks
| Written by
Doubleknot Support
|

Back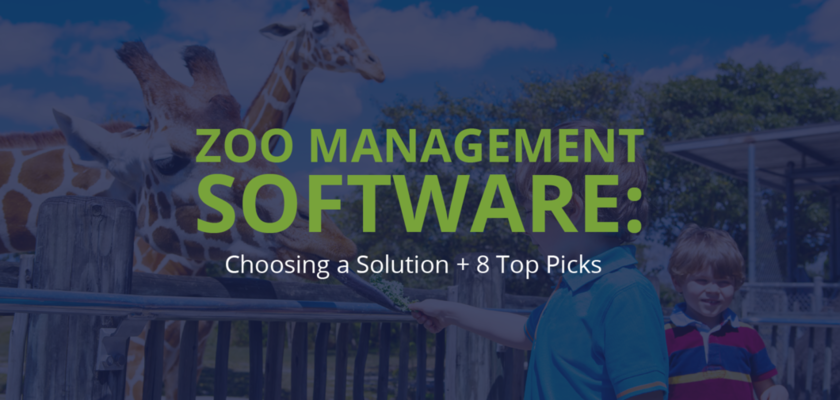 Zoo management systems are an integral part of zoos around the country and world. They serve as tools to connect the different departments within an organization, streamlining its operations. Plus, they help make the visitor experience the best it can possibly be at every stage, from ticketing to event registration to follow-up communications.
Every zoo is unique, so it's important to choose a management solution that aligns with your organization's needs and goals. In this guide, you'll learn everything you need to know to get started with zoo management software. We'll cover the following topics:
With a deeper understanding of the available zoo software options, you'll be able to determine what your organization needs and find the best solution. Let's dive in!

Zoo Management Software FAQ
To help you begin your search for the right zoo management solution, let's answer a few frequently asked questions about these systems.
What is zoo management software?
Zoo management software refers to technology systems designed to help zoos, wildlife conservation organizations, and other similar nonprofits efficiently manage their operations. This type of software can involve a variety of functions, from tracking memberships to scheduling educational programs to selling merchandise.
There is often some overlap between the solutions zoos use and those leveraged by museums, aquariums, nature centers, and other similar organizations. These platforms are typically more broad, integrated systems that cover a variety of functions. The zoo management solutions that are very specific to wildlife organizations typically focus on keeping records of the animals in your organization's care, although they're often referred to by the same term.
What are the benefits of leveraging zoo software?
Implementing the right management software at your zoo benefits both your organization and its community of visitors. Some of the main advantages include: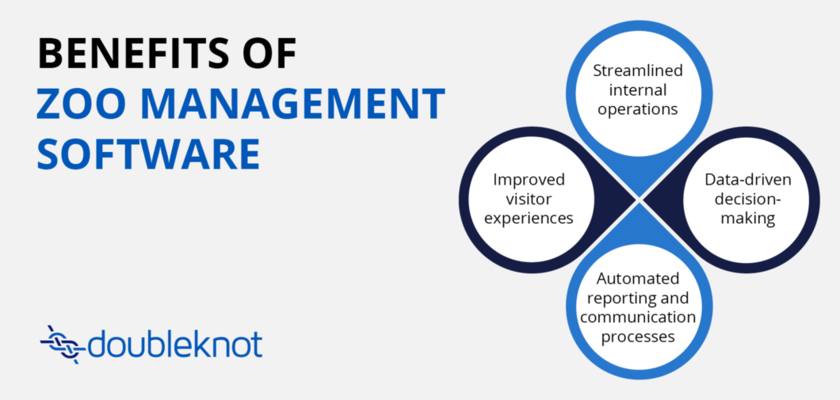 Streamlining your internal operations

by combining a variety of functions across different departments into one unified system.
Making data-driven decisions

about supporter outreach, fundraising, strategic planning, and more.
Automating processes

such as recording transactions and sending donation follow-up emails to ensure nothing falls through the cracks.
Improving the visitor experience

by simplifying ticketing,

application of membership benefits, and event and program sign-ups.
While the time-saving benefits of zoo management software are often quickly noticeable, the other advantages tend to increase with time. These solutions are investments for your organization, so keep that in mind as you choose and implement a platform.
What features should you look for in a zoo management system?
The most important thing to remember about your zoo management software is that it should work for your organization. That being said, here are some features to consider putting on your list of essentials to look for: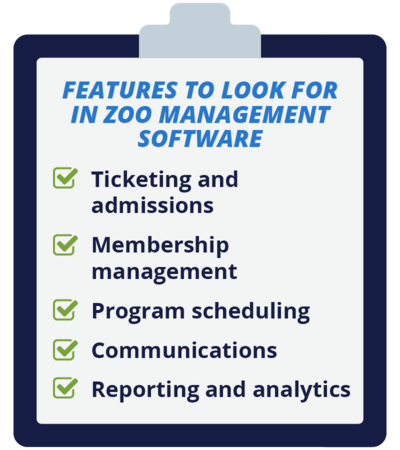 Ticketing and admissions tools

that allow you to set multiple price levels, include add-ons for special exhibitions, and create a

timed entry system.
Membership management systems that are capable of tracking tiered membership structures and issuing digital membership cards.
Scheduling capabilities for events, educational programs, and field trips to avoid conflicts and free up staff members' time.

Communication platforms

that automate various types of emails, track individual supporter journeys, and provide

segmented supporter lists.
Reporting and analytics functionalities that allow you to track, view, evaluate, and apply various data related to your operations.
It's also important for these tools to integrate with each other and with your constituent relationship management (CRM) software. That way, you can seamlessly transfer information from one system to another so it's easy to access when you need it.
8 Best Zoo Management Software Solutions
Now that you understand the benefits of zoo management software and how to choose the right solution for your organization, here are eight of the top platforms to explore.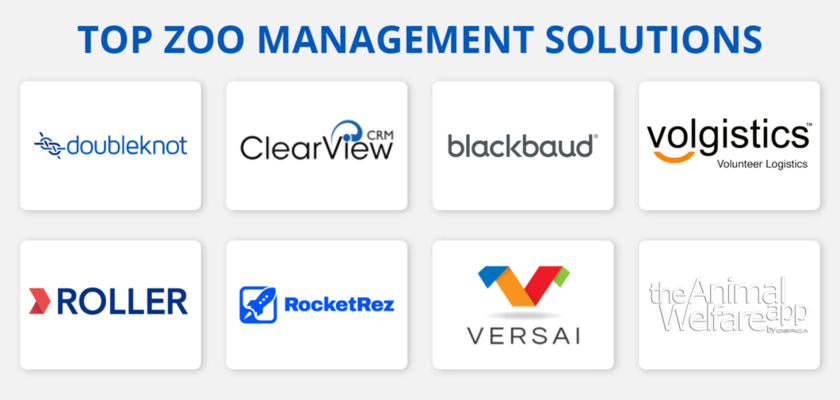 1. Doubleknot: Best Overall Zoo Management Software
Doubleknot is an all-in-one management and fundraising solution that is tailor-made for admissions-based nonprofits, including zoos, aquariums, museums, nature centers, and other cultural organizations. More than 300 organizations across the United States and Canada trust Doubleknot to simplify their admissions, scheduling, memberships, sales, data collection, and more.
Doubleknot's platform empowers zoos like yours to:
Increase revenue opportunities using a robust ticketing and point-of-sale (POS) system that supports a variety of pricing structures and upsell options.
Improve the visitor experience with convenient mobile check-ins, digital membership cards and receipts, and customizable registration forms for events and programs.
Build stronger member and donor relationships through personalized, automated communications and simplified supporter data analysis.
Your organization can access all of these functionalities through a unified system that allows for seamless data transfer. Additionally, Doubleknot integrates with a variety of external CRM solutions, so all of the information you collect in Doubleknot can be automatically transferred to your supporter profiles.
2. ClearView CRM: Top CRM Solution for Zoos
A wide range of nonprofits, including zoos, rely on ClearView CRM for donor management. Their platform supports member management, transaction processing, and registration tracking in addition to more typical supporter data management features, making ClearView CRM an ideal choice for admissions-based organizations like yours. Plus, you can access all of these tools through a convenient mobile app.
To provide a comprehensive management solution for your zoo, ClearView CRM supports a direct, bidirectional integration with Doubleknot. By leveraging these two solutions together, you can eliminate data silos, improve communications, and drive greater engagement at your organization.
3. Altru by Blackbaud: Best Fundraising-Focused Zoo Management Software
Altru is the ticketing and membership software within the Blackbaud family of fundraising solutions. Therefore, fundraising is at the heart of this platform's functionality. The cloud-based Altru system stores a wide range of data on ticket and merchandise sales, memberships, and donations. Organizations can then view this information in a user-friendly interface and use it to fine-tune their strategies to maximize revenue generation.
4. Volgistics: Top Zoo Software for Volunteer Management
If your zoo relies on volunteers to help run events or lead group tours, Volgistics provides a solution to manage these volunteers. The platform includes volunteer recruitment and screening features, a database with built-in scheduling and reporting features, and internal communication capabilities. All of these tools are highly customizable, so you can create a volunteer management system that aligns with your organization's needs.
5. ROLLER: Best Zoo Management Software for Visitor Services
ROLLER describes its offering as an "all-in-one attraction business software" that focuses on providing a positive guest experience at zoos and other admissions-based organizations (both for-profit and nonprofit). Many of their key features are visitor-facing, from self-serve kiosks that allow guests to quickly check in and sign waivers to advanced feedback tools and digital gift cards. ROLLER also offers ticketing, membership, and POS solutions on the organization side.
6. RocketRez: Top Zoo Management Software for Tour Reservations
RocketRez is a visitor experience solution that is especially useful for zoos that offer group tours. Their cloud-based ticketing system is highly customizable, offering flexible rates and rules and making it easy to book visitors in timed-entry groups. RocketRez also supports a wide range of other sales through their POS tools, from retail to dining to special exhibition upsells.
7. Versai by Explorer Systems: Best Zoo Software for Inventory Management
Versai combines CRM and POS tools into a single solution that caters specifically to zoos and admissions-based nonprofits. In addition to being able to track a variety of revenue streams, this platform's major differentiating feature is a robust inventory management system that allows you to seamlessly sync your eCommerce transactions and the purchases made in your on-site gift shops. Plus, the integrated CRM means all of this data is quickly and easily transferred to your supporter profiles.
8. Oerca: Top Zoo Management Software for Animal Welfare Tracking
Oerca provides a different type of zoo management software in the form of a comprehensive animal welfare solution. This platform allows your team to track the health, behavior, environment, population, and habitats of all of the animals in your organization's care. All of these metrics are stored in a user-friendly mobile app so you can analyze data from anywhere and take proactive steps to improve each animal's welfare at your zoo.
Wrapping Up: Additional Resources on Zoo Software
The primary purpose of any zoo management software you may choose to leverage should be to provide a positive experience for everyone involved with your organization—visitors, staff members, and, by extension, the animals in your care.
When choosing a new solution for your zoo, make sure its features and level of customization are sufficient to meet your needs. Take the software's track record and potential integrations into account as well as the potential short- and long-term benefits to your organization.
For more information on zoo management software, check out these resources: