The New and Improved Doubleknot: 3 Key Features for 2023
| Written by
Doubleknot Support
|

Back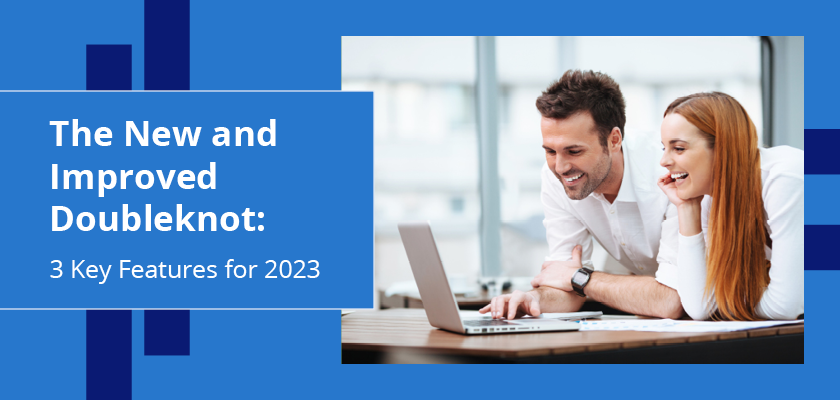 It's no secret that the management of admissions-based organizations like museums, nature centers, zoos, and aquariums has many moving parts. Your organization runs on support from ticket sales, memberships, and digital fundraising, which allow you to build community by providing meaningful visitor experiences. However, staying organized and streamlining these activities is essential for your organization to thrive.
The solution to this challenge? A comprehensive management and fundraising platform. This is where Doubleknot's all-in-one software comes in—complete with three new and improved features rolling out for 2023!
In this guide, we'll walk through each of Doubleknot's key updates and explore their benefits for admissions-based organizations. Here's what we'll cover:
At Doubleknot, we understand the unique challenges that come with managing and raising funds for admissions-based nonprofits. Adding these three software features will further empower organizations like yours to create compelling programs and events, convert revenue from anywhere, and connect participation with your mission. Let's dive in!
1. New Communications Suite
Reaching out to supporters efficiently and effectively is critical for your organization to provide the best possible programming. Doubleknot's new Communications Suite streamlines these operations to increase revenue from both online and in-person sales. Improving your communication and driving action in this way helps you to focus on what matters most: furthering your mission.
The two major improvements over Doubleknot's previous communications functionality are the enhanced email center and marketing automations, which we'll explore in more detail:
Enhanced Email Center
The enhanced email functionality within the updated Communications Suite provides modern, easy-to-use tools that allow admissions-based organizations to engage with audiences in a way that inspires action. Some of these new tools include:
Customizable templates with user-friendly drag-and-drop functionality
Newsletter builders for recurring communications, special promotions, and event reminders
Improved

audience targeting

abilities to aid in recipient list customization
Enhanced deliverability that helps your messages reach their intended recipients
Comprehensive reporting and data management

to track key metrics and gain insights into organizational engagement
Email is a critical marketing tool for any organization, and Doubleknot's new email center allows your organization to maximize your efforts and further your mission.
Marketing Automations
The new Communications Center's marketing automations help organizations customize campaigns and send streamlined, personalized communications to each supporter. Key aspects include:
Individualized supporter journeys that create a custom user experience based on activity and actions.
Scheduled campaigns which help you stay organized.
Data analytics to provide insights into where you can improve your communications strategy to drive additional support.
These automations in the new Communications Center make it even simpler for your admissions-based organization to facilitate meaningful experiences, forge authentic connections, and create lasting memories by using Doubleknot's platform—in addition to boosting your fundraising efforts.
2. Online Store
Diversifying your revenue streams allows your admissions-based organization to bring in more sustainable funding all year long. Doubleknot's new Online Store provides not only an additional revenue stream, but also an intuitive shopping experience for both you and your supporters.
You can start selling souvenir items, merchandise branded to your organization, or any other products using four enhanced elements of the Online Store:
A modern user interface. Similarly to other popular e-commerce websites, your customers will be able to view product listings, read additional details, and add items to their shopping carts with just a few clicks.
A high-quality customer experience. The Online Store's search bar and filtered views help shoppers find products of interest based on their category or specific features.
An up-to-date product management system. On the organizational side, you can easily add new products, discount prices, bundle items with

event registrations

, and adjust your inventory to develop a first-in-first-out system for both online and in-person sales.
Enhanced product organization. The process to categorize products based on their attributes and track product families is very user-friendly and streamlined.
Besides these essential features, Doubleknot's Online Store will send you alerts when items are low in stock and allow you to set up automatic renewals that work for your organization. This way, you can manage your inventory and maximize the revenue you bring in through product sales.
3. Zapier Integrations
To streamline data entry for your admissions-based organization, Doubleknot has partnered with Zapier to roll out two new software integrations. Doubleknot's management and fundraising software will integrate with QuickBooks Online and a variety of constituent relationship management (CRM) applications to improve your team's productivity and help with effective financial management.
QuickBooks Online
The Zapier platform serves as a conduit to connect your organization's QuickBooks Online account to Doubleknot. The connection will take about 10 minutes depending on your individual, customizable needs. You can decide exactly which purchase data from Doubleknot you want to transfer automatically and choose the entry format that works best for your organization.
Once the integration is complete, financial data from Doubleknot will transfer in real time! This means that each time a supporter purchases an admissions pass, a membership, an event ticket, or an item from the Online Store, their transaction will immediately show up in QuickBooks. You can then spend more time reconciling your accounts and making financial decisions instead of entering data.
CRM Applications
If your organization's CRM has an integration with Zapier, it will also integrate with Doubleknot! Similarly to the QuickBooks Online integration, you can set up this connection in a matter of minutes, customize data types and entry formats, and allow Doubleknot to populate your CRM in real time.
The main benefit of this integration is that any supporter data collected through the Doubleknot platform will immediately be added to your existing CRM profiles or put into a new constituent profile. You'll have a record of each supporter's purchases, donations, event attendance, and more, all in one place with no additional work required on your organization's end.
Wrapping Up: Additional Fundraising Software Resources
Doubleknot's management and fundraising platform is becoming even more streamlined in 2023 with the addition of the new Communications Center, Online Store, and Zapier integration capabilities. You can learn about the full benefits of an all-in-one software solution, including these new features and more, by speaking with a solutions specialist.
For more information on management and fundraising software for admissions-based organizations, check out these resources: