Running Your Children's Museum: How Software Can Help
| Written by
Doubleknot Support
|

Back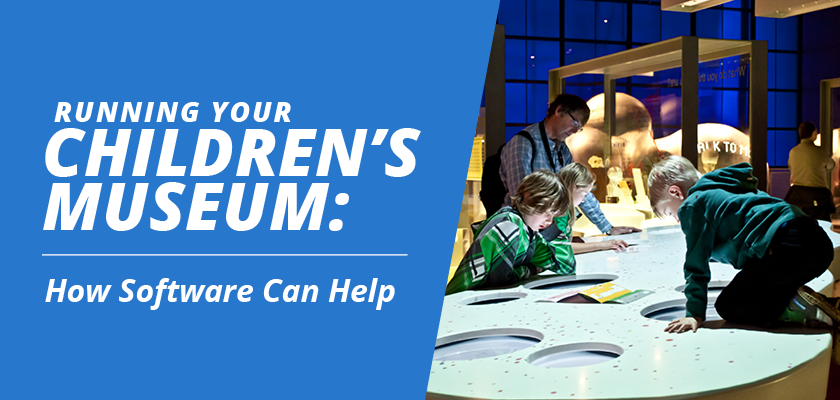 Picture this: It's a sunny autumn morning, you've just opened your museum's doors, and it's only a matter of time before the first classes of young visitors arrive to tour your exhibits. However, as the hours pass and you move from one week to the next, creeping further into the year, only a fraction of the guests you anticipated trickle in.
Whether this has happened to you or you're taking steps to prevent this from becoming a reality, all museum leaders can benefit from understanding how to increase attendance, improve administrative practices, and promote better museum experiences. In particular, the right museum management software can go a long way to streamline the many difficult logistical challenges that come with maintaining a successful children's museum.
In this short guide, the museum experts here at Doubleknot will walk you through the following topics:
Let's dive in with a brief overview of how your children's museum impacts your community before looking at how management software can help ensure that your museum is running as smoothly and effectively as possible.

The Importance of Your Children's Museum In Your Community
Your museum isn't simply the place where you and your team of staff work, nor is it just a playpen for children to spend a few hours and then go on with their days. Children's museums, and museums more broadly, play a critical role in the enrichment of your local community.
In particular, children's museums are an important source of engagement for:
Children.

Going to children's museums isn't simply an engaging source of play and entertainment for youngsters. It's also documented that higher rates of museum attendance

lead to improved cognitive development and achievement—particularly in the areas of science, reading, and writing.
Families.

With parents and siblings acting as the chaperones who help children navigate their museum experiences, your institution offers a unique learning and bonding experience for families to support the learning journeys of their loved ones.
Schools.

According to the

American Alliance of Museums, museums receive approximately 55 million visits each year from students in school groups. This makes your museum's programs an essential educational resource for local schools to leverage and nurture the educational development of young pupils.
Community Groups.

Schools aren't the only community orgs that rely on your museum—children-focused nonprofits, churches, and other groups often collaborate with children's museums for co-sponsored activities, such as volunteer programs. In fact, the American Alliance of Museums also says that museum volunteers contribute roughly a million hours of community service every week.
This is what makes it so important to ensure that your museum is being managed effectively. Beyond just minimizing logistical headaches for your team, the right management strategies and software allow you to better connect with members of your community and give them the engagement and rich educational experiences they deserve.

5 Challenges Children's Museums Face
Now that you've got a thorough understanding of how effectively managing your museum not only affects your staff but also your larger community, let's turn our attention to some common, ongoing challenges faced by children's museums.
These are a few of the biggest logistical pitfalls that children's museums often face:
Disorganized arrival and check-in processes.

With classes, families, and a slew of other visitor groups to contend with, it can quickly become overwhelming for your team to manage effectively manage the registration,

museum ticketing, and check-in processes. Unfortunately, this kind of confusion and disorganization can quickly frustrate visitors and start their experience off on the wrong foot.
Messy donor database.

More often than not, museums are nonprofits built in service of the public. This makes it critical for your children's museum, like any functioning nonprofit, to have its database in order. Poor data hygiene can throw a wrench in a variety of different operations, from keeping track of attendance rates to creating donor outreach.
Issues planning and managing effective events.

Fundraising events, exclusive group tours, and special exhibition experiences are just a few activities that children's museums regularly carry out. However, not having the right tools to organize these events can have a significant impact on attendance rates, incoming revenue, and overall management for these opportunities.
Challenges with pulling in consistent revenue.

While being able to engage and educate children is its own kind of reward, in order to keep the lights on and maintain your exhibits you need a steady source of revenue. All too often, poor payment systems and interfaces for merchandise sales, memberships, and admission can sabotage these important revenue streams.
Difficulties securing donations.

As mentioned, many museums are also nonprofit organizations, making donations a critical source of funding. However, securing these gifts can be tricky without the right tools, as the task of launching fundraising initiatives, appealing to donors, and performing

donor management

is no easy task.
In addition to these longtime challenges faced by museums, the museum world is also being rocked by new and emerging trends. In particular, our modern engagement landscape has led to a rise in more innovative, interactive exhibits, such as the use of virtual reality and online program experiences. For example, just take a look at how the Iowa Children's Museum has incorporated virtual experiences into its programming, including the use of social media challenges and interactive livestream events.
This only makes it more important for museum leaders to invest in dedicated museum management solutions—making it simple for groups to book these exciting experiences, allowing staff to exercise capacity control, and giving you the breathing room to grow your programs.

How Doubleknot's Museum Software Can Help
If you've experienced all or even some of the issues discussed in the previous section, then it might very well be time for an upgrade to your museum's tech stack. More specifically, an effective museum software solution can cut through the swathe of logistical problems that fall into your lap and streamline administrative processes for your museum.
This is where Doubleknot's museum software comes into play. We empower museums to broaden their reach, maximize revenue, and optimize visitor experience with our comprehensive technology solution.
For example, let's revisit the major challenges faced by many museums—and how Doubleknot's intuitive management features can overcomes these hurdles:
Disorganized arrival and check-in processes

Our solution:

Our software solutions comes purpose-built with

timed-entry ticketing, capacity control features, digital tickets, and group reservation and booking capabilities. These not only give you greater control of arrival procedures, but they promote a stress-free check-in experience for visitors.
Messy donor database

Our solution:

Say goodbye to days spent tediously entering data and struggling to maintain the hygiene of your database. Our software supports full integration with

ClearView CRM, facilitating the seamless sharing and organization of data throughout your tech stack.
Issues planning and managing effective events

Our solution: Planning events

and effectively managing them has never been easier. We offer a comprehensive toolkit of event management tools, including: custom registration forms, early registration and member discounts, coupon codes and other promotions, capacity and waitlist management, mobile sales and check-in apps, and event reporting.
Challenges with pulling in consistent revenue

Our solution:

You will now be able to leverage an arsenal of payment features to guarantee that your museum is pulling in the revenue you need, such as: sales stations (including payment terminals, device stands, cash drawers, receipt printers, and scanners), flexible payment options, and upselling options for merchandise sales and membership packages.
Difficulties securing donations

Our solution:

Doubleknot's software makes fundraising simple, enabling you to create, manage, and track your fundraising strategies, as well as take advantage of

membership management

and renewal capabilities and dedicated donor retention tools.
From flexible ticketing tools and data reporting features to event management capabilities, Doubleknot's museum software truly does it all. Our goal is not simply to help our clients solve common problems, but to optimize their approach to management with a user-friendly, integrated software solution that unifies the tools they need to promote positive experiences for donors, members, and visitors alike.
If you're interested in learning more about Doubleknot's approach to museum management technology, check out the features page for our powerful children's museum software.
Wrapping Up
If you were to stop a person at random and ask them to describe what comes to mind when they think of children's museums, you would probably hear a description of a colorful, interactive world of education and play.
However, as a museum professional, you understand that this dazzling description is only the surface of what your organization is and how it functions. In particular, there are countless administrative processes going on behind the scenes to ensure that you can maintain your educational wonderland and facilitate rich visitor experiences.
That being said, you shouldn't shoulder this burden alone. Investing in the right museum software solutions can optimize your operations, giving you the tools you need to thrive and continue serving your community.