Museum Ticketing Software | How to Choose the Right System
| Written by
Elissa K. Miller
|

Back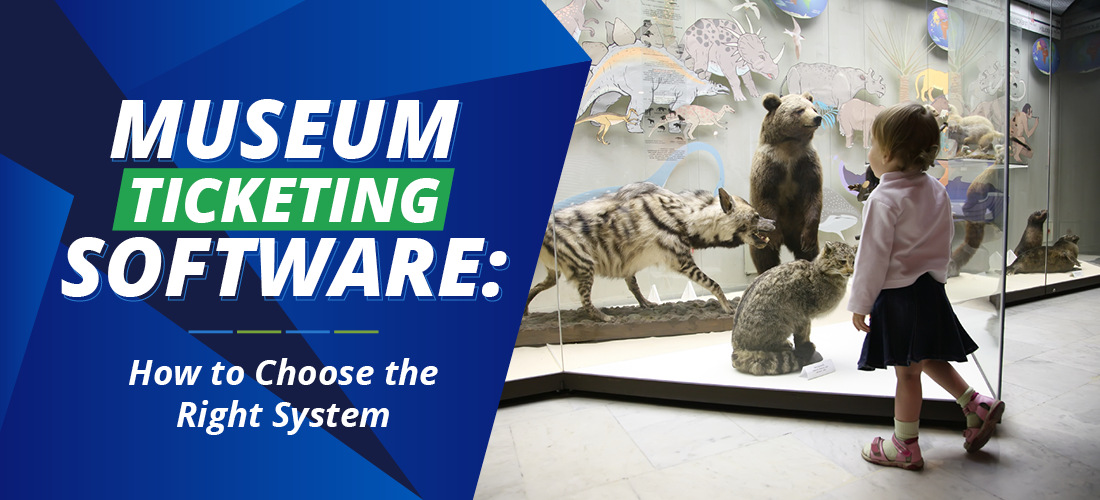 To foster productivity and meet ever-increasing customer expectations, it's critical that museums stay up-to-date on technology that visitors, members, and donors interact with. One of the most important pieces of the puzzle? Museum ticketing software.
Forward-thinking museums use top ticketing software to optimize every interaction—from buying admission tickets and entering the museum quickly to checking in hands-free for tours and activities. Every online, on-site, and mobile-based visitor interaction shapes the public's perception of your museum. Deploying the right software can do more than boost efficiency—it can enhance the visitor experience.
At Doubleknot, we've seen firsthand how top-tier ticketing tools streamline crucial processes and elevate operations for guests and team members alike. For your convenience, we've put together this comprehensive buyer's guide to help you decide which museum ticketing software system is right for you. In this guide, we'll cover the following:
Ready to dive in and learn more about the powerful ticketing software you have to choose from—and how to select the right fit for your needs? Let's get started.

Advantages of an Efficient Museum Ticketing System
Equipping your museum with a powerful ticketing system comes with benefits for both staff and guests. Thanks to ever-changing technology, more processes are being improved and unnecessary tasks eliminated than ever before.
The key advantages that your team will see when you invest in the best ticketing system include the following:
Streamlined admissions and sales: No guests want to stand in long lines to enter your facility, and your staff isn't excited about managing lengthy wait times or grouchy customers, either. With an online ticketing system, guests can arrive on-site with their ticket in hand or go through a smoothly run, shortened queue powered by a comprehensive POS system.
Controlled capacity: Set members-only hours, incorporate timed ticketing options, limit the number of tickets sold, and manage facility schedules with ease.
Audience insights: Easily collect valuable data about your guests with a simple online sales process. Discover contact information, familial relationships, engagement history, and more by collecting and tracking this key information.
Different ticketing software packages have different pros and cons, so it's important to look for a solution that meets your museum's unique requirements. But with the right museum ticketing tool in your toolkit, you'll be sure to have a happy staff and an engaged audience in no time.

Features to Look for in Museum Ticketing Software
Make sure the museum ticketing software you choose offers all the features your team needs for success. Here are a few specific offerings to be on the lookout for:
Unified Ticketing and CRM Systems
To maximize revenue and increase visitor satisfaction, museums often rely on constituent relationship management or CRM software. These systems are designed to store complete and accurate data about visitors, members, and donors, including:
Ticket sales and donations
Attendance and memberships
Registrations and reservations
Merchandise sales
Communication preferences
Relationships with other constituents
Ideally, your museum ticketing and admissions software will be part of an ecosystem with a fully integrated CRM that automatically stores every transaction and interaction to the constituents' records. This way, you don't have to spend time and resources migrating information from one system to another. Plus, an integrated system reduces the number of errors that frequently accompany manual data transfers.
With an integrated CRM that offers reporting and data analytics tools, museums can build a 360-degree profile of every constituent, providing the data necessary to lay the foundation to identify new opportunities, build new programs to increase engagement, and convert visitors into members and donors.

Support for Online Ticket Sales
If your museum ticketing software doesn't support online sales, you may be driving away potential visitors without even knowing it. During popular exhibits and busy times of the year, people may decide not to visit if they have to stand in long lines just to purchase tickets—or worse, find that no more tickets are available.
Luckily, you can avoid this with online ticket sale functionality that delivers additional benefits such as:
Capacity management. Online, POS and mobile ticket sales should use the same database and capacity management features to always have an accurate picture of how many tickets still remain in inventory at any given time.
Data capture. When a guest purchases tickets online, you can automatically collect their name and email along with any other information required by your online payment solution. By contrast, tickets that are purchased with cash at admissions can't automatically collect useful demographic and contact information.
Timed-entry tickets. With online ticketing software supported by fine-grained capacity management, visitors can easily check availability online and book their tickets for the date and time of their choice.
An ideal museum ticketing solution will allow customers to purchase tickets using their mobile phones as well. Your online ticketing software should use mobile-responsive design to ensure that all ticketing-related web pages display and operate as efficiently on mobile devices as well as they do on a computer.
Then, when guests have their digital tickets ready on their mobile devices, they can simply scan their QR code and gain access to your facility.
Integrated Mobile Sales and Ticketing App
In addition to allowing visitors to purchase tickets on mobile devices, your museum ticketing software should provide a mobile sales app that allows your staff to use smartphones and tablets to sell tickets directly to visitors in line.
It's much faster to deploy staff members to sell tickets with mobile phones and secure credit card readers than it is to open up a new cash register. With the right software, the mobile ticket sales app should have the same access to ticket types and inventory information as the POS registers at admissions and the online ticket sales site for visitors.
If your mobile sales app is a fully integrated part of your overall ticketing and admission solution, you can position staff in strategic locations throughout the museum to sell add-on tickets for tours or attractions.
Then, be sure your solution delivers digital receipts by text message or email and generates mobile-friendly tickets that are easy to scan and validate. Instead of increasing printing costs and paper waste, visitors will have digital tickets, receipts, and membership cards at their fingertips. Guests can even store their ticket information in Apple Wallet or Android Passbook for easy mobile access.

Complete Integration with Membership Management
Converting visitors to members is an important goal. When a visitor purchases tickets online or at admissions, they should be asked if they'd like to upgrade to a membership instead. If your ticket sales and membership management software are integrated, customers can even see the amount of money that they would save if they purchase a membership.
If your museum is using an integrated mobile sales app, you can boost member revenue and minimize wait times by deploying staff with mobile devices to sell memberships that are valid for immediate entrance.
This also makes it as easy to provide exclusive members-only benefits. If guest passes are available for members, your museum admission and ticketing software should be able to validate the passes without requiring guests to use a different entrance or wait in line.
If members receive a discounted price for special exhibits or tours, the discount should be automatically applied at the time of the purchase. Online, members should be able to login and automatically receive their benefits. On-site, staff can scan their membership card or look them up by name to apply benefits and discounts. .
When you make it as easy as possible for members to take advantage of their benefits, you increase the likelihood of your team selling memberships. This in turn increases your revenue and provides an improved customer experience for your guests.
Total Flexibility in Pricing
At a minimum, your museum ticketing software should allow you to easily set standard prices for different types of visitors. This might include adults, senior citizens, children, veterans, students, sponsored employees, and any other group of visitors for whom you might want to offer different pricing.
One way to drive attendance is by offering discount prices through online services like Groupon and LivingSocial. Your admissions software should make it easy for staff to validate vouchers, issue tickets, and track overall usage.
Depending on your attendance patterns, you might want to consider setting up time-of-day pricing as well. For example, if attendance is sparse at the beginning of the day, you might consider creating an "early bird" special for visitors at a lower price. You might even consider dynamic ticket pricing, where the cost of a ticket rises with demand for popular days and times, then falls during less popular times.
Effective dynamic pricing strategies can help smooth attendance peaks and increase attendance when the museum would otherwise be underutilized. As a result, entrance lines are faster, exhibits are less crowded, and cost-conscious visitors' needs are accommodated for.

Make sure your ticketing software also supports reciprocal admission. Trade organizations like the Association of Science-Technology Centers (ASTC), Association of Children's Museums (ACM), Association of Zoos & Aquariums (AZA) often offer free or discounted tickets to members and staff of participating museums. Creating special tickets or discount codes will ensure that reciprocal visitors receive the correct prices and allow your team to track how many individuals take advantage of these deals.

Access to Everything You Sell in Addition to Admission Tickets
Ticket sales are often a huge source of revenue for museums and other admission-based organizations. However, in addition to admission tickets, most museums sell a range of items including memberships, merchandise, event and class registrations, and add-on tours and attractions. Your museum's online sales, POS, and mobile sales app should empower your team to provide excellent customer service by allowing visitors to purchase anything and everything your museum offers with ease.
With a comprehensive sales solution, you can create context-sensitive upsell opportunities that present visitors with a range of related options that they may be interested in.
For example, if an admissions purchase includes children's tickets, the customer may also be interested in signing up for a family program or a kids-only event. Alternatively, visitors who initially purchase general admission tickets might be interested in purchasing add-on guided tours, experiences, or merchandise.
To increase sales and participation, your museum ticketing software should make it easy to offer all kinds of discounts and promotions. For example, if a guided tour costs less if the visitor also purchases a general admission ticket, your software should immediately recognize that the customer receives a discount and adjust the price accordingly.
An Integrated Add-On Donation Option
Every interaction with your organization should nurture the visitor along the donor journey. So, your ticketing software should make it easy to present compelling asks and make it easy to add a donation with every ticket purchase.
One of the most successful methods of asking for donations is displaying a donation request immediately before the purchaser pays for their tickets. It's often easier to convince visitors to add a few dollars to a purchase they already planned to make than to open their wallets just for a donation. Your museum's ticket solution should allow you to present a compelling donation request, add the gift amount to the total purchase, provide a frictionless giving process, and track donations separately from ticket payments.
In addition to requesting donations when visitors purchase tickets, your mobile sales solution should also support collecting donations anywhere on or off your site. For example, staff can ask visitors exiting a themed exhibit to make a donation to support similar museum programs. An ideal mobile sales app will support both these standalone donations as well as ticket sales.
Support for Environmentally-Friendly Initiatives
Eco-friendly solutions that reduce paper waste aren't just good for the environment—they're also good for your museum's bottom line. Eliminating needless printing and postage reduces paper waste and cuts costs while immediately delivering tickets, membership cards, and receipts for better customer service.
Choose a museum ticketing and payment system that accepts electronic signatures and allows you to send tickets and receipts directly to the customer by email or text message. For at-home purchases, consider selecting a system that supports printable and mobile tickets.
Another ideal solution is to add the tickets or membership cards to standard mobile apps like Apple Wallet and Google Pay. This way, visitors can enjoy the benefits of mobile ticketing and memberships without requiring an additional single-purpose app.

Steps for Selecting Museum Ticketing Software
Now that you know what to look for in a ticketing system, let's walk through the concrete process involved in making your buying decision. By following the steps outlined below, you're sure to end up with the right solution for your team.
Step 1) Set your museum's budget.
The first thing you want to look at when considering your ticketing software options is your budget. After all, a smaller community museum will likely be more financially limited than a large-scale national attraction. Regardless of the features offered and the benefits you could use, some choices might simply be out of your price range.
And that's okay! Many software providers design their offerings with smaller organizations in mind, so you'll just need to find the one that aligns with both your needs and your bank account. Setting your software budget beforehand can help you limit your search to vendors.
However, you'll also want to be on the lookout for a solution that can support your growth. It's often more expensive to switch solutions down the line once you find that you've outgrown your limited-function ticketing software, so consider looking for a tool that can scale up alongside your operations.
Step 2) Consider what features your museum needs.
As you explore your software options and consider the aforementioned innovative ticketing features offered by many powerful museum software solutions, it's important to remember that not every software provider will incorporate every feature mentioned.
To find the right choice for your team, make a list of the features that are most important to meet your needs (your non-negotiables) and rank the rest according to priority. Then, look for a solution that supports what you need as well as the majority of what you want.
Step 3) Research the best museum ticketing systems.
Once you have a feel for the type of features and functions you're looking for in museum ticketing software, be sure to do thorough research on any providers you consider. Luckily, there's an abundance of online information including customer testimonials to give you a sense of how the ticket software works and whether their current customers are happy.
Take a look at lists of high-ranking museum software reviews to compare and contrast your top choices. This way, you can get a broad overview of multiple providers at once and determine which solutions will best suit your needs.
Step 4) Request proposals and watch demos.
Now that you've narrowed down your search to a few of your favorite museum ticketing systems, it's time to watch demos and request proposals. Some companies will likely offer on-demand, pre-recorded video demos that allow you to see the software in action, while others will opt for live demos where you can interact with their team and ask questions.
As far as proposals go, create a detailed Request for Proposal (or RFP) to send to potential vendors. To do so, make sure you involve key stakeholders, establish evaluation guidelines, state your budget, and seek specific information regarding whether the provider in question will be a good fit.
Step 5) Make your final decision and determine a timeline.
Select the provider you see as the best fit, then begin working with their team to establish a realistic timeline for software implementation. For example, your team will likely require training to get up and running on the new system, so it's important to factor that into your expectations.
Then, once you have the ticketing software up and running and your staff is sufficiently trained, start welcoming guests into your museum via your new system.

What is the Best Museum Ticketing System?
With so many museum ticketing solutions to choose from, you're likely wondering how you can determine which is the best. However, when it comes to museum ticketing software, Doubleknot's timed ticketing and admission software is among the best.
That's because Doubleknot offers:
Online sale functionality: Sell tickets, memberships, reservations, and more with our easy online interface. For additional revenue, you can encourage guests to seamlessly add on a donation.
Timed ticketing abilities: Do you need to limit the number of guests in your facility at any given time? Capacity-controlled timed-entry ticketing can provide a simple, easy solution.
Data management resources: Every guest or group that registers online using your ticketing software delivers valuable data that can be used to identify trends and improve operations. Then, integrate your ticketing solution with your CRM for even greater management abilities!
Contactless check-in options: Contactless ticketing and check-in streamlines admissions, helps reduce the spread of germs, and supports social distancing.
Running a museum requires you to juggle many moving pieces. To ensure nothing slips through the cracks, it's important to equip your team with the right tools—in this case, a comprehensive museum ticketing software solution like Doubleknot.
Running a museum requires you to juggle many moving pieces. To ensure nothing slips through the cracks, it's important to equip your team with the right tools—in this case, a comprehensive museum ticketing software solution like Doubleknot.

Conclusion and Additional Museum Ticketing Resources
Museum ticketing software plays a significant role in ensuring positive guest experiences and supporting efficient behind-the-scenes operations, and selecting the right provider is critical for ongoing success. As you do your research and ultimately make your choice, be sure to consider the features, benefits, and buying best practices noted here.
To continue your research to the right museum ticketing system and upgrade your museum practices altogether, be sure to explore these additional resources: