Awareness, Access, and Accountability: How Ticketing Software Can Support Museum Outreach
| Written by
Elissa K. Miller
|

Back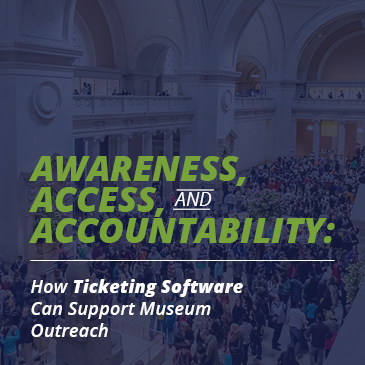 Many museums seeking to increase attendance by underserved communities begin with free and pay-what-you-want admission policies and programs. While these programs are easy to implement and easy to explain to funders and donors, multiple studies show that free- and reduced-cost admission programs alone do not successfully attract lower-income visitors.
For example, research by IMPACTS indicates that free admission days actually attract more higher-earning attendees than lower-income visitors. And, their 2017 National Awareness, Attitudes, and Usage Study shows no significant difference between the demographics of visitors who pay admission and those who don't.
If reduced-price and free museum tickets alone aren't enough to attract a more diverse audience, what is? All types of museums are making efforts to answer that question. Although every museum's strategy must be tailored for the audiences they're trying to reach, two pragmatic issues to consider are the target audience's awareness of the programs and their ability to travel to the museum:
Increasing Awareness and Access
The larger and more diverse your service area, the more difficult it is to ensure that your outreach is inclusive and meaningful. It's especially difficult to communicate with populations who aren't already engaged with your museum. Colleen Dilenschneider sums up the issue perfectly:
Underserved audiences are by their very definition not currently engaging with our organizations. They are not onsite to complete audience research surveys. They are not on our email lists. They are not following us on Facebook. They don't like our Instagram posts or retweet our messages. So when we boast of our affordable access programs using these channels, we are mostly speaking with our current constituencies.
So how can museums reach people who they've never reached before?
Through coordinated multichannel, multilingual outreach that includes partner agencies, faith communities, school districts, libraries, community centers, and other public spaces from coffee shops to parks and malls—in other words, everywhere your audience may be.
For examples of successful ways to increase awareness, you don't need to look further than Museums for All, an initiative between the Association of Children's Museums (ACM) and the Institute of Museum and Library Services (IMLS). Museums4All provides free or reduced-price admission to visitors who present a Supplemental Nutrition Assistance Program (SNAP) Electronic Benefits Transfer (EBT) card and a photo ID.
With more than 40 million SNAP participants across the country, Museums4All could potentially bring several million low-income visitors to museums around the country. This is, of course, assuming that SNAP participants are aware of and able to take advantage of the program.
Museums4All requires that museums publish program information on their websites and collateral, which—for the reasons provided by Dilenschneider—may not be sufficient to reach the intended audience. For more successful outreach, many participating museums are developing multichannel strategies to ensure that potential visitors are aware of and can participate in the program.
For example, the Children's Museum of Pittsburgh's strategy makes information available at county agencies who serve SNAP participants as well as public spaces including libraries, churches and family support centers throughout their service area. Habitot Children's Museum in Berkeley, another Museums4All participant, further extends their outreach by providing free passes through their partners including more than 30 local agencies, foundations, and coalitions as well as the UCSF Benioff Children's Hospital Oakland. As a result, Habitot can reach underserved populations regardless of their participation in SNAP.
In addition to increasing awareness, successful inclusion programs must also consider whether it's easy to access the museum. (For this article, we're strictly talking about how visitors can arrive at your museum, not about ADA access and inclusivity.)
Transportation access questions to consider include:
Is it easy to reach the museum from anywhere in your service area?
Are you located near public transit?
Do your outreach materials list the nearest transit lines?
If you're located on a transit line that doesn't serve your target neighborhoods, is there an easy connection from a line that does?
If driving is the primary method of transportation in your area, is plentiful free parking available?
If free parking isn't available, can the museum provide vouchers or validation to eliminate or offset the cost?
If factors beyond your control make it difficult for your outreach audience to reach your museum, you might consider opening satellite branches, pop-up exhibits, and other kinds off-site activities that bring the museum directly to the communities you want to serve.
By delivering culturally relevant neighborhood activities and exhibits, this strategy conveys the powerful and important message that museums truly are for everyone.

Measurements and Accountability
Management guru Peter Drucker is widely credited as saying, "If you can't measure it, you can't improve it." When it comes to determining whether your museum is meeting its goals for outreach and inclusion, you need meaningful ways to measure both the initial baseline and results.
Funders who offset the costs of outreach and admission programs for lower-income visitors frequently require accurate reporting on how funds were used and how many visitors were served. And, even if funders don't request this kind of data, this information is an important internal measurement of outreach effectiveness.
Your museum's ticketing and admissions solution should support all of your outreach programs by allowing your organization to issue and track the following items:
Free and reduced-price tickets for eligible visitors. If you're participating in a cost-reducing program like Museums4All where visitors must present proof of status, creating a unique ticket type on the admissions POS will make it easy to track attendance by the day, week, or any period of time you choose. If staff can enter a person's ZIP code on the POS when they issue the ticket, you'll have even more granular data about your outreach programs' effectiveness.
Physical passes, coupons and vouchers. Your museum might augment outreach by providing admission passes and vouchers in the communities you serve. With this method, passes are available to anyone in the community, regardless of whether they have an EBT card or a photo ID. If you assign a different identification marker to each group of vouchers and record when they're exchanged for tickets, you can discover how audiences in different locations are interacting with the program.
Discounts and promo codes. These offer the unique advantage of being redeemable both online and at admissions. However, because there's still a significant "digital divide," discount codes should be published and promoted in a number of ways to ensure that the benefit is available to the widest number of people.
These are just a few of the ways that museum ticketing software can support your outreach programs. Let us know how your museum manages and quantifies outreach efforts in the comments!
Avoid these obstacles and simplify your museum's operations with dedicated tech. Check out this video that highlights our comprehensive tools: