5 Ticketing & Registration Tips for Experiential Businesses
| Written by
Doubleknot Support
|

Back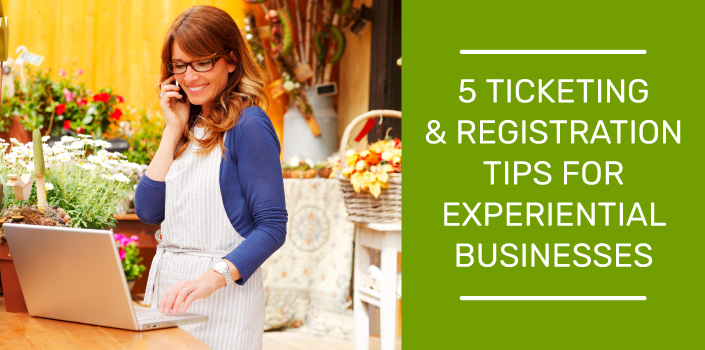 Take a second to think about the first moment that your patrons' "experience" with your business begins. The image that comes to mind is likely a herd of school children beginning a guided educational tour, friends strapping themselves into carabiners for an outdoor adventure, or a family excitedly setting off towards your aquatic exhibits.
However, what if we were to tell you that the moment the customer experience really begins is much earlier—when attendees are buying tickets and registering to participate in everything your business has to offer?
Between all of the fun and excitement of your business's activities, it's easy to forget about the initial check-in process and dismiss it as a formality. But in reality, check-in is a critical step in the customer journey that can encourage greater attendance, engagement, and revenue.
That's what makes it so important to invest in powerful ticketing and admission solutions and explore strategies that will make the most of the ticketing and registration process. To help you make the most of your admissions process, we've put together the following ticketing and registration best practices for museum curators, ziplining entrepreneurs, and aquarium managers alike:
From creating more effective activity waivers to promoting experience upgrades, these insights will give you an important leg-up to begin expanding revenue and customer engagement for your business. Let's dive in.
1. Set up a widely-accessible online check-in process.
While there's certainly something charming about passing out printed waivers and completing registration by hand as guests arrive, it's simply impractical for growing businesses to run their registration systems this way. Not only does this make it practically impossible to perform timed ticketing and capacity management, but it's also a tedious, messy, and outdated way of storing data.
Instead, consider opting for online registration and ticketing systems. This will allow for better data management and hygiene, efficient capacity management, and greater accessibility for guests to register how they want, when they want.
In particular, be sure that your online check-in process includes:
Group registration.
A variety of payment methods.
Optimization for mobile devices.
With these key features, your patrons should be able to quickly and comfortably complete the online check-in process, reducing form abandonment and increasing the number of patrons who successfully register for their experiences.
2. Provide comprehensive, convenient virtual waivers.
Apart from just securing tickets and reservations, another important part of registration is the completion of liability waivers.
While it might be hard for museum managers to imagine someone sustaining an injury during a leisurely exhibit tour, all experiential business leaders should understand, legally protect themselves against, and be sure to inform patrons of the inherent risks of your business's activities.
As with the rest of the ticketing and registration process, we recommend investing in an online solution. More specifically, Smartwaiver's guide to tour waivers and liability release forms recommends choosing an online waiver solution that has:
Waiver kiosk options, offline usability, check-in features, and QR code scanning to increase accessibility for patrons and streamline guest management for your staff.
An embeddable waiver widget, a website waiver button, and email links to more easily market and draw patrons' attention to your waiver.
Email and CRM integration and additional notes features to help you better save, manage, and use your waiver data.
Additionally, be sure that the actual content of your waiver is comprehensive, using simple and direct language to describe safety and liability standards. Furthermore, remember to ask about allergies, pre-existing conditions, mobility limitations, and other extenuating circumstances that could affect patrons' experiences.
3. Secure permission for the use of promotional photography.
Waivers are important for more than just covering all of your bases when it comes to safety and injury liability. As you build out your registration process, be sure to create thorough and effective online waivers that mention whether or not patrons give you permission to use their images for promotional purposes.
These photo release sections open up marketing opportunities for your business, giving you the chance to enrich your promotional materials with candid photos of real patrons and community members.
As we said, just be sure to secure permission for these photo and video materials beforehand. This is especially important for patrons under the age of 18, as some parents and guardians may not be comfortable with the use of their children's images without explicit permission.
4. Promote your membership program.
If you haven't already, consider creating a membership program for your business. These paid programs will encourage ongoing support and loyalty for your business, as you cultivate deeper relationships through personalized experiences and member-specific benefits.
On top of using email, social media, and your other marketing channels to promote your membership opportunities, your registration form is another great place to highlight the benefits of membership. For example, towards the bottom of your online registration form or in the post-registration emails you set up through your registration software, you should take the time to tease the various advantages of upgrading to a membership.
In particular, consider the following perks from this MemberClicks article on ideas to increase membership to promote in your registration form or post-registration messaging:
Discounts and free tickets.
Merchandise giveaways.
Learning opportunities and resources.
Member-specific events, tours, and experiences.
As patrons are weighing the pros and cons of joining your membership, offering both long-term and immediate benefits in the form of these upgrades can encourage them to give your program a chance.
5. Offer additional donation options.
For mission-driven organizations such as museums and cultural or community centers, donations are an important component of your operations. Whether your own organization would put these funds to good use or you're practicing corporate social responsibility, on behalf of an affiliated charity, running an efficient system for donations will help you to build up your brand's positive image and solidify support for an important cause.
So, as patrons are wrapping up their purchases and reserving their slots, be sure to include a section at the end of your online check-in process for patrons to be asked whether or not they'd like to submit a gift. You should give donors a variety of options and programs to submit their gifts, such as:
Round-up donations, allowing patrons to simply round their purchase total up to the nearest dollar.

Matching gift programs

, enabling donors to maximize the size of their gift (to eligible charities) through their employer's matching gift programs.
Recurring gifts

, allowing givers to automatically donate on an ongoing basis.
By giving donors these quick and convenient methods to top off their purchases with gifts for a worthy cause, you can maximize the amount of support (financial or otherwise) for your business.
---
The registration, ticketing, and waiver process may not be as thrilling or as memorable as the different activities and experiences your business provides, but if leveraged correctly, the check-in process can have huge benefits for your business. From simply giving patrons a good first impression to significantly increasing revenue and membership in the long run, this beginning step in their relationship with your organization is a crucial opportunity to make the most of.
With these tips, tools, and best practices in your check-in toolkit, you should be ready to revamp your registration procedures and start reaping the rewards for your business