The Small Business Guide to Corporate Social Responsibility
| Written by
Elissa K. Miller
|

Back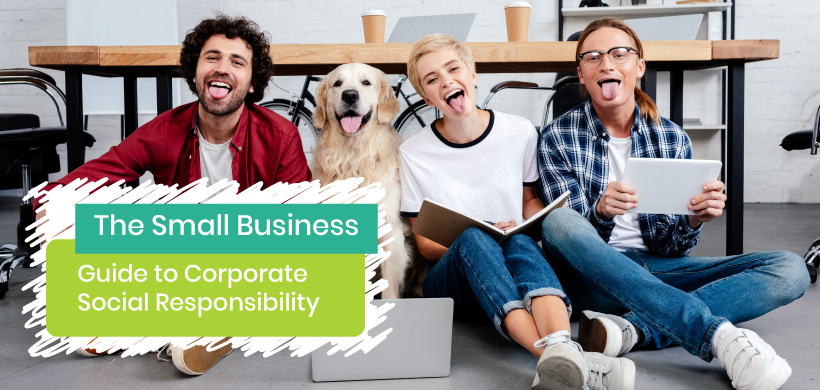 As a small business owner, you've got plenty of concerns to deal with day in and day out, from marketing your products or services to offering a quality experience to your customers. So, if we're suggesting you add something else to your busy plate — a corporate social responsibility (CSR) program — you know it must be worthwhile.
CSR is a major buzzword when it comes to small business best practices, but what does it actually mean, and what are the benefits of adding philanthropy into your daily operations? Creating a CSR program is a powerful way to cultivate meaningful relationships with your employees, customers, and nonprofits in your community. In this quick guide, we'll introduce you to the ins and outs of CSR in these sections:
What is Corporate Social Responsibility?
How to Incorporate Philanthropy Into Your Small Business
Here at Revelation Pets, we work with small pet care businesses every day to equip them with the software and technology they need to run their businesses successfully. We've seen how businesses can combine philanthropy with their current operations to engage with the community and strengthen their offerings.
Whether you're running a grooming business or dog daycare like some of our customers, managing a family restaurant, or operating any other type of small business, this guide will set you up for success with your CSR program. Let's get started.
What is Corporate Social Responsibility?
Defining CSR
CSR includes any business practices or programs aimed at improving the community and leaving a positive impact on the world. For your business, this encompasses company-wide efforts to reduce your environmental footprint, incorporate ethical labor practices, and use your business to promote philanthropic issues and volunteerism.
According to this corporate giving statistics page, companies donated over $21 billion to nonprofits last year. This represents a major nonprofit revenue stream and demonstrates the significance and power of partnerships between nonprofits and the corporate world.
In addition to a major fundraising boost, businesses can provide nonprofits with volunteer support when they encourage employees to donate their time and skills. Corporations can also help with marketing when they promote their nonprofit partnerships and fundraising opportunities to their customers.
Your small business can receive benefits from these partnerships, too.
Benefits for Your Small Business
While CSR programs represent major funding and other forms of support for nonprofits, your small business can leverage these programs to your advantage. These programs allow for:
Meeting customer expectations. As issues like climate change and societal inequity continue to dominate public conversations, people are looking to the corporate world to address these concerns and be accountable for their business practices. By developing a CSR program, you can adhere to customer expectations and show that your business is prepared to productively contribute to the conversation.
Increasing engagement with customers. Going off the first point, consumers respect companies with comprehensive CSR programs and are more likely to do business with organizations that engage with and support their surrounding communities. A CSR program provides the framework for your business to launch charitable projects and eventually gain a reputation for philanthropy, attracting more customers in the process.
Improving employee engagement. Employees themselves are often looking for ways to give back and help the community. By their very nature, nonprofit work and volunteerism are fulfilling endeavors because they involve using skills and abilities to directly help others. When you offer charitable giving or volunteer opportunities to employees, you demonstrate your commitment to their personal growth and wellbeing, encouraging them to stick around with your business.
Marketing opportunities. Partnering with a nonprofit or local community organization helps get your name out in the community and can open your business up to new prospective customers. This is especially true if you choose a nonprofit partner that aligns with your business's area of expertise. For example, if you run a doggy daycare and grooming business, you should partner with a local animal shelter. You can put on joint events such as adoption days that help your nonprofit partner put animals into good homes. Then, new pet owners at the event can check out your booth or marketing materials and maybe even solicit your services for their new pup.
It's never too late to develop a CSR program for your business to access these benefits. Plus, if you're just starting with your small business, you can incorporate a CSR program into your business plan. Revelation Pet's dog daycare business plan guide states that "a solid business plan builds the foundation for a profitable enterprise." By creating a section for your CSR program within your business plan, you can solidify philanthropy as one of your business's foundational priorities.
How to Incorporate Philanthropy Into Your Small Business
Now that you have a solid understanding of what CSR is and the benefits of these programs, let's take a look at a few ideas for incorporating philanthropy into your daily business practices. When outlining your CSR program:
1. Ensure your business practices are responsible.
Creating a thorough, sustainable CSR program starts with reviewing your business practices. Are you doing everything you can as a business owner to leave a positive impact on the world and treat employees, customers, and the planet with the utmost respect? Ask yourself these specific questions:
Am I working to implement sustainable practices and reduce my business's carbon footprint? Whether it's starting a composting program at your office or allowing employees to work from home to cut down on car pollution, what are you currently doing to promote sustainability at your business? Where are there opportunities for improvement?
Am I treating my employees ethically? Does your workplace have strong guidelines for what constitutes ethical and unethical behavior at work? Do all employees feel welcomed and respected in the working environment you've created? Be sure to take a comprehensive look at your management practices to ensure you're fostering an inclusive and safe workplace for all employees.
Am I actively promoting charitable giving and volunteering in the local community? Your business's customers are your friends and neighbors, and they contribute their hard-earned money to help your business thrive. Are you returning the favor by promoting and contributing to charitable causes that enhance your community?
This introspection allows you to ensure you're practicing what you preach before you launch your comprehensive CSR program. If you find that you could be doing more to embody responsible business practices, we'll get into the specifics of how you can boost your philanthropy program in the next few sections.
2. Empower employees to give back.
Creating a dedicated corporate giving program for your small business is one of the easiest, most effective ways to kickstart your CSR program. With a corporate giving program, you offer opportunities to augment your employee's charitable donations or volunteer efforts. Businesses typically do this using a matching gift program and a volunteer grant program. Here's what you should know about each:
Matching gifts: In this initiative, you match charitable donations made by your employees to eligible nonprofits, usually on a 1:1 ratio. According to Double the Donation's guide to corporate matching gifts, these programs are extremely valuable for nonprofits due to their ability to maximize individual donations.
Volunteer grants: With a volunteer grant program, you pledge to donate a certain amount of money to a nonprofit after your employees have volunteered a specified number of hours with that nonprofit. This resource on volunteer grants states that the average corporate volunteer participation rate is 33%, demonstrating employees' desire to help out with worthy causes.
If you decide to implement one or both of these programs, be sure to continuously remind employees about the opportunities and provide simple, straightforward avenues for them to get their gifts matched or submit volunteer hours for approval. Keeping these initiatives at the forefront of your employee's minds will ensure that the programs successful at achieving the dual purpose of helping local causes and boosting employee retention.
3. Gather donations on behalf of a charitable partner.
Beyond offering giving opportunities to employees, you can open up your philanthropic efforts to your customer base, too. There are plenty of ways you can use your business to fundraise for local nonprofits, including:
Ask for customer donations at check out. Your business can partner with a specific nonprofit or several different charities to be the beneficiaries of your fundraising efforts. Then, when your customers check out inside your physical store or using your online store, you can ask if they'd like to add a donation to their purchase to go toward your nonprofit partner.
Host an item donation drive. Rather than asking customers to contribute a monetary donation, you can host a drive where you collect much-needed supplies to benefit a nonprofit. For example, if you've decided to partner with a local animal rescue, you can ask for donations of pet food, collars, leashes, bowls, or beds.
Host a fundraising event. Use your physical business location or turn to the virtual sphere to host an exciting event to benefit a local cause. You can plan a live auction, concert, networking night, or a 5K/walk-a-thon. Be sure to create t-shirts or other merchandise for an added fundraising boost. Don't forget to brand the shirts with your company logo to promote your business and your fundraising efforts at the same time!
By promoting your philanthropic efforts to the entire community, you demonstrate your commitment to helping local nonprofits and access a broader group of supporters to involve in your charitable projects. Even offering a donation bucket at your register prompts customers to give some change or a few dollars, which can eventually add up to a sizeable donation.
4. Give your time and services.
After a tumultuous year, your business might not be in a position to contribute financial donations to nonprofits or charitable causes. We've seen how the effects of COVID-19 for pet care businesses and other small enterprises have been challenging, as many companies have had to adjust to remote work or implement social distancing within their physical locations.
While your business continues to bounce back and adjust to reopening in this new phase of the pandemic, you can still contribute your services to local nonprofit partners. For instance, sticking with the doggy daycare example, you can offer training or dog walking services to your local rescue to help get pups socialized and ready for new homes. Or, if you're running a family restaurant, you can donate meals to the local shelter or deliver meals to senior citizens in the community.
Monetary donations aren't the end-all-be-all of your CSR program. Contributing your time and services can be just as valuable for helping organizations in need of assistance.
5. Use your platform to promote philanthropy.
Lastly, to demonstrate your commitment to charity, you can use the power of your business's communication platforms to promote donation opportunities and share information related to your nonprofit partner's mission.
For example, your business may have an email newsletter or text messaging platform that you use to distribute business updates, promotions, and other communications to customers. In addition to these business alerts, you can intersperse your messages with links to online donation pages and promote these giving opportunities to your customers. You can even create newsletters that are entirely devoted to sharing information about the work that your nonprofit partner does, why you got involved with them, and why your customers should get involved, too.
Be sure to increase the frequency of these messages around important giving times during the year, such as Giving Tuesday or the year-end giving period in general. This is an important time of the year for nonprofits because the holiday spirit puts everyone in a charitable mood, and a large percentage of yearly donations are sent in this period.
This is an effective way to strengthen your CSR program because even if you can't contribute a large donation yourself, you can still promote donation opportunities using your pre-existing audience.
---
In summary, starting up a CSR program will only benefit your small business. By establishing philanthropy as one of your business priorities, you can create stronger bonds with your employees, customers, and community at large. Be sure to take a hard look at your business practices, investigate your options for starting an employee giving program, and use the power of your business to promote worthy causes in your community. Good luck!