The Small Business Guide to Corporate Social Responsibility
| Written by
Elissa K. Miller
|

Back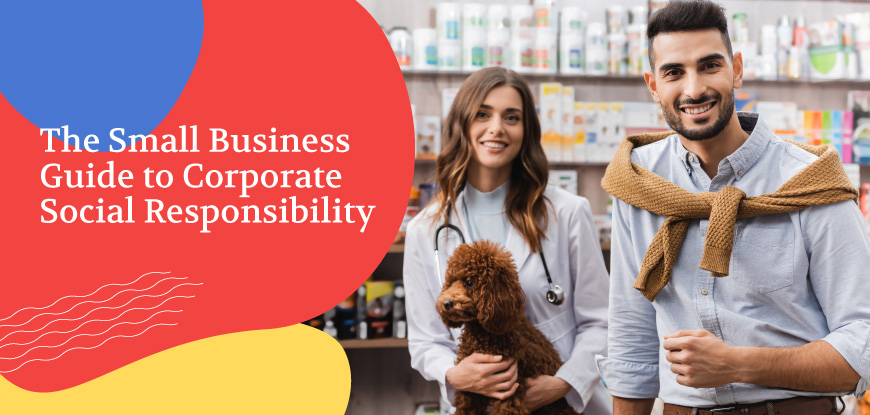 As a small business owner, you have plenty to deal with on a daily basis, from marketing your products or services to offering a quality experience to your customers. So, if we're suggesting you add something else to your busy plate—a corporate social responsibility (CSR) program—you know it must be worthwhile.
CSR practices can improve your small business's reputation and help you enact positive change in the community. In this guide, we'll provide an overview of CSR, explain its benefits, and offer practical tips for implementing CSR initiatives into your operations.
Whether you're running a pet grooming business, managing a family restaurant, or operating a flower shop, these tips will set your CSR program up for success. Let's get started with a brief definition.
What is Corporate Social Responsibility?
Defining CSR
CSR includes any business practices or programs aimed at improving the community and leaving a positive impact on the world. For your small business, this may encompass company-wide efforts to reduce your environmental footprint, incorporate ethical labor practices, and use your business to promote philanthropic issues and volunteerism.
Benefits for Your Small Business
Implementing a CSR strategy provides small businesses with several benefits that can help them become more successful and sustainable in the long term. These benefits include:
Improved customer loyalty:

As issues like climate change and societal inequality continue to dominate public conversations, people are looking to the corporate world to address these concerns and be accountable for their business practices. Earn your

supporters' trust, respect, and loyalty by demonstrating a commitment to CSR.
Better employee engagement:

In a

recent survey, 90% of employees who work at companies with CSR initiatives reported feeling inspired and motivated to come to work each day. Even a small investment in CSR can result in significant improvements in employee engagement.
Increased marketing opportunities:

Partnering with a nonprofit or local community organization helps get your name out in the community and can open your business up to new customers. This is especially true if you choose a nonprofit partner that aligns with your business's area of expertise. For example, if you run a

doggy daycare, you could partner with a local animal shelter to host an adoption event that showcases both of your services.
In addition to benefiting your own company, investing in CSR helps to better society as a whole. Purpose-driven companies donated over $20 billion to nonprofits last year. These funds supported various missions, from reducing carbon emissions and conserving water to promoting social justice and feeding the hungry, which in turn helped to create a more sustainable and equitable world.
How to Incorporate Philanthropy Into Your Small Business
Now that you have a solid understanding of what CSR is and the benefits of these programs, let's take a look at a few ideas for incorporating philanthropy into your business practices. When outlining your CSR program, take the following steps.
1. Ensure your business practices are responsible.
Creating a thorough, sustainable CSR program starts with reviewing your current business practices and identifying where your efforts are succeeding or falling short. Ask yourself these specific questions to ensure you're doing everything you can to make a positive impact:
Am I working to implement sustainable practices and reduce my business's carbon footprint?

Whether it's starting a composting program at your office or allowing employees to work from home to cut down on car pollution, determine how your business can promote sustainability.
Am I treating my employees ethically?

Create guidelines for

what constitutes ethical and unethical behavior at work to ensure all employees feel welcomed and respected in the working environment you've created.
Am I actively promoting charitable giving and volunteering in the local community?

Your business's customers are your friends and neighbors, and they contribute their hard-earned money to help your business thrive. Return the favor by promoting and contributing to charitable causes that enhance your community.
This introspection will help you make informed decisions as you launch a comprehensive CSR program.
2. Empower employees to give back.
Creating a dedicated corporate giving program for your small business is one of the easiest, most effective ways to kickstart your CSR initiatives. A corporate giving program typically involves supporting your employee's philanthropic efforts through:
Matching gifts:

With this initiative, you match charitable donations made by your employees to eligible nonprofits, usually on a 1:1 ratio. According to

Double the Donation's guide to corporate matching gifts, these programs are extremely valuable for nonprofits due to their ability to maximize individual donations.
Volunteer grants:

When you

provide employees with a volunteer grant, you pledge to donate a certain amount of money to a nonprofit after an employee has volunteered a specified number of hours.
If you decide to implement one or both of these programs, be sure to provide simple, straightforward avenues for employees to get their gifts matched or submit volunteer hours for approval.
3. Gather donations on behalf of a charitable partner.
Beyond offering giving opportunities to employees, you can open up your philanthropic efforts to your customer base. There are plenty of ways you can use your business to fundraise for local nonprofits, including:
Ask for customer donations at checkout.

Partner with a nonprofit or several different charities to be the beneficiaries of your fundraising efforts. Then, when customers check out inside your physical store or online, you can ask if they'd like to add a donation to their purchase to go toward your nonprofit partner.

Gingr recommends

using an integrated payment processor to expedite the transfer of funds.
Host an item donation drive.

Rather than asking customers to contribute a monetary donation, you can host a drive where you collect much-needed supplies to benefit a nonprofit. For example, if you've decided to partner with a local animal rescue, you can ask for donations of pet food, collars, leashes, bowls, or beds.
Host a fundraising event.

Host an exciting event to benefit a local cause. You could plan a

live auction, concert, networking night, or a 5K/walk-a-thon and create merchandise for an added fundraising boost. Don't forget to brand the merch with your company logo to promote your business and your fundraising efforts at the same time!
By promoting your philanthropic efforts to the entire community, you demonstrate your commitment to helping local nonprofits and access a broader group of supporters to involve in your charitable projects.
4. Give your time and services.
If you don't have the resources to donate, consider contributing your services to local nonprofit partners. For instance, a construction company might agree to reconstruct the animal habitats at a public zoo. Or, a children's clothing store might have its most knowledgeable sales associates lead a seminar on children's fashion at a local museum.
Monetary donations aren't the end-all-be-all of your CSR program. Contributing your time and services can be just as valuable for helping organizations in need.
5. Use your platform to promote philanthropy.
To further demonstrate your commitment to charity, you can use the power of your business's communication platforms to promote donation opportunities and share information related to your nonprofit partner's mission.
For example, a business that is passionate about sustainable fishing may have an email newsletter or text messaging platform that they use to distribute business updates, promotions, and other communications to customers. In addition to these business alerts, they can intersperse their messages with links to an aquarium's online ticketing pages.
You can even create newsletters that are entirely devoted to sharing information about the work that your nonprofit partner does, why you got involved with them, and why your customers should get involved, too.
---
By establishing philanthropy as one of your main business priorities, you can create stronger bonds with your employees, customers, and community at large. Take a hard look at your business practices, investigate your options for starting an employee giving program, and use the power of your business to promote worthy causes in your community.