Zoo Management Software: 7 Steps to Find the Ideal Solution
| Written by
Elissa K. Miller
|

Back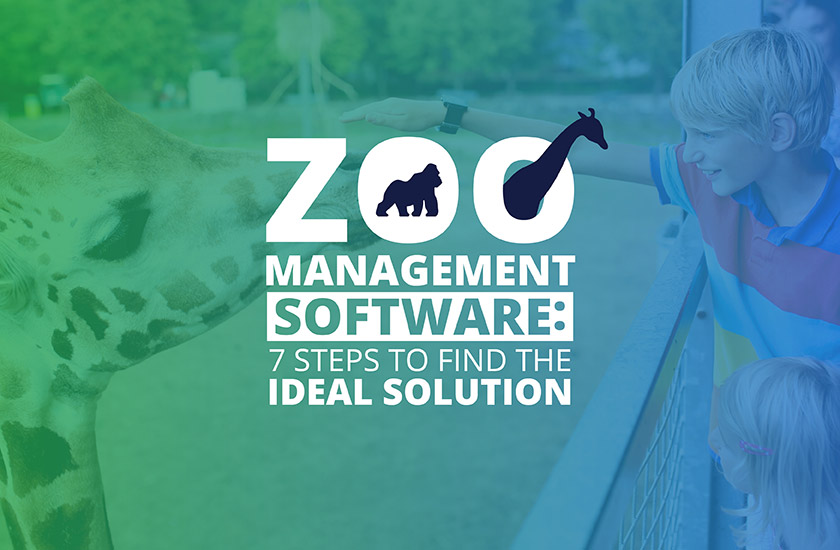 Zoo management systems are an integral part of zoos all over the country. This software is used for more than just ticketing functions. It is a great tool to connect the different departments within the organization and it makes the visitor experience the best it can possibly be. Therefore, choosing the right software solution is not something to be taken lightly. Are you looking for a zoo management solution? Or are you trying to replace an old outdated system? We'll take a look at the different steps you should take while on the hunt for a new software solution. In order to choose the best zoo management software for you, follow these steps:
By following this 7 step guide you can be sure that your zoo management system is the perfect fit for your organization. Let's take a closer look at these steps!

1. Decide who will participate on the zoo software selection team.
For your software selection team, be sure to include representatives from every department that will be impacted by the software selection. This may include departments such as membership, development, education, marketing, visitor services, operations, finance and any other group who will use the zoo software.
If your zoo is large enough to have dedicated technical staff, be sure to include them. Your technical staff has experience managing your existing infrastructure. They're also likely to be responsible for implementation and maintenance of the new zoo management system. The expertise of your technical staff will help identify the qualities of a software that will best suit your organization's needs, and their efforts will be critical to ensuring the success of the zoo management system you eventually choose.
Typically, a zoo software selection committee will include one or more stakeholders from departments with the following responsibilities:

2. Decide on a software vendor evaluation process.
If your zoo is a city- or region-funded organization, you may be required to follow a prescribed RFP (request for proposal) process to evaluate zoo management software vendors.
Most large zoos and mid-sized zoos issue an RFP even if it's not required because it's a fair and effective way to ensure you're evaluating all vendors fairly and according to the same criteria.
An RFP doesn't have to be onerous to create or to respond to—it just needs to communicate your goals and requirements clearly.

3. Perform an overall needs assessment to determine necessary features.
Presumably, your selection committee includes at least one stakeholder (typically a manager or director) from every operating department. These stakeholders are responsible for gathering input about what elements would be helpful in zoo management software. The stakeholder should ask the staff whose jobs require hands-on usage of the zoo management system.
To make gathering information easier, you might create a short questionnaire for each department whose questions include:
Some aspects of an integrated zoo-wide management software solution may not be uncovered in the previous steps. Behind-the-scenes issues such as cloud-based architecture and integration with merchant services providers for payment processing are critical to the software's success and should be set by a smaller group of stakeholders with organization-wide responsibilities.
4. Create the RFP document for zoo management software evaluation.
When all the stakeholder data is available, it's time to organize all those requests and requirements into a single document: the RFP. A complete description of how to create an RFP is beyond the scope of this article. However, an RFP will typically include:
Before you finalize the RFP, make sure that your IT staff has reviewed it to ensure that no important technical details are missing and that requested solutions will be feasible in the current operating environment and infrastructure. Then, submit the RFP for executive and legal review to ensure that the language of the RFP does not commit or obligate your zoo to responding to vendors in any way.
5. Distribute the RFP to zoo management software vendors.
If your zoo must comply with a specific RFP process, follow the required steps to publish the RFP. There are a number of steps you can take to ensure that your RFP reaches the right vendors.
In most cases, staff in each department will already have suggestions for system vendors to include in evaluation. You should also encourage staff to reach out to their peers at other zoos to learn what zoo management software they use, as well as ask for input on professional community forums.
Trade organizations like the Association of Zoos and Aquariums (AZA) can distribute member organizations' RFPs to their commercial members.

6. Evaluate responses and request demos of the software.
At this point, you've done the hard work of performing a full-scale zoo-wide needs assessment and creating the RFP. Now it's time to review the submitted responses and determine which zoo management system vendors will proceed to the next step in your evaluation.
To ensure that you can evaluate vendors fairly, you might decide to hold a "bake off," where you invite selected vendors to configure a demo that uses your zoo's real requirements, data and procedures.
This allows stakeholders to evaluate the vendors' actual ability to meet your needs instead of their ability to create a whiz-bang demo.

7. Select your zoo management software.
Congratulations! Your organization can feel confident that you've selected the best zoo management software for your needs and budget. Follow your zoo's established steps for vendor contracts. When the contract is signed, share the decision with all of the staff who'll be affected by the change (and thank them again for their help identifying the important requirements for the solution). But don't dissolve the selection committee just yet! Some (or all) of them should participate in the next major phrase of the project: managing implementation, configuration, data transfer and staff training.
---
By following this 7 step guide, you can be confident that your new zoo management software solution will best suit the needs of your organization. This software is about more than just tickets; your visitors and employees will appreciate a comprehensive solution that makes their zoo experience that much better. For more information about management software and solutions, check out these additional resources from Doubleknot and other leading websites.