Aquarium Ticketing Systems and CRM Integrations: 5 Benefits
| Written by
Elissa K. Miller
|

Back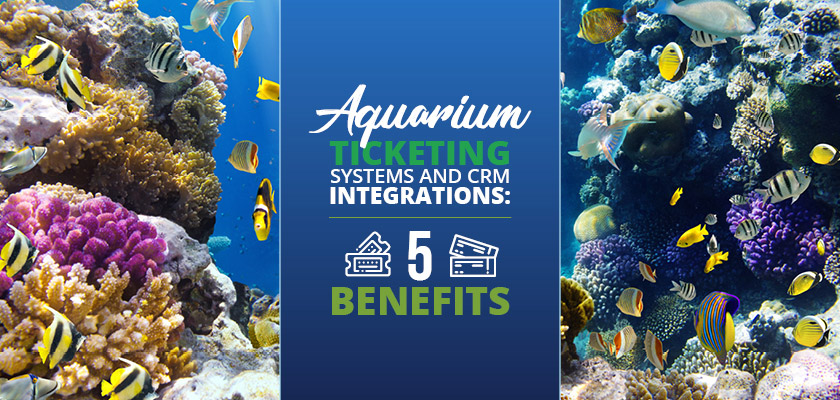 Nonprofit aquariums face a unique set of financial and operational challenges. Unlike for-profits, whose primary goal is to generate profit, aquariums' overarching missions typically revolve around education, conservation, and preservation.
Aquariums rely on a diverse network of revenue streams to help fund this mission. In addition to
selling admission tickets
, these revenue streams include:
Memberships.

Memberships typically offer free admission as well as discounts on merchandise or other types of purchases.

Group visits.

School trips and other group visits range from "just for fun" visits to organized programs that contain an educational component.

Youth programs.

Youth programs like day camps, overnights, scout programs, and birthday parties generate revenue while building stronger bonds with young supporters.

Donations.

Supporters can donate to the aquarium to contribute directly to the mission.
Due to this revenue stream diversity, it's common for aquariums to use many different software solutions to deliver their offerings to supporters. Investing in multiple software packages can result in unnecessary costs, incomplete or duplicate data, and difficult financial reporting for your organization.
Plus, a complicated software system can aggravate your visitors when they can't quickly and easily purchase tickets, register, and donate in a single transaction.
While using multiple software solutions may meet the short-term needs of individual departments of your aquarium, a better long-term solution is investing in an integrated aquarium ticketing solution that supports customer relationship management (CRM).
With an integrated system, everything that a visitor wants to purchase—from tickets to memberships to day camps to theater shows—is sold in the same system no matter where visitors make their purchase.
Read through the article to learn more about the benefits of integrated CRM and aquarium ticketing software or use the navigation below to jump to the topic you're most interested in.
1. Integrated aquarium ticketing software results in better customer experiences.
Your aquarium works hard to ensure your visitor experience is top-notch. From unique exhibits to attractive merchandise to educational tours, your visitors have fun and learn a lot when they come to the facility. Don't pair your quality in-person experience with a poor online presence. Poor online user experience is likely to drive off young adults who expect to learn about your organization through various channels. In order to appeal to this generation and keep your online presence up-to-date, your nonprofit needs every aspect of the online experience to be fluid and effective. Create a seamless customer experience with your integrated aquarium ticketing system. Your customers should find it easy to make purchases, interact with your organization online, and access their personal profile.

Sales
Consumers today expect to be able to buy and book everything they want to from the convenience of their smartphone or computer. The best aquarium ticketing software makes it easy to buy any of your packages online. It's frustrating and time consuming for consumers when they are required to complete separate credit card transactions for every item they want to buy. With an integrated solution, your aquarium can sell everything online in a single transaction. For instance, instead of requiring a different transaction for an admission ticket, gift membership, and donation, all of these things can be bought at once.

Online Interactions
Many young adults expect to find information about the organizations they take interest in on social media. Be sure your aquarium is on their radar by creating an active social media account. Market your bundled packages on social media and link customers directly to your ticketing pages. Be sure that your ticketing check-out is mobile-responsive so that if the customer clicks a link on their phone, they'll be able to easily purchase a ticket. With an active social media account, your customers can also share your posts with friends who may also want to buy tickets.

Personal Profiles
If customers choose to create an account on your website, they should be able to access their information and update their personal profile.
Your aquarium ticketing software should make it easy for customers to manage their membership statuses, make payments, subscribe and unsubscribe from mailing lists, and reprint tickets and membership cards.
With an integrated aquarium ticketing and CRM solution, customer updates are automatically reflected in your database, providing you with the accurate data and supporting the ability to
personalize your marketing strategy
for different kinds of members, visitors, and donors.

2. Increase participation, memberships, and donations with integrated aquarium ticketing software.
As we touched on briefly before, being able to pay for everything in a single transaction makes it easier and more appealing for customers to make purchases.
With effective aquarium ticketing software, you can bundle your services to encourage more purchases.
For instance, you can sell an admissions ticket bundled with a show at a lower selling price than each item would be if sold separately. This bundling of products is impossible when your organization relies on multiple software solutions.
With an integrated system, you can drive memberships by promoting how much your customers would save on their current purchase if they were a member. Then, allow them to become a member and receive the discount in the same transaction with integrated aquarium ticketing software.
For example, someone registering for a day camp might see your advertisement for a discounted registration cost if they become a member. When they purchase the membership in the same transaction, the discount is automatically applied to their registration.
Finally, an integrated solution can encourage online donations by asking for a donation during any online checkout. There are two different options for this donation process:
Creating a separate donation page to display before the final purchase.

A separate donation page provides room for your organization to make a comprehensive appeal to your donors. While you can customize your donation page with brand materials and images, you may also slow down the transaction process, which can increase the likelihood of

shopping cart abandonment

.

Adding a simple donation option to the purchase or registration form. Adding a donation field to a registration or purchase form provides less room to make your donation appeal, but offers the benefit of less disruption to the purchasing process. This may look like a simple add-on donation option during the final stages of payment.
3. The best aquarium ticketing software saves administrators time.
Integrated software benefits more than just your customers--an integrated solution can streamline internal processes for your staff. Aquarium ticketing software with integrated CRM makes it faster for administrators to create reports and deposit funds. Organizations who store all of their data in a single location find it faster and easier to report and reconcile data. When you can compile your CRM and ticketing information in the same reports, your aquarium will have better a better understanding with clear data management processes.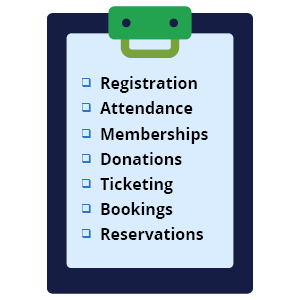 Consolidating systems also allows your staff to spend less time on exporting and importing data into one financial management system. By eliminating the need to track, manage, and report on sales that take place in multiple unconnected software systems, staff will have more time to spend on high-value activities that support your mission. With integrated aquarium ticketing software, you can improve visibility by consolidating and reporting on important metrics such as:
Ticket Sales

Attendance

Registration

Memberships

Donations

Bookings
By automating data collection for every kind of purchase and recording every transaction and interaction in a single system, an integrated solution with robust reporting can provide immediate access to report data, saving hours of administrators' time.

4. Eliminate unnecessary costs by investing in one aquarium ticketing system.
If your aquarium relies on multiple systems for ticketing, registrations, memberships, and other functions, you may be paying more in subscription costs and transaction fees than you would with an integrated solution.
Consolidating operations into a single enterprise-wide system eliminates the costs of multiple subscriptions and applies a standard, predictable schedule for transaction fees.
And, consolidating systems can reduce administrative time by eliminating the need to enter, import, and/or export data from multiple locations into the system of record. With a single unified solution, administrators can access all the data they need from a single source.

5. Improving reporting and analytics with integrated CRM and aquarium ticketing software.
By providing complete and accurate data about every customer transaction and interaction, an integrated system provides the foundation for
data-based decision making
.
Integrated solutions that offer a full-featured custom report writer make it possible to generate enterprise-wide reports based on complete data. With comprehensive reporting and analytics, your organization can identify trends and spot strengths, weaknesses, and opportunities for business process improvements that can streamline and improve operations.
Another benefit of comprehensive reporting is the ability to better understand your visitors. The reporting features of your integrated solution will help you spot trends and opportunities to create greater engagement and satisfaction.
For example, you'll be able to see which promotions and discounts are most effective; which member benefits are used most; and which donation appeals create the greatest resonance with different customer segments. You should then be able to create targeted lists of customers to receive highly personalized promotions and appeals. (You should also be able to track the effectiveness of these campaigns, allowing you to further hone your strategies and communications.)
---
With integrated CRM and aquarium ticketing software, aquariums can increase revenue and donations, reduce administration time and costs, and deliver exceptional customer service to an increasingly tech-savvy population.
If you're interested in learning more about how to ensure your aquarium is running as smoothly as possible, check out the additional resources below: