#1 Museum Management Software | What Does Your Museum Need?
| Written by
Elissa K. Miller
|

Back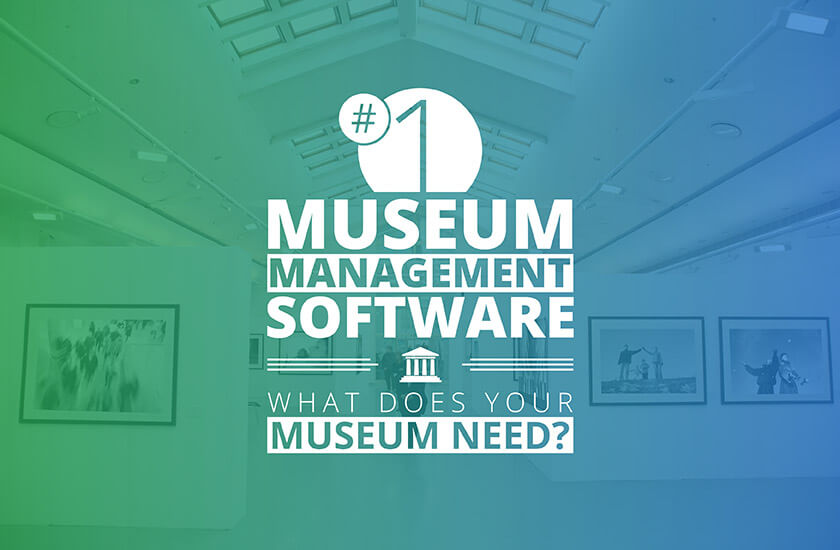 For many museum professionals, "museum management software" means museum archive and collections management software. These software packages are critical for managing and researching collections, handling exhibitions and loans, and digitizing collections for online access. But, there's an entire ecosystem that's also called museum management software that manages every aspect of your museum's interactions with visitors, members, and donors. This museum management software is specially designed to handle the business of ticketing, admissions, memberships, tours, group visits, special events, field trips, and education programs as well as support donations and fundraising. Many museums use multiple solutions to handle visitor, member, and donor purchases and donations. For example, the education department may use a registration solution for camps and classes that isn't integrated with the ticketing and admissions software at the front desk. But, more and more museums are realizing that integrated museum management software—where a single solution supports every kind of sale and financial donation—can reduce administration, improve ROI, and make it easier to deliver an excellent visitor, member, and donor experience online, at admissions and anywhere on (or off!) your site. If want to learn more about how an integrated management software can make your museum run more efficiently and create a better visitor experience, our guide will walk you through:
With a deeper understanding of museum management software, you'll be able to determine what you need and find the best solution. Let's dive into the first section!

1. What is Integrated Museum Management Software?
If your museum uses multiple tools from different vendors, it may be difficult to use analytics to understand visitor demographics and identify trends and opportunities. Integrated museum management software relies on a single unified database that contains information about every customer, visitor, member, and donor and provides business intelligence and analytics tools to identify trends and new opportunities.

With an integrated system, you'll have access to several features that can improve your day-to-day operations:
Cloud-based tools, so your IT staff doesn't have to worry about server costs, database installation, per-seat licensing fees, and updating software on each individual computer.
A single integrated database that stores information about every visitor, member, and donor transaction in a single location.
Online support that includes help with POS and mobile sales, ticket printing, and scanning and validation.
Complete analytics and reporting since data from all your museum's activities will be housed in one integrated system.
Instead of working with multiple tools that don't connect with each other, going with an integrated tool will save your team time. Plus, all of you departments will have a well-round picture of each visitor, donor, or member that can be used across you team.

2. Elements of Integrated Museum Management Software
Integrated museum management software typically supports these functions.
Ticketing and admissions

Membership management

Event registration

Reservations for tours, group visits and field trips

Donations
We'll cover each of these functions below.
Ticketing and Admissions
With an integrated solution for ticketing software and admissions, you can sell and issue scannable tickets not only for museum admissions but also for tours, field trips, special events, programs, and even facility rentals. Any kind of ticket can be scanned and validated at admissions, museum entrances, the beginning of a tour, or the entry to a special exhibit. Integrated museum management software will record ticket purchases and attendance with a visitor's or member's profile.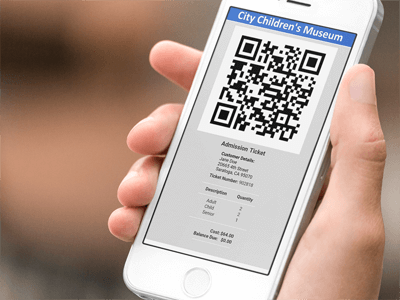 Membership Management
In integrated museum management software, membership management features should make it easy to recruit, reward, and retain new members with a range of online and in-person benefits. Members should be able to present a membership card in any form—the card that was issued when they joined, a print-at-home version of the cart, or a mobile membership card displayed on a smartphone—that can be scanned and recognized throughout the museum. (And, if a member forgets their card altogether, staff should be able to look up the membership by the member's name.) When membership management is integrated within the museum management system, members can automatically receive their member benefits on any kind of purchase no matter where they are. Integrated benefits can go beyond free admissions, guest passes, and discounted event tickets to include priority registration for popular programs, members-only events, members-only hours, and much more.
Event Registration
Good event registration software makes it easy to manage registrations and registrant types for any kind of class, camp, or program. When event registration is integrated in a complete museum management solution, you can offer discounts or other incentives to members or to people who registered for a previous event. Event attendance is stored with the complete visitor or member record, making it possible to identify trends and create new opportunities for registration and engagement.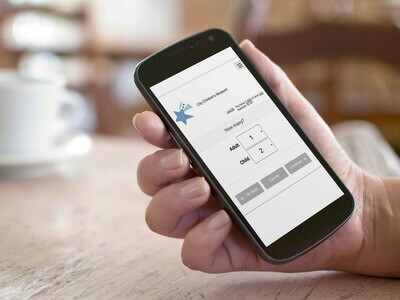 Reservations for Tours, Group Visits, and Field Trips
An effective museum reservations solution makes it easy for groups and individuals to book and pay for exactly the experience they're looking for without requiring follow-up phone calls by museum staff. An integrated solution allows group tickets to be scanned at admissions (or, for school groups, on the bus), updated as needed, and validated for entry. In addition, integrated solutions make it possible to offer discounts based on membership, the number of people in the group, a discount code or the purchase of any other kind of registration, reservation, membership, or item.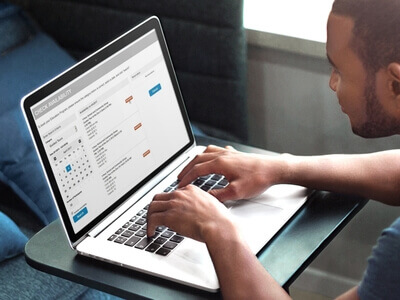 Donations and Fundraising
When your donation and fundraising solution integrates with your management, it will be easy to ask for and record donations everywhere: during any kind of online purchase, at the admissions register or anywhere on your site with a mobile system. Moreover, you donor profiles should include donation information along with data about their donation history, membership status, visits to your museum, event registrations, and other purchases. An integrated system should also make it easy to recognize patterns in your donors' behavior and craft new kinds of targeted appeals and donor programs.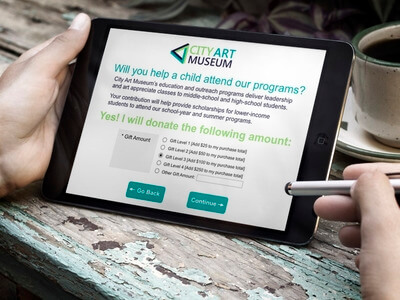 3. Benefits of Integrated Museum Management Software
Integrated management software empowers your museum to increase revenue, simplify administration, and deliver an excellent experience for visitors, members, and donors. With integrated museum management software, you can:
Sell and manage museum merchandise on- and offline.

Improve decision-making with reporting and analytics

Increase participation by supporting promotions and discounts everywhere
Sell and Manage Museum Merchandise On- and Offline
Think about it: your museum sells everything from event packages to summer programs to merchandise at your gift store. Managing all your products and offerings in one location means you can easily sell them on your website as well as at your museum. Integrated software often comes with the tools to help you facilitate purchases:
Online to customers using computers, tablets, and smartphones

At admissions and other POS registers

Anywhere inside the museum with a mobile sales app
Giving your visitors more ways to purchase your museum's offerings means there will be less standing in their way when it comes time to make a purchase.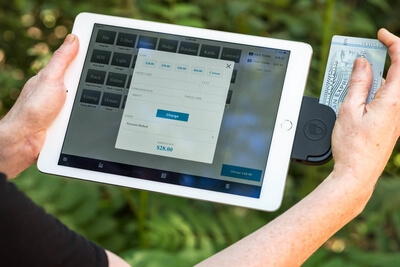 Improve Decision-Making with Analytics & Reporting
Integrated museum management software stores all visitor, member, and donor information about every transaction and interaction in a single unified database. But, that data isn't particularly useful without reporting, analytics and business intelligence tools that allow you to:
Share information about upcoming events, group visits and facility rentals among departments for resource planning

Analyze data to identify trends and opportunities

Query the database to identify visitors, members, and donors who met specific criteria and create an email list out of the results
The best museum management software will provide hundreds of pre-built standard reports that you can modify to meet your needs and a full-feature custom report writer so you can create new reports from scratch.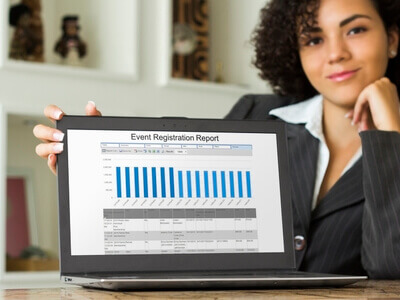 Increase Participation with Discounts and Promotions
The analytics and reporting tools can help you identify trends. However, you can't craft offers and appeals to leverage that knowledge without built-in tools to offer discounts and other kinds of promotions on any kind of purchase or based on any qualifying purchase or membership. Flexible discount and promotion tools will allow you to create member discounts, early-registration discounts, time- and date-based discounts, and discounts based on the presence of another item in the cart. Look for solutions that let you create different discount types; control how and when discounts can be applied; and report on discount usage so you can refine and replicate successful strategies.

4. How Museum Management Software Improves the Visitor Experience
The most important measure of success for a software system is how well it serves your visitors, members, and donors. Integrated museum management software can offer your visitors, members, and donors benefits that include:
Shorter ticketing and admission lines

. When lines are long, you can deploy staff with mobile devices to sell tickets that are immediately delivered by text message or email.

A single customer login account

that provides access to everything the museum offers. Your constituents can view all their registrations, purchases, and donations in a single location, and will appreciate the convenience of a single shopping cart that allows them to purchase all kinds of items in a single transaction.

Member benefits everywhere

. Member benefits can automatically be applied to every purchase, without waiting for staff to manually check their cards or apply their discounts.
Your visitor experience will be greatly improved when your team is able to easily find information and manager faster ticket sales through mobile devices. Plus, through your detailed reports on constituents' giving behaviors and involvement will provide even more insight into how you can improve their experience.
---
Integrated museum management software not only simplifies your processes by combining essential tools you need to operate into one system, but it also improves the experience visitors have when they come to your museum or attend an event. Want more information on museum software and integrated solutions? Read up on these additional resources from Doubleknot and other leading websites: