Major Gifts: 5 Strategies to Solicit High-Impact Donors
| Written by
Elissa K. Miller
|

Back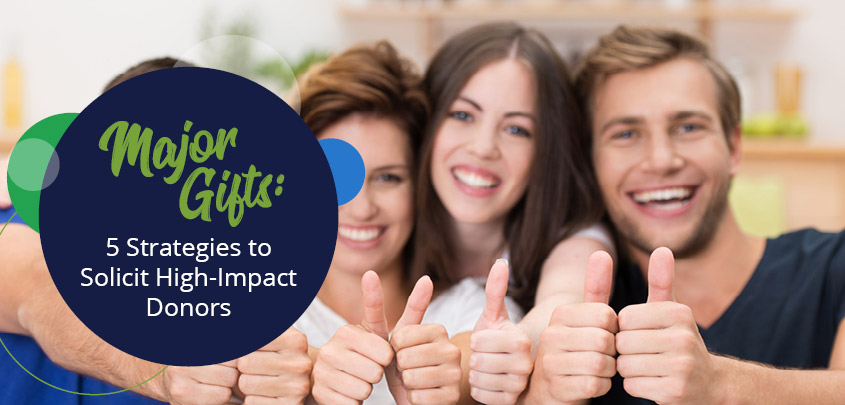 While every nonprofit has its own criteria for what constitutes a major gift, all nonprofit fundraisers know what a game-changer a major gift can be.
No matter if your nonprofit considers a major gift to be $1,000 or $100,000, actively soliciting these gifts can wildly change your nonprofit's ability to serve its cause.
Here are five different ways that you can maximize your major gift fundraising strategy and generate more major gift revenue:

1. Organize your CRM to help identify major gift prospects.
Being able to access and organize complete, accurate data is perhaps the most important part of a sustainable major gifts fundraising strategy. Your existing database can help you identify valuable prospects to cultivate into donors.
Used correctly, your CRM can be the perfect launchpad for your nonprofit's prospect research. Established best practices for major gift officers include:
Consolidate and delete duplicate entries. Every donor should have one, and only one, profile. If you have multiple profiles for a single person, use your CRM's merge profile features to combine the most up-to-date and important information into a single profile. Modern CRMs will have powerful tools to identify and resolve multiple profiles. That way, you can spend less time cleaning data and more time gaining insights from it.
Ensure that major gift officers and other staff follow a standardized process to enter data into the CRM. This process ensures that complete donor data is available for queries. Plus, it makes it easier for major gift officers to follow a donor segmentation strategy.
Conduct donor research for everyone in your major giving software. The research process can be simplified if you're using a CRM system that integrates easily with wealth screening programs.
Donor research can reveal affinity and capacity for giving, based on these categories of indicators:
Giving history to your nonprofit, other nonprofits, or political organizations.
Wealth indicators like homeownership, SEC holdings, and so forth.

As always, make sure that the results of your donor research are entered in your CRM in a standardized way. That way, your major gift officers will find it easier to segment your donors when you're ready to determine who to approach for cultivation as a major donor.
In addition, major gift officers and other fundraising professionals should continuously research prospects. Supporters who have volunteered with your organization or attended events are a good source of prospects because they are already engaged with your mission.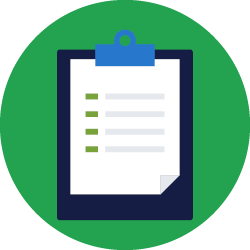 Your team should create a profile in your CRM for potential donors, too. That way, you can identify which people have the same characteristics as your current donors. From here, your team can cultivate them in a personalized and effective way.
Once you've researched your donors and prospects in your community, you can use your CRM's management tools to split your profile bank into different categories.
This segmentation will provide a solid list of potential major donors to your fundraising staff.

2. Enter every interaction with major givers into your CRM.
One of the hardest things about cultivating major donors, especially in large nonprofits with many major gift officers, is ensuring that all interactions with potential major givers are documented.
A 'move' is any interaction between a major gift officer and a potential donor that takes the relationship one step further along the "donor journey" and moves them closer to a successful ask.
The major gift officer's relationship-building techniques with prospects should be documented in the potential donor's profile in the CRM. This way, the next officer to interact with the prospect knows where they stand.
Tracking every solicitation action offers benefits to your prospects and your organization. You'll be able to communicate effectively with messages that are tailored to prospects, so you can generate the best possible outcomes. In addition, the more data points you have, the easier it is to track benchmarks in your solicitation process.
Keeping track of each interaction in a donor profile can also prevent embarrassing slip-ups like using an incorrect last name or failing to recognize a prior gift, introduction, or other action.
Other important data points to include in a prospect's profile are:
Personal details, such as motivations to give, hobbies, alma mater, employer, etc.
Familial or social connections, including children, spouses, and relationships with other donors or supporters.

If a potential donor is already acquainted with someone at your nonprofit, include them in the cultivation efforts. Your board may be an invaluable resource for introductions and referrals.
CRM software that offers a mobile app makes it easy to view donor profiles on-the-go. This way, gift officers will always have complete, up-to-the-minute information about prospects. Plus, a mobile app makes it easy to quickly update information immediately, when all of the details are fresh in officers' minds.
3. Automate the follow-up process with major donors.
The most effective major giving software allows you to build a schedule of stages for cultivation efforts. For instance, stage 1 may be the first call or meeting while stage 2 may be an office tour. These steps depend on your unique cultivation strategy.
No matter how your nonprofit tracks the "donor journey," your major gifts fundraising strategy requires complete consistency and communication within your team.
Your major giving CRM can help ensure that everyone on your team is on the same page. Plus, it can automate parts of the cultivation process that may otherwise slip through the cracks. For example, an effective CRM can:
Automate emails or direct mail to be sent out after meetings or calls with prospects.
Schedule follow-up calls or meetings for your major gift officers.
Alert team members when a prospect moves from one stage to another.

Creating and using a cultivation and solicitation schedule gives major gift officers an effective tool to check up on the cultivation process for any given prospect.
For example, if the process is moving faster than expected, the major gift officer can choose to increase the size of the ask because of the prospect's demonstrated interest. If the process is moving slowly or seems to be stalled, the prospect may need more one-on-one attention or a change in overall messaging and strategy.

4. Cultivate major donors by engaging your prospects in many different ways.
One key to successful major gift solicitation is knowing your prospects well and engaging with them in different ways. Offer a variety of engagement opportunities and be sure that they have positive interactions in a variety of different environments.
Your multiple engagement opportunities might include:
Tours of your office, so they can see what you do every day.
Volunteer opportunities, so they can participate in and experience the impact of your nonprofit firsthand.
VIP events, so they can see how major donors are recognized and rewarded for their important contributions.
Meetings with your leadership or board, so they can get to know them and ask any questions.
These opportunities for engagement are valuable for two reasons:
They allow major gift officers to get to know prospects in a variety of settings. Then, officers can gauge why your nonprofit's mission inspires donors and which projects they're most interested in.
They provide prospects with the opportunity to learn more about your organization and mission. The choice to make a major gift is not usually a spontaneous decision. Instead, it requires a deep understanding of your nonprofit's mission and confidence that their money will be used wisely and effectively.

Another possible engagement opportunity is an informational luncheon. This is a great way to bring together prospects, major gift officers, executives, heads of departments. During these meetings, discuss projects and become better acquainted without being as formal as an evening event.
Your CRM should allow you to track which events prospects attend and determine what kinds of engagement opportunities excite them the most. That information can help you ensure that you offer the kinds of engagement activities that will be most effective.

5. Use CRM data to personalize major donation requests.
The official solicitation or "ask" is one of the last steps in the major gifts fundraising process. After you've spent time and energy proving that you understand their motivations, that your organization delivers its mission effectively, and that their contribution will truly make a difference, the time may be right to ask for a donation.
One key to successful solicitation is demonstrating the value of their relationship to your nonprofit.
If everything you've learned about the prospect during the cultivation period has been entered into your CRM, you'll have insight into each prospect's values, passions, life experiences, and other factors that influence how they feel about your cause.
Here are a few strategies to ensure that you are fully prepared for the ask:
Consider what questions the prospect may ask and prepare your answers ahead of time. This ensures that you can provide answers that are both knowledgeable and complete.
Prepare customized marketing materials for your prospect to review. Your major gift officers may choose to create standard templates for the required materials that can be personalized and tailored to each prospect's needs.
While your prospect research should provide a target dollar amount for your ask, it's wise to create a few different options. For example, if they balk at the idea of a single large donation, they may be willing to give that amount over a number of months or years. Or, they may be amenable to making smaller recurring gifts that will add up significantly over time.
Don't forget to emphasize that the relationship with the prospect doesn't end after they've given a major gift. Stewardship on the part of the nonprofit is a key part of a donor relationship.
Your organization should acknowledge, recognize, and thank major donors whenever possible. It's your responsibility to continually demonstrate to major donors that their gifts have made measurable, sustaining impacts on your nonprofit's work.
A powerful major giving CRM is crucial to effective fundraising strategies, but a successful donation request requires more than just data. Whether your ask fails or succeeds depends on how well you create a deep and honest dialogue with the prospect.
---

A personal relationship between the prospect and the organization is ultimately the most important factor in their decision to make a major gift. Your CRM can make it easier to build and strengthen connections by recording and tracking all important information about the prospect.
A strong major gifts fundraising strategy can be a game-changer for your nonprofit. If you're interested in learning more about major gifts, check out these additional resources:
Donor Management Software. Learn the fundamentals of donor databases and find out how to implement one in your nonprofit with ease!
Insider's Guide to Major Gifts. Check out this useful, high-level overview of major gifts and major giving strategies from Double the Donation.
Donor Segmentation. Once you've implemented your donor database, you'll need to improve your communication strategy by effectively grouping donors. Learn how to with this post on our blog.