UPDATED: Instead of Refunds, Offer Electronic Gift Cards
| Written by
Elissa K. Miller
|

Back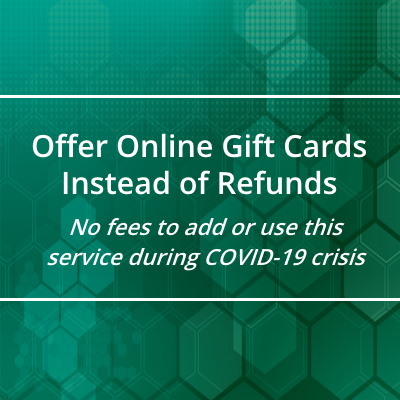 UPDATE: We have released a new feature that allows you to issue a refund directly to a gift card. The registration owner will automatically receive an email that contains information about the gift card. To watch a short video that demonstrates the simplified procedure and download a short user's guide, log on to Doubleknot and click the Training Videos link at the top of any page. The page with the video and documentation is the first item in the list.
--original post--
Instead of immediately issuing refunds for canceled events, consider asking your registrants to convert their payments into donations or into electronic gift cards that can be used for anything sold through Doubleknot.
This enables your supporters to retain the value of their registration payments while supporting your operations during this difficult time.
For the duration of the COVID-19 crisis, there are no additional fees for issuing electronic gift cards:
There are no additional costs for your organization to add the feature.
There are no additional payment processing costs for your organization to convert payments to electronic gift cards.
There are no additional fees when your customers pay for items with the electronic gift cards.
To turn on electronic gift cards for your organization, please call us or send us an email at support@doubleknot.com with the subject "Request to turn on electronic gift card processing." We will enable this feature for you within an hour.
NOTE: If your organization is already using a different gift card processor like Tendercard or Worldpay (formerly Vantiv), the Doubleknot gift card features described on this page are not available.
If you have any questions about converting registration payments to gift cards (or anything else during this challenging time), please call our Support team right away at (408) 971-9120 x2. We are here from 8 AM to 8 PM Eastern time to help your team any way we can.