Best Practice: Automatic Conflict Prevention for Group & Individual Programs
| Written by
Elissa K. Miller
|

Back
Automatic conflict prevention is available during program registration for both individual- and group-signup programs. For individual-signup programs, conflicts are automatically prevented. When a registration owner assigns a participant to a session event, the option to sign up for conflicting events is automatically removed.

Before an activity is selected, all activities in the category are displayed.
After an activity is selected, the Add button is removed from all other activities that conflict with the selected option.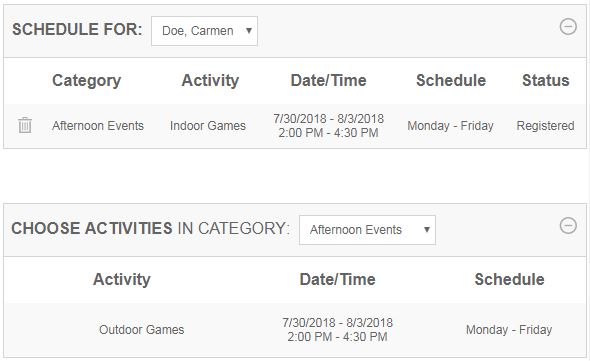 For group-signup programs, you can choose whether to use automatic conflict prevention on the main management page for the program. To enable this feature, follow these steps:
On the main management page for the program, click Edit Program.
In the Check For Scheduling Conflicts section, select Automatically.
Click Save.
If you have any questions about these features, let us know at support@doubleknot.com.