Badge Management Webinar Rescheduled for 3/31/2020
| Written by
Elissa K. Miller
|

Back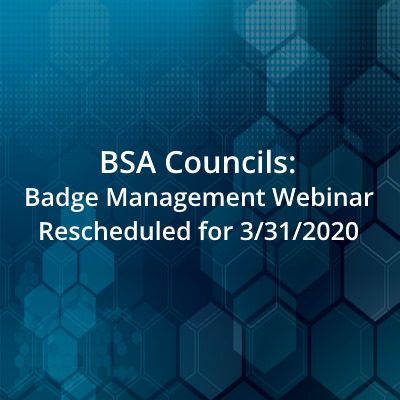 Because this is a challenging week for many councils, we moved the New Badge Management Features webinar to Tuesday, March 31. If you already signed up for the March 17 webinar, your registration has moved to the rescheduled webinar and no additional action is required.
For organizations who want to review the information earlier, we will distribute a video showing how to use the new badge management features later this week. We'll send out an email when the video is released.
Even if you watch the video, we recommend attending the March 31 webinar to participate in the Q&A.
New Badge Management Features (Rescheduled)

Date: Tuesday, March 31, 2020
Time: 2 PM Eastern / 11 AM Pacific

We appreciate your understanding and are committed to doing everything we can to help your council during this challenging time. Please don't hesitate to contact us at (408) 971-9120 x2 or by email at support@doubleknot.com with questions or concerns.