Aquarium Admissions Software: A Comprehensive Guide
| Written by
Elissa K. Miller
|

Back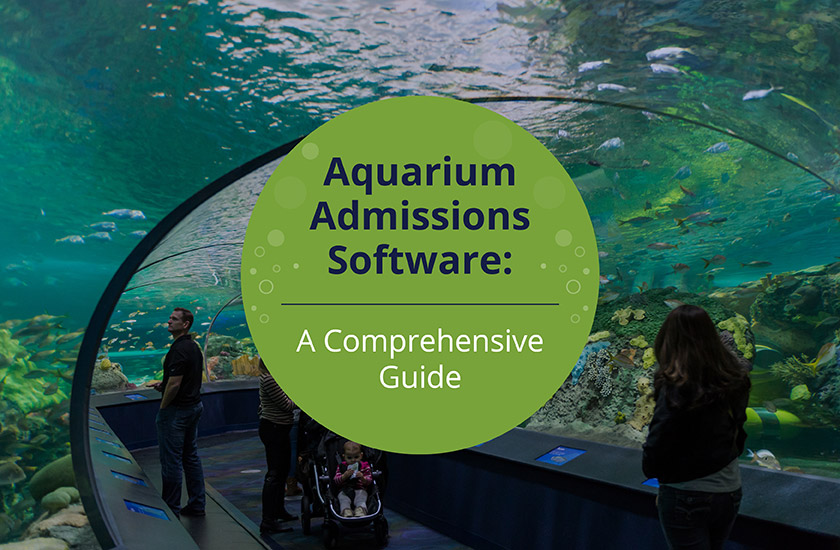 When you think about visitor engagement, it's easy to focus on exhibits, activities, education and fundraising. However, the first interaction that most visitors have with your aquarium is usually through ticket sales. Whether visitors purchase tickets through your website or in a ticketing line, the engagement process almost always begins outside your aquarium walls. To effectively kick off your engagement levels with visitors, you need to be sure to begin relationship with an effective admissions process. This process can be perfected by choosing the best aquarium admissions software for your organization. When you are choosing new aquarium admission software, keep an eye out for the features that enable a positive, seamless customer experience that help make visitors want to return. Features to consider include:
An effective aquarium admissions software will help your organization deliver an excellent visitor experience, build revenue, and serve as a gateway for future interactions. Let's take a closer look at these important features.

Aquarium Admissions Software Feature #1: Online and Onsite Sales
Aquariums that only offer onsite ticketing often struggle with admission bottleneck during busy seasons. As you continue to grow in popularity, you may not be able to meet the rising demand for admissions. However, fewer people waiting for ticket sales leads to faster-moving lines and a better experience for people who do wait in those lines. When you sell tickets both online and onsite, many of your visitors will choose to purchase their tickets ahead of time, resulting in faster entry for visitors.

Look for admissions software solutions that offer varied ticketing options along with ways to manage your ticketing solutions . For example, your software should:
Manage visitor capacity.

Any ticketing software will allow you to set your facility's capacity and automatically alert buyers and staff when tickets are sold out. If you can also display the remaining number of available tickets online, visitors are likely to complete a purchase sooner to ensure that they can visit on the date and time they prefer.

Allow for customization.

It goes without saying that your aquarium should be able to customize your tickets with logos, graphics, instructions, or any other elements you want to include. Customization and messaging should be displayed appropriately for every kind of ticket, whether printed at home, displayed on a smartphone or purchased at the admissions desk onsite.
Make sure it's easy for visitors to find your ticketing options. An effective call-to-action throughout your website should direct people to your ticket sales page. Include an easy-to-spot button on your homepage where interested visitors can click to link directly to your admission ticket sales.
From the purchasing page, visitors should find it quick and easy to fill out the necessary purchasing information and choose their preferred ticketing option (which we'll discuss a bit more about in the next section).

Aquarium Admissions Software Feature #2: Environmentally-Friendly Ticketing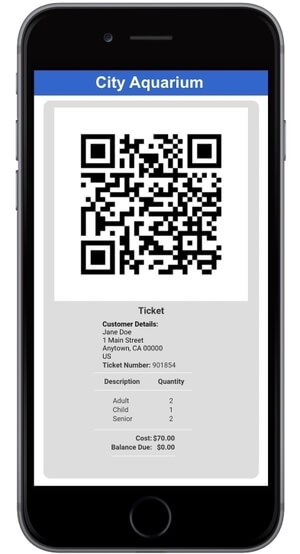 Conservation is a part of every aquarium's mission. In addition to simply teaching conservation strategies to your interested visitors, make sure you're also practicing what you preach with environmentally-friendly ticketing options. Reduce paper waste by issuing electronic tickets that can be bought ahead of time or administered at the ticketing booth. Your aquarium admissions software solution should provide options to issue tickets via:
On-site printing.

Email.

Text message.

At-home printing.

Mobile QR codes.
As admissions staff scan tickets for entry, your software will validate tickets and mark them consumed. In case of an invalid ticket, an ideal solution will, do more than just indicate that the ticket isn't valid
—
it should also tell you why the ticket was refused (for example, if it's already been used, if money is due or if the ticket was presented at an invalid time).
In addition to easing processes for your staff, mobile and electronic ticketing will make it easier for your visitors to find their tickets and to stay organized.
Visitors should also be able to add their ticket to their Apple Wallet and other smartphone apps.
Your aquarium admissions software should keep an accurate record of your visitors' attendance, including date and time the ticket was purchased as well as when it was used. Your software should offer reporting and analytics functions to help you identify and act on visitor trends and opportunities.

Aquarium Admissions Software Feature #3: Scalability
Your aquarium admissions software should meet your needs even on days with the highest amounts of traffic. Be sure to choose aquarium admissions software that's well-equipped to handle the highs and lows of your organization's unique attendance patterns.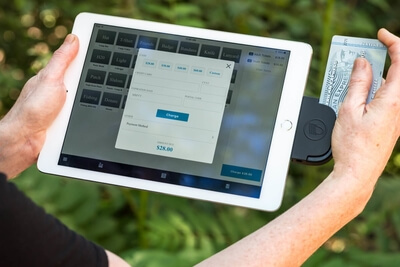 Even the best-planned entrance management strategies can result in bottlenecks on high-traffic days. A ticketing and admissions solution that allows you to quickly deploy mobile sales stations for ticketing and validation empowers your organization to efficiently and cost-effectively scale up when needed to accommodate crowds. The best aquarium admissions software will support multiple kinds of mobile devices including iPhones, iPads, and Android devices with secure credit card readers that can access everything your organization offers, just like a traditional ticketing and admissions POS register. These mobile sales stations should support:
Group and individual ticket sales.

Ticket scanning and validation.

Support for selling packages and add-ons.

Membership sales and lookup.

Collection of payments and donations.
Because these mobile sales devices use the same software and payment processing as the regular ticket stations, all sales, attendance and payment data these line-busting devices collect flows right back into the single unified database to support accurate reporting and analytics across all sales channels.
Aquarium Admissions Software Feature #4: Dynamic Pricing
Most aquariums and similar attractions can predict which days will have the most visitors and which will have the least. One way to level out the traffic so that all visitors have an optimal experience is by using dynamic pricing options to drive more traffic on non-peak days. Dynamic pricing tools can automatically lower ticket costs on historically slower days and raise prices on busy days to reduce overcrowding and create an incentive for cost-conscious visitors to change their plans. Pricing adjustments are typically based on historical data as well as other factors (such as weather patterns, holidays, etc.). Aquariums and similar attractions typically use a forecasting service with proven algorithms for predicting attendance and adjusting prices accordingly. For organizations that aren't ready to commit to a full-scale dynamic pricing model, you can gain some of the same benefits by setting higher ticket prices for weekends and holidays. Offering special packages at a lower price on a less-popular days is another way to shift some visitors to less crowded time slots. Use effective reporting features to understand the trends from the last month or year to determine which days are likely to be the busiest for your aquarium this month. Then, you can adjust ticket sales to best reflect the expected future peak days and times.

Aquarium Admissions Software Feature #5: Support for Upsells and Add-Ons
In an ideal situation, visitors buying aquarium admission tickets include more than just tickets in their final purchase. It should also include theater or show tickets, guided tours, special exhibits, and other activities available at your aquarium. Exciting add-ons and upsells help
reduce shopping cart abandonment
because visitors are getting a good deal on something they really want to see or do!
Aquarium admissions software should allow you to create bundled experiences, or packages, that offer an enticing array of options to your ticket buyers.
Depending on your aquarium, you may choose to offer one or both of these package types:
Fixed packages.

Fixed packages offer a specific number of items. For instance, you could sell a general admission ticket along with a reduced-price admission ticket to a show. Fixed packages make it easy for visitors to take advantage of a good deal with just a single click.
Flexible packages. Flexible packages allow your visitors to pick and choose the exact items that want to create a personalized custom experience. Flexible package options allow visitors to assemble the ideal experience for themselves and their groups.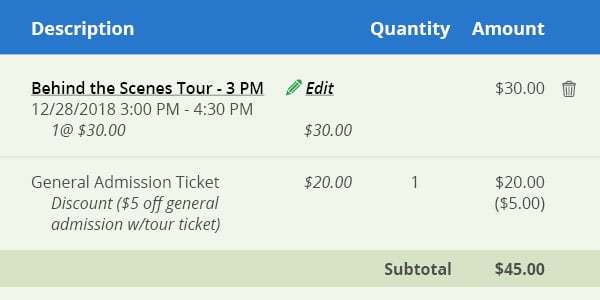 To increase the chance that an online visitor will add impulse items to their purchase, display add-on options throughout the shopping process. The best software solutions allow you to organize your offerings into categories, and display additional possibilities from the same category. For example, when a person buys a ticket to a family-friendly event, the software will promote other options that are likely to appeal to families with children. Ideally, you'll also be able to upsell items onsite at the admissions desk. For example, in the ticket line, staff can explain the benefits and potential savings of buying a membership, and sell the membership on the spot. Another option is setting up a mobile sales station outside special exhibits to sell themed merchandise, buy a membership or make a donation to support the sea life that they just learned about.
---
When you build visitor engagement into your online, on-site and mobile sales process, you create a positive experience that can result in return visits as well as more purchases, memberships and donations. Before investing in aquarium admission software, conduct plenty of research and ensure that the solution is both robust and scalable to support all of the features and options that will delight your visitors and help your organization grow.
For more information about choosing the best software solutions for your cultural or educational attraction, check out these resources: