Planning Safe Programming for Your Community This Summer
| Written by
Elissa K. Miller
|

Back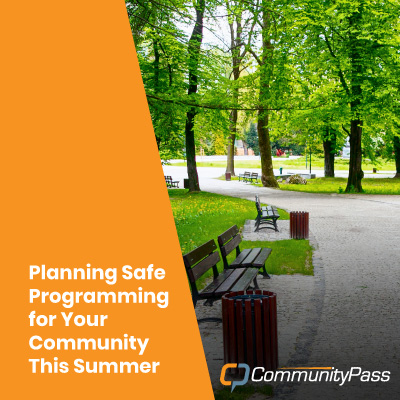 Community programming will look different this summer, but that doesn't mean it shouldn't happen at all.
In fact, as of mid-March, most parks and recreation amenities are now available to the public. According to a survey conducted by the National Recreation and Park Association (NRPA), 98% of trails and 98% of local parks are planning on staying open throughout the year.
If you're gearing up for summer events and exciting community programming, you're likely also juggling how to promote safe programming while still maintaining an engaging and fun experience.
We at CommunityPass are recreation software experts and work closely with community program leaders. We've put together this guide to help you navigate the next couple of months and ensure that your summer programming runs successfully and safely.
First, we'll talk about what the climate looks like for community programs now and then dive into the specific steps you should take. Let's begin.
Current Considerations For Community Program Leaders
As soon as the COVID-19 pandemic became prevalent in 2020, community program leaders across the country had to pause operations as they figured out the best way to respond to new health and safety guidelines.
This proposed a unique challenge for organizations like yours, as most programming is conducted in-person and based on face-to-face engagement. Some centers closed temporarily while others pivoted to offer virtual programming. Because of this, we created a community COVID-19 resource summarizing the best practices for programs like yours.
However, this year is not like the last one. While some concerns are still in play, kids are going back to school, vaccinations are rolling out for the general public, and we now know the best practices to minimize risk. In fact, many community centers are planning on fully opening up this summer.
Here are some key insights from NRPA's March survey that affect how parks and recreation leaders will confront the COVID-19 pandemic this year:
An estimation of 75% of parks and recreation agency staff are eligible for the COVID-19 vaccine as of March 2021. These numbers will rise as more and more states expand eligibility. (source)
A survey reports that 96% of beaches, 94% of outdoor sports leagues, and 90% of outdoor swimming pools will be open for programming this summer. (source)
Four out of five parks and recreation agencies plan to deliver in-person summer camp/childcare programs this year. (source)
Currently, the green light has been given to the majority of community programs across the country, with all of them eager to get back to normal. But before you consider anything else, remember that your organization should prioritize your own local and state federal guidelines when it comes to opening up.
Tips To Promote Safe Programming This Summer
A year into the pandemic and we now know how to quickly respond to sudden changes and the best safety and preventive measures to instill. Your community deserves an unforgettable summer.
To ensure that your programming promotes health and safety while still providing an engaging and fun time, review risk factors and follow these tips:
Consider the risk factors
The Centers for Disease Control and Prevention (CDC) still recommends avoiding large gatherings. However, it is possible to host an in-person event, especially if you instill specific guidelines to prevent the spread of COVID-19. For each programming idea, make sure to consider these risk factors:
The number of COVID-19 cases in the community — If this number is rising, then postponing your community event or pivoting to virtual is a good idea.
The setting of the event — Aim to keep your community events outdoors. This makes it much easier for people to interact while maintaining a safe distance and have access to fresh air.
Length of the event — Shorter events pose fewer risks than longer ones, so focusing on smaller engagements can be helpful.
Attendance limitations — Consider capping your community program to a certain number of people to minimize risk.
For instance, instead of hosting a large-scale indoor soccer program, you can host an outdoor camp with small groups of participants who attend on alternating weeks/days.
Digitize the online registration process
To minimize the risk of transmission, it's recommended to automate and digitize as many of your processes as possible. This is where recreation management software or other registration tools will come in handy.
With this type of platform, you can:
Offer browsable community programming online where members can register
Collect accurate participant information for your management database
Provide digital waivers to familiarize participants with any new processes
Allow members to pay (if needed) for registration with a secure online processor
Taking these engagements online is an easy way to reduce unnecessary face-to-face interactions and provide an added level of convenience for those who don't have the time to go to your actual facilities.
Train your staff members accordingly
Whether these are new hires or staff members who've been with you for years, it's a good idea to require specific training on COVID-19 prevention best practices.
This new training should include:
Ongoing education on your state and local COVID-19 gathering guidelines
All the guidelines regarding COVID-19 safety, like social distancing, masking, and frequent handwashing
How to enforce those guidelines if participants are not adhering to them
Documentation on who has been vaccinated, including your staff and participants (you can ask this during the registration process)
You'll want to make sure that everyone takes the same training. To ensure this for all programming this summer and beyond, maintain documentation within your management. This way, there's a consistent level of knowledge for everyone and they can easily refer to the documents for any questions.
Implement nonpharmaceutical interventions
Taking advice from the World Health Organization (WHO) and the CDC, here are the recommended nonpharmaceutical interventions that can lessen the spread of COVID-19 and keep community members better protected:
Maintain social distancing — Plan activities that allow participants to remain the recommended 6 feet distance from each other.
Take temperatures and health screenings — Use infrared thermometers on all staff and participants as the program starts.
Encourage masking — If close contact can't be avoided, consider using masks to help lessen the spread.
Prioritize handwashing — Use signage to remind people to hand wash whenever is possible. You can also provide hand sanitizer for easy cleaning.
Implement permissive refund policies — If families can't make it to the event because they are sick, encourage them to stay home by ensuring that they can get their money back on programs. Or, another alternative is to offer them credit for another event!
These nonpharmaceutical interventions won't 100% fully protect all participants and staff, but they will ensure you're doing as much as you can to minimize risks and keep everyone safe.
Communicate with families frequently
The last recommendation is to ensure you have a reliable communication system with community members. This way, if new legislation comes up or an event has to be canceled for one reason or another, you can quickly relay this information and ensure that all community members and programming participants are on the same page.
For instance, be sure to:
Post updates within your physical facilities, like on a bulletin board or front door
Use your email tool to send quick messages and text alerts to all relevant community members
Update existing documentation to reflect new guidelines or procedures
Stay up to date with current legislation and other relevant news
Track the success of current program guidelines in case they need to be adjusted
Quick and accurate communication is necessary for your community program's success, even when there isn't a global pandemic going on. Implementing a reliable system now will ensure that all future programming goes smoothly.
Wrapping Up
If your doors were closed last year, then opening up community programming this year may seem daunting. However, by following our tips and educating yourself on current guidelines, you can still have an exciting summer ahead of you. Good luck!