Key Takeaways from AZA Annual Conference
| Written by
Elissa K. Miller
|

Back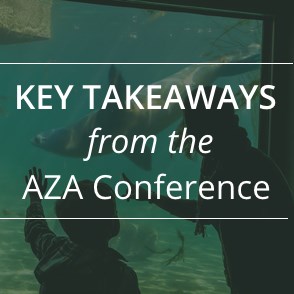 With another AZA conference in the books, this one in the lovely city of Seattle, I've been reflecting on what I learned this time around. In addition to visiting with current and potential Doubleknot customers, I was fortunate to spend a significant amount of time learning more about the challenges that AZA organizations face and the creative strategies they're using to overcome them. I observed a few recurring themes:
Zoos and aquariums increasingly depend on technology to streamline business processes and generate greater revenue, both earned and contributed. Simplifying business processes—including sharing data across the organization—reduces administrative time and provides greater visibility into visitor spending patterns.
The total financial value of a constituent relationship—including both earned and contributed revenue—is increasingly recognized as an important indicator and driver. Organizations that don't charge admission are doing groundbreaking work in this area. Overall, organizations of all kinds are realizing that someone who isn't a donor may still be a valuable constituent who should be nurtured and cultivated. Identifying patron and analyzing purchasing trends requires storing information about every purchase in a single constituent record.
More zoos and aquariums are crafting membership levels and benefits to meet their community's unique needs and interests. Surveys are an important source of data about which benefits members value the most, and what benefits would make nonmembers more likely to convert. But, effective decisions are not based on feedback alone; financial and attendance data from ticketing, events, tours, experiences, camps, classes and rentals are also important factors.

Doubleknot is proud to have sponsored the Educators and Volunteer Management Soiree held at the Seattle Art Museum. Attendees registered for the event using Doubleknot's system, and Joe Garappolo (Doubleknot's cofounder) and I were scanning print-at-home tickets and selling walk-up tickets at the door. We definitely enjoyed spending with some of the 200+ attendees at this sold-out event. Personally helping manage event registration and check-in from start to finish was an eye-opening experience for me. I saw firsthand the benefits of a using a single solution to handle everything from initial event configuration and promoting the event to accepting online registrations and communicating with attendees, all the way to scanning and validating tickets at the door and tracking attendance (and non-attendance) when the event is over. I can attest firsthand that Doubleknot's solutions are efficient and effective. I'm proud that Doubleknot's integrated solutions provide zoos and aquariums with a full suite of tools to maximize admissions, registrations and bookings; collect and analyze visitor data to identify and take advantage of trends; and foster constituent loyalty throughout every interaction. Doubleknot supports ticketing, admissions, registrations, reservations, memberships, donations and sales across every channel at an affordable rate. If you'd like to learn more about Doubleknot's solutions, please visit zoos.doubleknot.com or reach out to me by phone (615-645-4838) or email for an introductory discussion and demo. Thanks again to the Educators and Volunteer Management Soiree attendees, and kudos to the Seattle Aquarium and Woodland Park Zoo for being such great hosts! I look forward to 2019 in New Orleans.