Available Now! Multi-day Events With Different Times on Different Days
| Written by
Elissa K. Miller
|

Back

To accommodate our clients who hold events or programs that take place on multiple days, we're increasing the options available in the Frequency setting. With the new Frequency options, you can set the day and start time for every additional "instance" that's part of the same event. For example, consider an organization that offers a two-part course on bird and wildlife identification. The first part of the course is a lecture that takes place on a weeknight, and the second part is an outdoor daytime nature walk on the weekend. When you create the event, you can schedule the weekend component—the second instance—using new options in the Frequency pop-up menu. Creating an event with a custom Frequency setting. The first part of the event takes place on May 1 at 7 PM, and the second part, or instance, takes place on May 5 at 1 PM.

Every date and time associated with the event will be displayed on the Details page at the beginning of the registration process.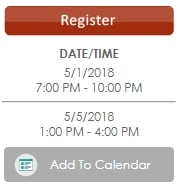 When you create additional instances of an event, all instances will be displayed on the organization calendar. No matter which calendar link a visitor clicks, the correct registration page will be displayed.
The calendar shows all days and times for the event.

If you have any questions about this feature, let us know at support@doubleknot.com.