Tap. Swipe. Done. On-Site Sales and Donations are that Simple.
| Written by
Doubleknot Support
|

Back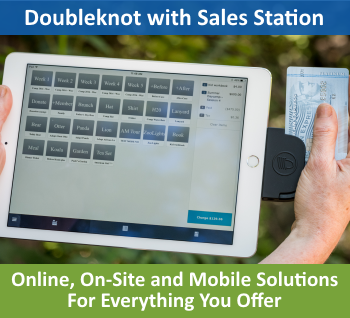 With Doubleknot Sales Station, every sale is this simple:
TAP

Add tickets, memberships and anything else you sell to the purchase. Member benefits can be applied automatically!

SWIPE

Accept all major credit cards.

DONE

Store transaction centrally and send an e-receipt. All online and on-site purchases are stored in the same database for easy reporting and analytics!
Want to learn more? Watch our short video or Call us at (408) 971-9120.
Doubleknot Sales Station is an integrated point-of-sale solution for nonprofits including zoos, aquariums, museums, science centers, nature centers and botanical gardens. We offer a mobile POS to collect payments and donations anywhere on your site (or off your site), and a fully integrated POS cash register solution so you can manage exactly the same tickets, memberships, registrations, donations and merchandise sales through every channel of your organization. Learn more about Doubleknot at www.doubleknot.com!