Sales Station on iPhones Automatically Adapts to Your Usage
| Written by
Doubleknot Support
|

Back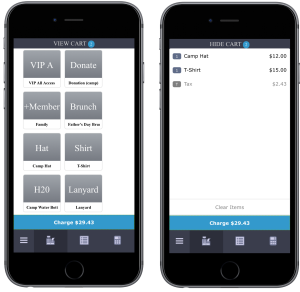 To ensure the best possible experience when you're using the Sales Station mobile POS app on an iPhone, the contents of the screen changes depending on whether the iPhone is in landscape mode or portrait mode. In portrait mode, the items in the purchase aren't displayed on the main register screen, which provides more space for register buttons and easier scrolling. The number at the top of the screen shows the number of items in the purchase. To view the items, tap View Cart. To return to the register buttons, tap Hide Cart. You can swipe a card or tap Charge to begin the payment process on either screen. Left: Sales Station in portrait mode hides the contents of the order to improve visibility and navigation. Right: If you tap View Cart, the items in the order are displayed.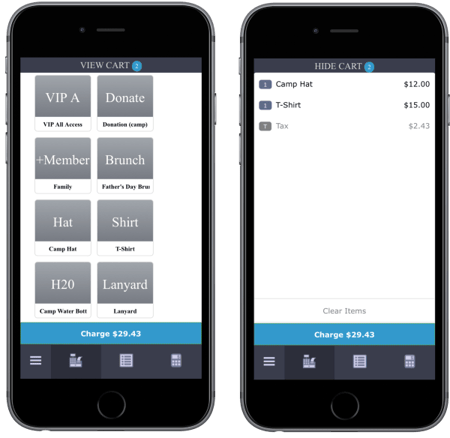 In the iPhone's landscape mode, Sales Station displays both the register buttons and the contents of the order.

Sales Station in iPhone landscape mode.
Use of the Sales Station app for iOS is included with your Doubleknot subscription. For more information, contact us at Doubleknot@doubleknot.com.