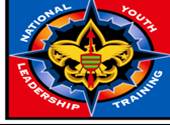 NYLT IS A ONE TIME ONLY SUMMER EVENT.
REGISTRATION MUST BE COMPLETED ON LINE.
PAYMENT MAY BE EITHER ON-LINE OR SENT TO SNJC.
WHEN SOMETHING IS UNDERLINED CLICK THOSE WORDS FOR MORE INFORMATION.
BE PREPARED INCENTIVE-- REGISTER & PAY THE ENTIRE FEE BEFORE JULY 10, 2012 & EARN $25.00 DISCOUNT.
REGISTER EARLY ONLY 36 PARTICIPANTS MAY ATTEND NYLT. REGISTRATION ACCEPTED THROUGH AUGUST 1. 2012. (NO DISCOUNT AFTER JULY 10).
TO REGISTER FOR NYLT READ THE EVENT DESCRIPTION--THEN AT THE BOTTOM OF THE PAGE CLICK REGISTER--BE SURE TO FIRST LOG-IN TO THE SNJC WEBSITE.
TO PAY BY UNIT ACCOUNT CHOOSE PAY BY MAIL AND SEND YOUR REGISTRATION TO SNJC WITH AN AUTHORIZATION LETTER SIGNED BY YOUR COMMITTEE CHAIRPERSON.
SCOUTMASTERS/VENTURE CREW ADVISERS--YOU ARE EXPECTED TO ATTEND THE FRIDAY FEAST PREPARED BY YOUR SCOUTS ON FRIDAY AT 6:00 PM ON FRIDAY. PLEASE PLAN TO ATTEND.
---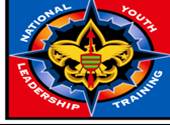 NATIONAL YOUTH LEADERSHIP TRAINING (NYLT) is an intensive week-long youth directed leadership training experience. The training is conducted by highly qualified youth staff under the supervision of adult advisers using the BSA National Youth Leadership Training Course syllabus. The course models a month in the life of a troop (three meetings leading up to a troop camping experience). NYLT uses the patrol method and presents model Patrol Leader Council meetings. NYLT Patrols are challenged to present at the end of the week their "Quest for the Meaning of Leadership." This challenge is designed to have them experience the four stages of team development and will help patrols and participants internalize the leadership skills and concepts being presented. Throughout the course, the staff will be modeling the concepts and skills that are the core content of the course. The focus of each session is not only knowledge but giving the youth a "Toolbox of Skills" that equips them with the how. Click to print a NYLT Brochure or to view an NYLT POWER POINT PRESENTATION.
BSA JOURNEY TO EXCELLENCE--the 2012 BSA Journey to Excellence standards encourage troops to send a Scout for a NYLT Experience. Click to view Troop 2012 Journey to Excellence information.
PRE-REQUISITES TO ATTEND Click To view a NYLT FACT SHEET
Boy Scouts must: have attained the rank of First Class and be 13 years of age by the start of the course (Venturers must be 13 years of age).

Scouts must currently or will soon serve as Senior Patrol Leader, Assistant Senior Patrol Leader, Troop Guide, Instructor or Junior Assistant Scoutmaster.

Course is open to male and female Venture youth leaders.

Participant must be an experienced camper with good camping, hiking and outdoor cooking skills.

Must be familiar with the BSA Patrol Leaders' Handbook prior to arriving at camp.

Must agree to spend the entire scheduled week participating in the National Youth Leadership Training Course.
COURSE DATES NEW ARRIVAL DAY & TIME Saturday August 11, 2012 arrive between 5:30 to 6:00 PM (Course begins promptly at 6:00 PM to Saturday August 18, 2012 (after the 11:00 AM closing ceremony). Participants must be present for every session and attend the closing to complete the course and receive their graduation certificate and course credit..
LOCATION Pine Hill Scout Camp located in Camden County NJ.
APPROVALS Participant must have the approvals of their parent and their Scoutmaster or Crew Adviser to attend the course. You will indicate these when you complete the on-line registration form. Scoutmasters must complete a SCOUTMASTER SKILLS ASSESSMENT for each participant. SEND THE COMPLETED FORM TO JIM ROBERTS
COST $260.00 includes all course supplies and meals for 7 days. ALL FEES MUST BE PAID IN FULL TO ACCEPT REGISTRATION.
PAYMENT--is expected at time of registration. You may pay on-line with your registration using American Express, Discover, MasterCard or Visa, Electronic Fund Transfers are also accepted. There is no convenience fee for on-line payments. If you wish to pay at SNJC (in-person or by postal mail) be sure to print a copy of your registration form to send with your check, Discover, MasterCard or Visa. If paying by unit account include a signed authorization letter from the committee chairperson.
BE PREPARED DISCOUNT When your registration and entire fee is received before July 10, 2012, a $25.00 Be Prepared discount will be applied.
NOTE If your troop or crew sends five or more participants you will need to send an adult leader for the week to assist with staff. This is a great way to improve your leadership skills while helping to further the aims of Scouting. It is also an opportunity to understand the material youth leaders are learning and should be applying in your troop. This understanding will help you to help these Scouts become the best leaders possible.
COURSE LEADERSHIP The youth staff are all graduates of prior NYLT courses and have been approved by the NYLT course advisers; some have attended regional NYLT staff development conferences. The NYLT Course Director is Al Thorpe. The Scoutmaster of the course is Jim Roberts. The quartermaster adviser is George Hoffman.Clcik the underlined words for more information about the youth and adult staff.
BEFORE YOU CLICK REGISTER (WHICH WILL TAKE YOU FROM THIS PAGE) BE SURE TO PRINT THE ADDITIONAL FORMS THAT YOU WILL MUST COMPLETE. These additional forms are part of your registration & must be mailed within ten days of your registration. Mail your completed forms to: NYLT Scoutmaster, Jim Roberts 24 Avella Lane Sicklerville NJ 08081. Please make an additional copies to bring to the first day of NYLT.
BSA MEDICAL FORM- download the BSA medical, which can be partially completed on-line.Once you have entered your information be sure to save the form to your computer with a name of your choosing. Once saved you can print and take to your doctor. If you already have a completed a summer camp medical then make two copies of that medical and mail one to the course Scoutmaster and bring the other on the first day of the course.

PERSONAL RESOURCE QUESTIONNAIRE (PRQ) Print this form, complete it and mail to the course Scoutmaster within 10 days of your registration. Also make a copy and bring on the first day of the course.

SCOUTMASTER SKILLS ASSESSMENT (SSA) Must be completed, signed and returned by your Scoutmaster to the NYLT Scoutmaster within ten days of your registration.

WHAT TO BRING TO NYLT (and what not to bring

FOR MORE INFORMATION CLICK THE UNDERLINED WORDS TO SEND AN EMAIL:
NYLT Course Director Al Thorpe

NYLT Scoutmaster Jim Roberts

SNJC Training Chairman Rob Bardsley

SNJC Training Liaison Bill Wasekanes 856/327-1700 Ext.32

March 15 2012 wjw