Doubleknot Tickets and Membership Cards in Apple Passbook®
Doubleknot is pleased to announce that all tickets and membership cards issued by Doubleknot's online event registration, ticketing, and membership management software are now automatically compatible with Apple Passbook. Used by 20 percent of all iPhone, iPad and iPod owners, Passbook is the fourth most popular mobile commerce app in the United States.
Doubleknot's support for Passbook offers tangible benefits to your customers and your organization. Passbook provides your customers with an elegant, easy-to-use option for storing tickets and membership cards. Tickets in Passbook contain all of the same information as a paper ticket, and any changes to a registration are automatically updated in Passbook. You can customize the design of the Passbook ticket or membership card to align with your branding.
Passbook tickets and membership cards display the same information as the printed versions
Passbook notifications display reminder messages on the customer's lockscreen before the start of an event or when the member is close to your location. You can create an additional branding touchpoint for your organization by including your logo on Passbook's lockscreen messages.
Add your logo to Passbook's lockscreen messages for your event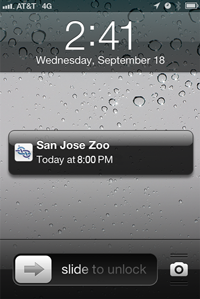 Best of all, it's easy for your customers to add Doubleknot tickets and membership cards to Passbook. When Doubleknot software detects that a customer is using a Passbook-capable device, the Add to Passbook button is automatically displayed on the customer's receipt.
An Add to Passbook button is automatically displayed if the customer is using an Apple device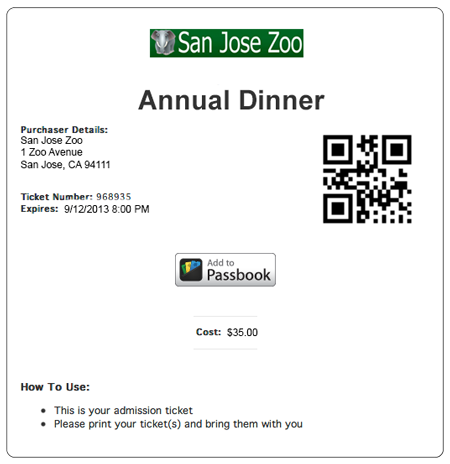 Contact us today to learn how Doubleknot and Passbook can benefit your organization!