What Your Annual Fund Dollars Support
The Philadelphia Zoo is a leader in animal care, exhibition and breeding and participates in conservation programs around the world to safeguard wild animal populations and their habitats. The Zoo is on a mission, and we need your support to continue day-to-day and year-to-year to advance discovery, understanding and stewardship of the natural world.
In addition to feeding 1,300 rare and exotic animals, the Zoo's operating budget supports a dedicated team of keepers, support staff and full-time veterinary care, and pays for exhibit and garden maintenance and much of the Zoo's educational programming.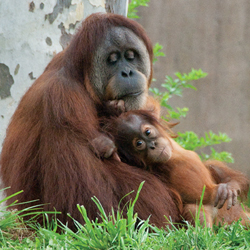 By contributing to our annual fund, you are recognized as an honored supporter of the Zoo. You distinguish yourself as a concerned citizen for the welfare of the natural world, and you ensure that your Zoo will continue to grow and serve our community for the benefit of generations to come.
We truly hope you will consider making a generous contribution to this year's annual fund. By doing so, you touch many lives and take an active role in the Zoo's wildlife conservation efforts today and in the future.