Camp Cards Program
The response has been stellar to the inaugural 2012 Camp Card Initiative. With 50% of the proceeds from each card going to the Scouts, this is an excellent opportunity for Scouts to raise additional money for Summer Camp. The remaining 50% of proceeds will be used to support Bayport Scout Reservation. This is an excellent opportunity to raise money for your local scout, and Bayport Scout Reservation!

National Youth Leadership Training
National Youth Leadership Training is an
exciting, action-packed program designed to
provide youth members with leadership skills
and experience they can use in their units
.
The NYLT course centers around the concepts
of what a leader must BE, what he must KNOW,
and what he must DO. The key elements are
then taught with a clear focus on HOW TO. The
skills come alive during the week as the team
goes on a Quest for the Meaning of Leadership.

NYLT is a six-day course. Content is delivered
in a unit and team outdoor setting with an
emphasis on immediate application of learning
in a fun environment. Interconnecting concepts
and work processes are introduced early, built
upon, and aided by the use of memory aids,
which allows participants to understand and
So, how do I join the fun?
It's easy! Ask your Unit Leader!
Fill out an application and submit to the Council
Service Center.
Participant Requirements
1. Be at least 13 by June 1, 2012.
2. Be at least the rank of First Class Scout or
Ordinary (Sea Scouts), or any Venturer
3. Have at least one long-term (week long)
camping experience.
4. Be or soon to be, a unit Leader.
5. Obtain your Unit Leader's recommendation
and parent's approval on the NYLT Participants
Application Form.
6. Provide a completed copy of the BSA Health
& Medical Record Parts A-D.
7. A $75 Deposit to secure a place.
Cost
The fee is $225 and includes: all materials, tshirt,
food, and program for the week-long
course.
June 17th-22nd 2012
National Youth Leaderership Training Application
Jamboree 2013
Are you and your scouts ready to GO BIG N' GET WILD? Jamboree 2013 is awaiting scouts from the Colonial Virginia Council! 108 scouts along with 12 adult leaders will have the opportunity to experience the inaugural year of The Summit. Bechtel Reserve in Mt. Hope, WV. Please click here for scout registration information and click here for to apply as an adult leader to guide the youth that will represent our council to the Summit.
Wilderness First Aid Courses

The following Wilderness First Aid Courses are planned for March:
March 3 & 4, 2012 at Albright's Scout Reservation 11301 Trents Bridge Rd. Chesterfield County by Lake Chesdin 23838
March 24 & 25, 2012 at the American Red Cross 1317 Jamestown Ste. 105 Williamsburg VA 23185

Wilderness First Aid Course:
Designed for scouts, outdoor enthusiasts and those working in remote environments, this course teaches how to respond to an emergency when help may be delayed. This course is based on the Boy Scouts of American Wilderness First Aid Curriculum and Doctrine Guidelines and meets OSHA's Best Practices for Workplace First Aid Training Programs.

Topics include:
Primary and secondary assessments
Head (brain), neck and spinal injuries
Heat-related emergencies
Hyperthermia
Altitude-related illnesses
Alergies and Anaphylaxis
Burns
Bone and Joint injuries
Wounds and would infection

Pre-requisites: Must be a t least 14 years old and hold a current adult CPR/AED Certification
Course length: 16 hours; 2 year certificate
If the classes don't fill up we will be forced to cancel the class. So call soon.
The cost for the course is $110 per person, it takes 16 hours which we plan to break into two full 8 hour days. A pre-requisite is they must be certified in Adult CPR/AED, which we may be able to schedule for the Friday evening prior to the course if someone needs to complete that component.

If you are interested in Registering for the March 24 and 25 in Williamsburg you should be able to register on line www.redcross.org to take a course. The offering number is 01392551 and you probably need to register at least a couple of weeks prior to the class, we have a maximum class size of 12, so I would not delay.

If you are interested in the March 3 & 4 course please contact: Patricia.kuiken@redcross.org or 540 735 0504

Camp Visitation Team Member Applications
The Southern Region of the BSA is looking for volunteers to serve as Camp Visitation Team members. Each summer Teams visit and appraise resident camps within Area Seven which is comprised of twelve councils located in North Carolina and Virginia. We are looking for Scouters who are interested in becoming a part of this very important task in Scouting. We hope that we can count on you to serve as a camp visitation specialist this year.

Camp visitations are vital to the successful operation and administration of a safe outdoor environment for our youth in the Boy Scouts of America. The purpose of our visits is to help each council insure that their resident camps measure up to a standard of excellence by the use of national camp standards. This will allow councils to offer an excellent program in a safe camp facility, share methods and ideas of resident camping between councils, and the opportunity for councils to preserve their camp property resources.

In order for you to become trained to conduct appraisals of our 2012 resident camps, you must attend one of the following Camp Appraisal Seminars:

1) Saturday, March 17, 2012 at Heart of Virginia Scout Reservation – Cub Adventure Camp, Maidens, VA (Heart of Virginia Council (directions: http://www.hovac.org/)
or
2) Saturday, April 14, 2012 at Old North State Council Service Center, Greensboro, NC.
(directions: http//www.bsaonsc.org/)

We will start at 10AM and adjourn prior to noon.

We also need Visitation Specialists to conduct the COPE/Climbing portions of the visitations. You need not have previous COPE or Climbing training to serve. However, you do need to attend our COPE/Climbing Appraisal Seminar:

1) Saturday, April 14, 2012 at Cherokee Scout Reservation, Yanceyville, NC (Old North State Council)
.
We will start at 10AM and hope to adjourn around 4:00PM. Lunch will be provided for a modest price.

As a camp visitation specialist, you will be asked to appraise one or two resident camps within Area Seven (North Carolina and Virginia). Enclosed is a form on which you can indicate your choices. Please complete and return this form promptly so we can make assignments prior to the March meeting. We hope that our veterans will choose a camp they have not visited before.

This is a selective process, and due to the small number of available positions, not all applicants may be chosen to serve in 2012.

Please complete the enclosed 2012 Camp Visitation Commitment Form and email it to david.chapman@scouting.org or fax it to 757-877-8611 by 2/17/2012.

Walk In The Forest Day
Walk in the Forest Day at New Kent Forestry Center 17 March 2012 will have the opportunity for Boy Scouts to work on requirements for the Forestry and Bird Study Merit Badges. Exhibits and nature hikes will also be available for Cub Scout and Webelos to work on rank advancements and activity badges.
See attached flyer
and Contact Dave Lauthers at
davemmc2000@yahoo.com
or (757)753-8309 for further information or to register for the Forestry/Bird Watching Merit badges or if your Scout plans to attend.
Hunting Skills Workshop
Register online today by clicking here
A Hunting Skills Workshop has been scheduled for September 8, 2012 at Bayport Scout Reservation.

Who: Venturing Members or eligible youth, (must be 13 by September 8th in order to participate in this workshop).

What: This event will begin at 8am and conclude Saturday evening, event registration includes lunch and dinner, shotgun / rifle ammunition and instructional materials.
The event is a joint effort by the Colonial Virginia Council, BSA, the Virginia Hunter Education Association and the Virginia Department of Game and Inland Fisheries (DGIF). Our goal is to promote safety and introduce young people to the sport of hunting. This event promises to be fun and action-packed and will include live fire, safety training, tracking, field dressing game and many other interesting topics.

Class Size is limited to 40 participants.

All young people who are interested in participating in one or more of our youth hunting experiences in the fall should make every effort to attend this course.

Cost: $ 12.00 per participant.

For more information contact:
David Chapman - David.chapman@scouting.org
Denny Newhouse- dnewhouse6@cox.net


The Scout Shop is available to help with your special orders as well as urgent orders. Please use this form so we may better assist with your special orders.
Scout Leaders: Please submit this form as soon as possible to the Scout Shop so that we may better assist your new scouts with the necessary materials
---
---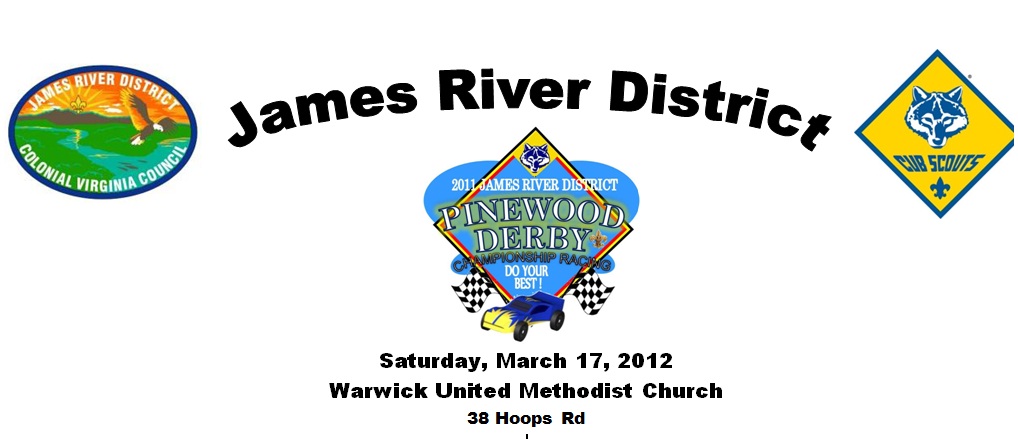 Chesapeake Bay District Freez-O-Ree Leader's Guide
---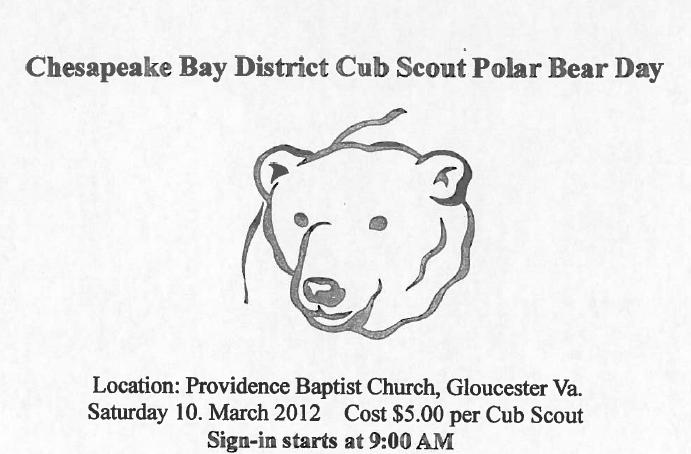 To request the Wahunsenakah dance team please use this form.
Training courses can be provided through the MyScout service and can be found at Scouting.org.
Courses Include:
This is Scouting, All Cub Scout Leader Specific Training, Boy Scout Fast Start, Venturing Fast Start, ScoutParents Unit Coordinator Fast, StartUnit Commissioner Fast Start, Physical Wellness, Safe Swim (2yr), Safety Afloat (2yr), Weather Hazards (2yr), Climb On Safely ,Trek Safely, Troop Committee Challenge, Staffing the District Committee
Youth Protection Training
All volunteers must have training to register and recharter. Training is required every two years. Click on the following links for training opportunity fliers
---
---
The United States Flag Code states: "The flag, when it is in such condition that it is no longer a fitting emblem for display, should be destroyed in a dignified way, preferably by burning. The Colonial Virginia Council has a large number of flags that need to be retired. If your unit would/could run a flag retirement ceremonies and help us to properly retire these flags, please stop by the Council office to pick up some flags. Attached are two different flag retirement ceremonies you can use. Ceremony #1 or Ceremony #2