Welcome from the Chairman
Hello Fellow Eagles,
I want to wish you a Happy Fall from NESA Pittsburgh, your local chapter of the National Eagle Scout Association. I am excited this year because our membership continues to grow, and as we grow the lives of our membership become enriched through our Eagles meeting and working with other Eagles to improve their lives in very meaningful ways. We are Eagles seeking Eagles to help you re-engage with Scouting by becoming a member of NESA Pittsburgh. In doing so you will continue on your journey as an Adult Eagle Scout in the Laurel Highlands Council. Do you want to improve your life? Do you want to be happier knowing that you are fulfilling part of your Eagle Scout Oath?
Eagle Scout Oath:
"I (re)affirm my allegiance to the three promises of the Scout Oath. I thoughtfully recognize and take upon myself the obligations and responsibilities of an Eagle Scout. On my honor, I will do my best to make my training an example and my status and my influence count strongly for better Scouting and for better citizenship in my troop, in my community, and in my contacts with other people. To this I pledge my sacred honor."
NESA Pittsburgh will embrace you as a member and discuss with you opportunities to help fulfill your Eagle Scout Oath.
We seek Eagle career mentors, we seek Eagles to serve our camps, we seek Eagles to serve our 23 local Scout Districts, we seek Eagles to help with high quality Eagle Court of Honors, and we seek Eagles who are interested in networking for business and social interaction.
There is a world of opportunity just waiting for you at NESA Pittsburgh so please join our membership by clicking Become a Member on the left.
Yours in Scouting,
Joe Salvucci
Pittsburgh NESA Chairman
New Member Orientation Briefing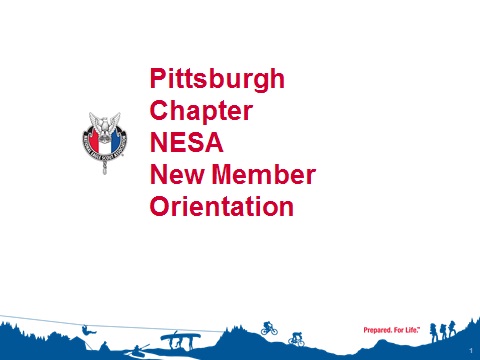 This is a recorded webex which requires the webex recording player to view or administrator rights to install the player
Purpose
To find Eagle Scouts, and apply their skills & experience to the leadership and service needs of NESA and our Laurel Highlands Boy Scout Council.
In doing so, NESA will foster social and career relationships to the benefit of both our Eagles and scouting.