Rancho Alegre is located in wooded oak foothills of the Santa Ynez Mountain Range of the Los Padres National Forest, approximately 20 miles north of Santa Barbara and 15 miles south of Solvang. The camp is at 2,000 feet elevation and covers 225 acres with areas having an inspiring view across the valley and Lake Cachuma.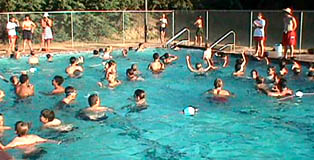 Day temperatures range from 60-95 degrees with cool evenings and crisp nights.
Contact Rancho Alegre for More Information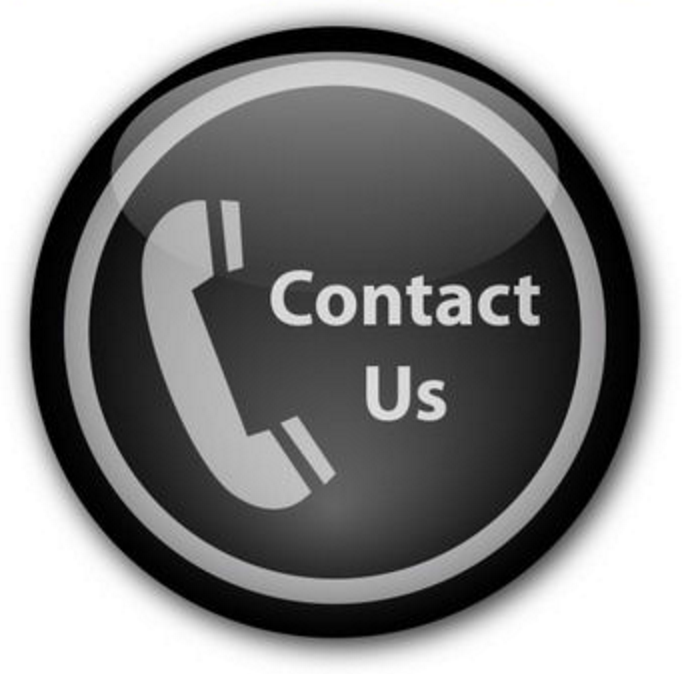 (805) 686.5167
About Our Programs:
Rancho Alegre operates 12 months a year providing programs for Scouting, church and non-profit groups, and area schools. More information about or reservations for any of these programs can be made with the Camp's Administrative Assistant at (805) 686-5167, alegre@hughes.net, or at the respective web link given in the descriptive passages below.
Summer Camping for Boy Scouts is a traditional part of the 48 year history of Rancho Alegre. Beginning in June with a one week Lifeguard Academy that trains Scouts and non-Scouters alike (must be at least 15 years old) for duties in lifesaving at a Scout Camp or a local pool. There are at least two weeks of Boy Scout Summer Advancement Camp in July and at least one four day session for Cub Scouts. For a photo album of Boy Scout Summer Camp, click here.
Los Padres Council units wishing to camp at Rancho Alegre on available weekends should complete the reservation form and submit it to Rancho Alegre Office via FAX at (805) 686-5175 or pdf to www.alegre@;hughes.net. Many Cub Scout units like to camp on weekends in conjunction with Cub Scout Shooting Sports Day in October and February of each year.
Throughout the year on available weekends Rancho Alegre accepts reservations for use of its facilities from church and non-profit groups for camping and retreats. To find out more about this opportunity and available dates, contact the Rancho Alegre Office at (805) 686-5167. The following forms should be completed and submitted to the Rancho Alegre Office within the next seven days along with a non-refundable deposit of $100.
The Outdoor School is a popular environmental school year program which offers three and four day sessions for fifth and sixth graders attending with school teachers and companions. Students stay in cabins and learn about botany, geology, astronomy, animals, and Chumash history. They take hikes and learn about nutritious eating. To request a brochure for your school or to find out more, go to the website - www.TheOutdoorSchool.org.
To Get To Rancho Alegre:
From any direction, take State Highway 154 (San Marcos Pass Road) from US 101.
From the North:
The main entrance is on the right about a mile past the Cachuma Lake entrance and approximately one-half mile beyond the "Rancho Alegre" sign . (DO NOT turn at this sign, unless you are going to Larsen Meadow.) Slow after cresting the hill, because the exit is not visible until you are nearly there AND it is a sharp right turn. Directly opposite the entrance on your left is a roadside emergency telephone at mile marker 16.3.
From the South:
The main entrance is on the left, approximately 4 miles past the Rancho San Marcos Golf Course turnoff. (The entrance is directly opposite the 16.3 mile marker and a roadside telephone.) The exit is marked with two signs, both on the left side of the road: a log embedded in the bank says "Rancho Alegre" and a large white hanging sign is marked "Outdoor School". (For safety reasons - due to the turnoff being at the crest of a hill - we recommend that you pass this location and make a U-Turn (at 3) one-half mile down the road.)
From either direction:
After turning off the highway, follow directional signs. If going to the main building / camp office (The Frank Family Lodge), continue all the way to the end of the paved road (keep going up). This road is narrow, winding, and has one blind curve on a grade - so drive very carefully!!
The Rancho Alegre Story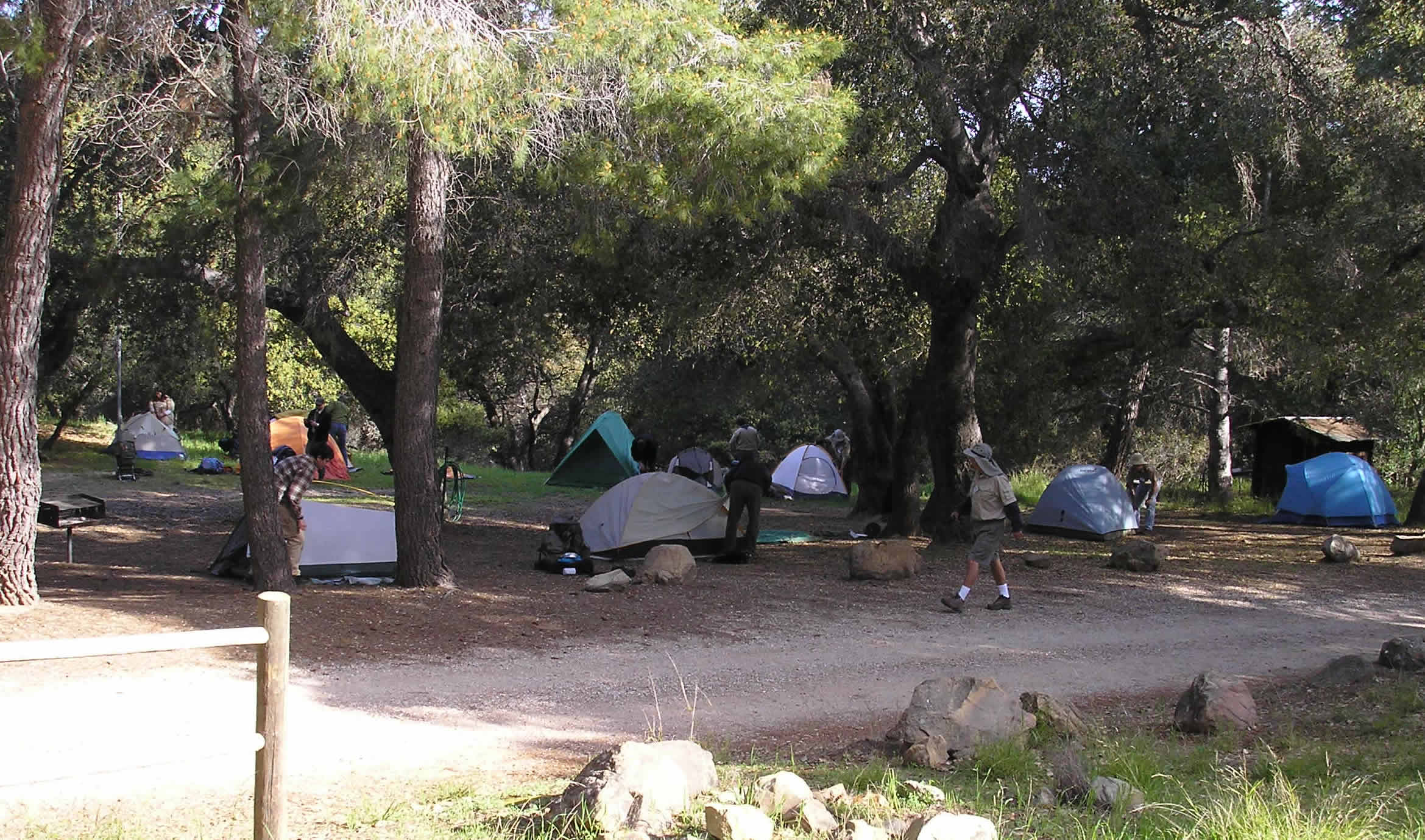 Rancho Alegre, the "Ranch of Pleasure", consists of two parcels of land from two old homesteads. William Step homesteaded the western portion of the Ranch in 1879 and the Illenstein family settled the eastern portion in 1888. Thomas M. Storke then purchased these parcels of land in 1936, sold to Mrs. William A. Clark in 1943, inherited by Huguette M. Clark in 1964 and presented by her to the Mission Council of the Boy Scouts of America as a gift in memory of her mother on October 8, 1964.
Rancho Alegre and Camp Drake are adjoining properties in Tequepis Canyon. This canyon and the surrounding mountain area were populated by many pioneer families who homesteaded the land from the government.
In 1879 a son, Bill Step, homesteaded what is now the western portion of Rancho Alegre and his mother, Grandma Step homesteaded what is now the T.M.S. Ranch. In 1888 the Illenstein family, related to the Step family through marriage settled on the eastern portion of what now is Rancho Alegre known as the "Stone Corral Area". There were eight children in the family; two of them born after the family built their home in this area. Three members of this family provided much of the information of those early days. Fred and Walter Illenstein, who spent their childhood days on the ranch, now reside in Santa Barbara.
It was in the Illenstein home, near the Stone Corral that the first school (1894) was held in this mountain area with an enrollment of 23 children. Mrs. Grace Davidson who now lives in Ballard was the first schoolteacher and tells of her teaching experiences in her book entitled, "Beans for Breakfast". This portion of the ranch has been known as the "Stone Corral Area" because of the many corrals still in evidence, which were used by the Illenstein family for their horses, pigs, and cows. Here they also grew vegetables and strawberries, which together with fresh and smoked pork were hauled by wagon and team to the Arlington Hotel in Santa Barbara. This was a long haul over the San Marcos Pass with steep mountain terrain.
There were other families in this area. The Fillmore family lived above Camp Drake on the place later known as "Harry Noel's Cabin". Harry Noel lived in this cabin until his death, when his sister, Lyman Pope, inherited the property. Mike Tisdale now owns it. Up the canyon from Camp Drake lived the Knight family and we now know this as the "Leadbetter" property. West of Tequepis Canyon and about two miles is "Bee Rock" an old landmark inhabited by the Hilton family. Mrs. Grace Davidson, the first school teacher, lived at Bee Rock and walked from there to the Stone Corrals together with many of her students each day of the school term.
There were other names of families who figured briefly in the history of this colorful area, such as Duval, Whitestone, Shurtliff, Tallant, Cooley. These families owned at one time or another, various parcels of land in the Tequepis area.