Some software vendors want to change the way you run your business to match the way they built their software. Not Doubleknot. We understand the unique needs of nonprofits and mission-based organizations, and we've designed our software to be flexible and adaptable to meet your exact needs. Our professional services team works closely with each new client to ensure that your software works the way you want it to.
As a result, Doubleknot offers a superior experience for your online visitors as well as your staff:
Your customers will appreciate being able to see your calendar, purchase memberships and tickets, register for events, camps and classes, and shop your online store 24/7.
Your staff will appreciate being able to see and share information among departments to ensure optimal outreach and scheduling.
Our integration capabilities protect your investment in existing systems and ensure that all of your valuable data is synchronized seamlessly.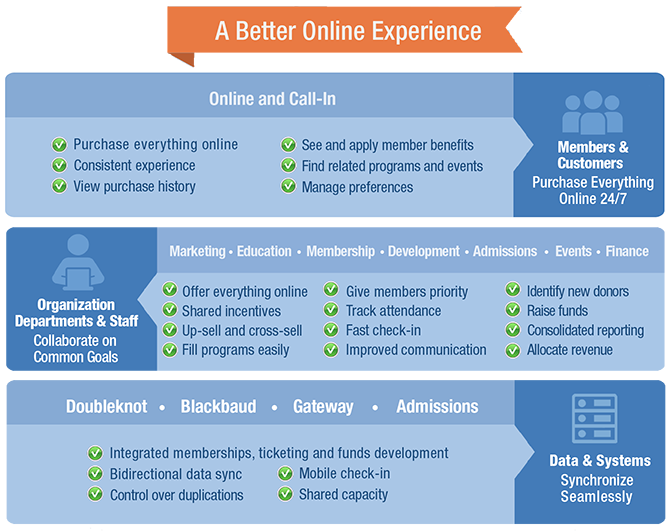 What if We Need to Make Changes?
Some software vendors don't let you manage your own configuration…and they charge you each and every time you want to add a new page; set up event, camp, or class registration; or change your facilities calendar.
Not Doubleknot. Every aspect of your software is under your control. We provide initial setup and training, documentation, and ongoing support to make sure that you always know how to do exactly what you need to do. And if you decide you'd rather not make changes yourself, our professional services team is always available. The choice is always yours.
Learn more about: