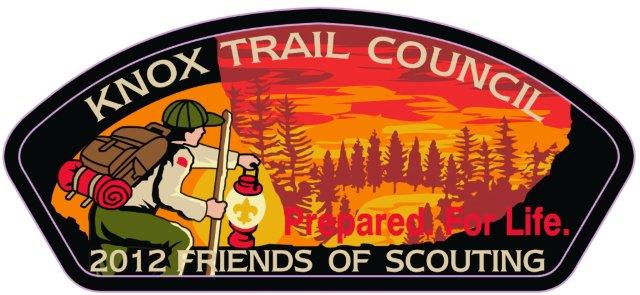 Dear Scouting Family and Friends:
As you already know, the Scouting programs provide an exciting arena for a boy to release his creative energies while advancing in numerous skill areas! This excerpt appears on the National Boy Scouts of America web site on financing Scouting:
SUPPORT SCOUTING
Scouting makes a direct and positive impact on your community by teaching positive values and leadership skills to youth. Join the individuals, corporations, and foundations who support Scouting's mission.
Every year each Unit needs to collect Scout registration fees that go directly to National BSA to maintain standard programs and membership. Units also need their own activities fees to operate their Unit's programs -- so does our Council. Annually the Knox Trail Council embarks on a campaign to raise the funds to keep our council in operation. This campaign to raise operating funds is called FRIENDS OF SCOUTING (FOS).
FOS donations help pay for many worthwhile events and services and we can't afford to cut any of them! The Knox Trail Council invests approximately $255 per Scout each year. This amount reflects our effort to ensure all Scouts have camps to attend and a year-round Scouting program. If each family could give this much, just $255.00 per year, to help pay for one Scout, we could reach our goal! This donation really is only twelve payments of only $21.25 a month, or a mere $4.90 a week! A small price for a great program! However, we do realize that not everyone might be able to give at this level. In that case we ask those families to give what they can afford every amount helps!
Your Scouting dollars yield the greatest of all dividends. The real meaning of your support can be in seen in the faces of the young boys becoming young men. With your gifts, you will be there in the glow of a campfire or perhaps helping with a community service project. Please help us this year and walk beside a boy on his way to Eagle.
You can make your tax-deductible donation online via credit card today or mail your contribution to the Knox Trail Council Service Center at:
Knox Trail Council, BSA
490 Union Avenue
Framingham, MA 01702
Every Knox Trail Council Family that contributes to the 2012 FOS campaign will receive a Knox Trail Council 2012 FOS " Prepared. For Life." Black Border shoulder patch!
Donors who contribute $150 or more will receive both limited edition Knox Trail Council 2012 FOS " Prepared. For Life." Bronze & Black Border shoulder patches!
Contribute $500 and receive Limited Edition Silver Border, Bronze Border, and Black Border patches
Contribute $1,000 receive Limited Edition Gold, Silver, Bronze and Black Border patches!
Thank you for supporting Scouting in all the many ways that you do - it's for our kids!