NOTICE: The Waihe`e Ridge Trail and the Road to Camp Maluhia are closed on Monday, June 1st, for maintenance.
Come to Cub Scout Advneture Camp -June 11-13
Cub Scout Advneture Camp is a Day Camp for boys entering 1st-5th grade in fall 2015. On-time registration is May 8th. Click here to download the form to give to your Den Leader. For boys who want to attend but are not Cub Scouts, please contact Danielle Ing at mauicamping@gmail.com or 808-446-8273.
Cub Scout 2015 Spring Membership Kick-Offs
It's a great time to start a new Tiger Cub Den for graduating Kindergarteners! Contact Danielle to for resources and information. All new Tiger Cubs and Cub Scouts can attend Cub Scout Adventure Camp June 11-13 with pre-registration.
Memorial Day Flags Service Project
Please contact the Scout Office to volunteer your unit to place flags on graves of veterans for Memorial Day. If you are a veteran's grave you would like to put on our list to recieve a flag, please contact the Scout Office, as well. Email mauicamping@gmail.com or call 808-244-3724.
Congratulations to our 2015 Class of Eagle Scouts!
Eleven young men from Maui County Council Boy Scouts of America, attained the rank of Eagle in 2014. They were honored on May 2nd at a dinner in Wailuku. Each Scout was sponsored by a local community member who could serve as a mentor to the young man as he works toward a career.Thank you to all of Sponsors, Kyle Yamashita-Emcee, and event organizers Irene Wilson and Karen Yamashita.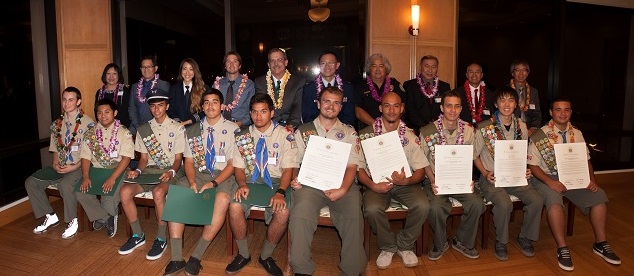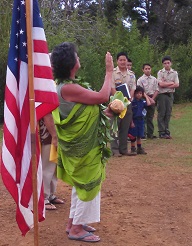 Camp Maluhia and the Scout Service Center have solar power!
Thank you to Hawaii Pacific Solar and investors for the photo voltaic system at Camp Maluhia and the Scout Service Center. We estimate a savings of $425,000 over the next 20 years. Click here for the read the Maui Now news article.