Summer is wrapping up in Los Padres Council. Another camping season has passed as Scouts are coming back from their summer adventure. As we look forward to the fall and winger we have a lot of things to get excited about. Courts of Honor to present the many merit badges that were earned, Cub Scouts are ready to kick off a new adventure with our new Cub Scout program, fall recruitment set to share the adventure with more families, and Popcorn http://lpcbsa.doubleknot.com/finance/popcorn-drive/22116 is geared to have a strong year and help your unit finance another year in Scouting.
Looking at my calendar and planning ahead I realize we all are busy, and parents today are busier than ever — constantly pressured by the challenge to balance work and home. Even as we are working harder, it's important for parents to spend quality time with their children. Studies show that parents report feeling rushed and stressed by juggling work and home — finding it increasingly difficult to balance these responsibilities. Parents place significant emphasis on spending quality time with their kids. They find caring for and engaging in activities with their children make them happy and are far more meaningful than work. Youth today are spending less time outside and more time in front of screens.
The average American boy or girl spends as few as 30 minutes in outdoor play each day.

Youth ages 8-18 devote an average of more than seven hours a day or 53 hours a week to using entertainment media.

Parents are increasingly concerned that screen time is robbing their kids of real-world experiences.
Within this atmosphere of constant time pressure for parents and mounting screen time and decreasing outdoor playtime for kids, Scouting makes the most of the little time parents have to make a positive impact on children. For the rest of the year, let us get re-energized on our mission of serving more youth and getting them into Scouting Outdoor Adventures. We have the best youth program, a great team of Scouters, and such an opportunity to make a difference in the lives of so many kids that need us.
Remember, there IS a need for Scouting's values and positive impact within our community. Kids need Scouting, and we will do our part to help. Take a look at the videos below and share your Scouting story with us.
http://scouting.webdamdb.com/albums.php?albumId=637343
Yours in Scouting,
Carlos Cortez | Scout Executive
---
REMEMBERING OUR VETERANS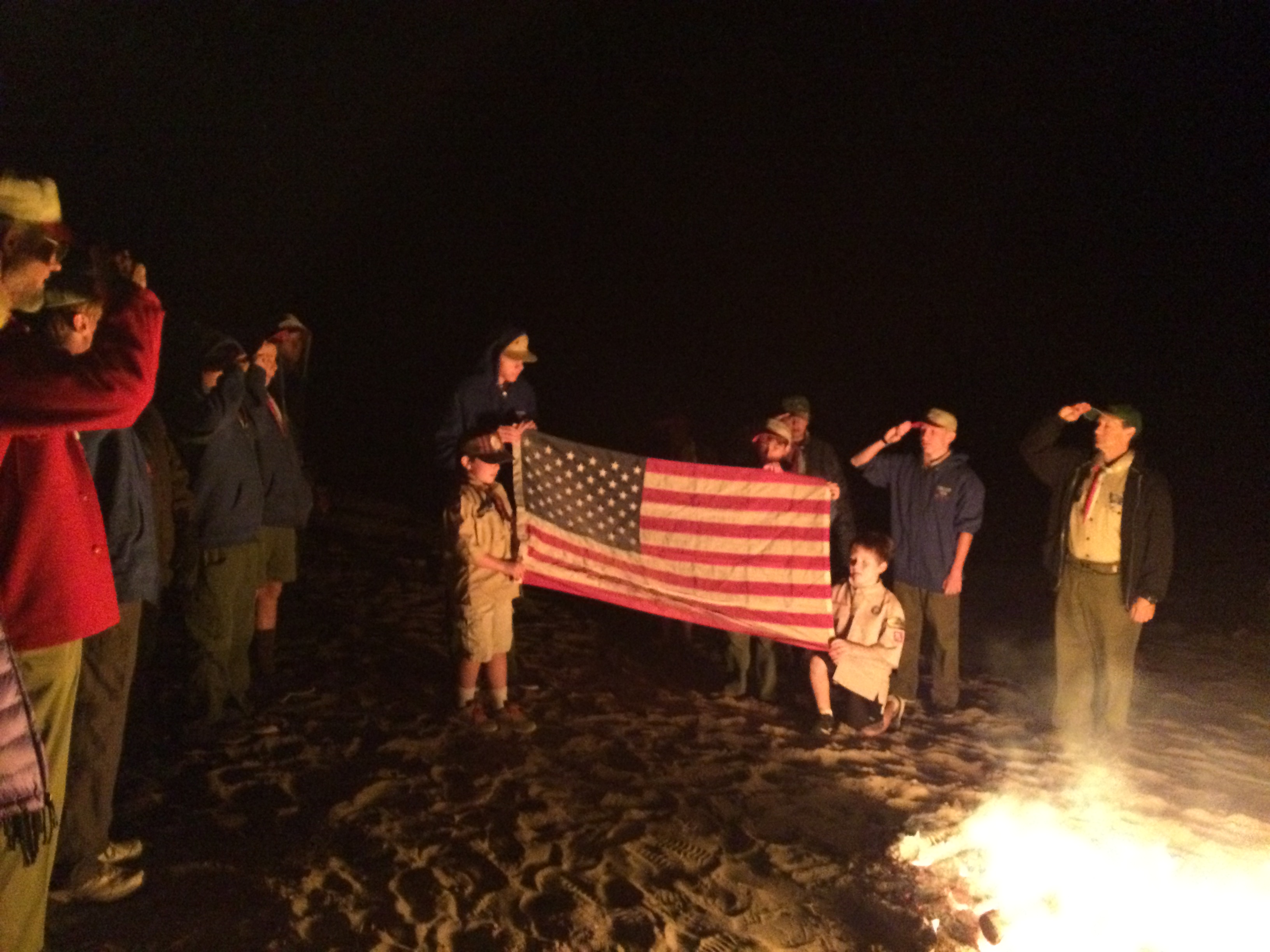 Troop 105 in Goleta along with Cub Scouts from several South Coast Packs assembled on a cold evening, November 11th, at Dos Pueblos Ranch Beach for a Flag Retirement Ceremony. With the waves breaking on shore only several yards away, over 50 flags which had served our community proudly were respectfully retired amid patriotic music, poetry, and history. Webelos Scouts and Parent Leaders were guests of the Troop for this event. During the service tribute was paid to veterans-living and deceased with particular emphasis on family members, friends, and Troop 105 Scout Alumni. This was one of several events featuring Scouts in the Los Padres Council on Veterans' Day.
---
NEW WEBSITE FEATURE: Scout TV Link of the Week
A new feature of the Los Padres Council website is the Scout TV Link of the Week. You will find the near the top of the left-side blue column of Scout Departments. It is our intent to rotate different YouTube Scout related videos at the normal rate of one per week. Currently there are three videos on the web page:

A Cub Scout Mom's Comments on Why Scouting Is Important for Her Webelos Son

The address of Dr. Robert Gates, National President of the BSA, at the Annual Conference last month

A Guide for Parents and Scout on what to pack for Summer Camp

Readers who scout YouTube are encouraged to send suggestions for future video presentation. Send to the webmaster at RanchoAlegre@cox.net.
---
FRIENDS OF SCOUTING - 2015

To download the 2015 Friends of Scouting Brochure,

click here

.
To make an on-line donation to Friends of Scouting,

click here

.
Fearless leaders,
Thank you all for your continued support!
Yours in Scouting,
Carlos Cortez| Scout Executive
Campaign Goals and Results
updated November 23, 2015
2015 Friends of Scouting Campaign

| | | | | | |
| --- | --- | --- | --- | --- | --- |
| District/Unit Campaign | 2015 Goal | 2015 Pledged | % of Goal | Average Donation | No. of Donors |
| Cachuma District | $20,000 | $14,670 | 73.4% | $282.12 | 52 |
| Camino Real District | $40,000 | $20,731 | 51.8% | $191.95 | 108 |
| Del Norte District | $41,000 | $14,929 | 36.4% | $135.72 | 110 |
| Live Oak District | $36,000 | $26,093 | 72.5% | $153.49 | 170 |
| South Coast District | $100,000 | $67,453 | 67.5% | $310.83 | 217 |
| District Sub-Total | $237,000 | $143,874 | 60.7% | $218.99 | 657 |
| Direct Mail Campaign | $20,000 | $3,565 | 17.8% | $60.42 | 59 |
| Board Campaign | $122,500 | $17,500 | 14.3% | $1,750.00 | 11 |
| TOTAL | $379,500 | $164,939 | 43.5% | $226.88 | 722 |
REVISED COUNCIL TRAINING POLICY

ANNUAL YOUTH PROTECTION TRAINING NOW REQUIRED
Check out the revised Training Matrix for trained leaders and the change in Youth Protection Training to an annual requirement on our Council Training Policy web page.
---
To learn more about these opportunities below, click on the graphic
---
---
2016 OA Dues
Still only $15

Online Registration - Offline Registration Form

There is a special rate for those individuals who have not paid
2015 Dues. For $20 you can pay both years.
Deadline: December 1, 2015


Council Annual Adult Recognition Dinner

Save the Date: January 23, 2016


BALOO TRAINING
Saturday, Feb. 27, 2016

St. John's Luthern Church
Arroyo Grande
Scoutmaster Specific Training

Sunday, December 6, 2015 (2-6:30 pm)

Grace Church, SLO

Scout Leader Training Day

Santa Maria LDS Church
March 5, 2016

Wilderness First Aid

Rancho Alegre
April 7-8, 2016
National Jamboree 2017

Click on picture to go to National Jamboree 2017 website for more details
---
---
---

Upcoming Council Scouting Events

Below you will find a list of the next 40 upcoming Council-wide events for Los Padres Council. To register and/or pay for any of these events, click on the line and it will take you directly to the registration page. For events beyond the last date, click on the link to the calendar.

Council News

Check here for news releases and stories about upcoming Scouting events and changes. After each title is given a short synopsis of the article. Click on the title to read the entire article. Additional stories may be accessed by using the bottom link.

Training Information

Every Scout is deserves a trained leader
Check out these courses!

Los Padres Press (Council Newsletter)

For a BSA prepared Powerpoint presentation on bullying -
Scout Version -
Leader Version

For a BSA prepared Powerpoint presentation on bullying - Scout Version - Leader Version Scouting's values make it clear that bullying is not tolerated—both inside and outside of our organization. Our position on bullying—coupled with our commitment to serving America's youth with a quality Scouting experience—provides Scout leaders a unique opportunity to teach respect and acceptance of others. --Wayne Brock, Chief Scout Executive




Youth Protection and Risk Management Information

To report a suspected case of child abuse in Scouting, download this form with instructions.

---

---

Promoting Scouting Events on the Website and in the Newsletter

Los Padres Council will only promote approved Scouting events on its website, in its newsletter, and in social media. If you have any question about approval, contact either Carlos Cortez (Carlos.Cortez@scouting.org) or Scott Oldenburg (Scott.Oldenburg@scouting.org).).

Copy, fliers, forms, and photographs should be sent to volunteer Webmaster (RanchoAlegre@cox.net). Please send this material well in advance of the event.

---

Los Padres Council
Serving Scouting in Santa Barbara and San Luis Obispo Counties

4000 Modoc Road
Santa Barbara, CA 93110

(805) 967-0105; fax: (805) 967-5094

---

Council Service Centers

Santa Barbara Service Center
Main Administrative Office
4000 Modoc Road
Santa Barbara, CA 93110
Office: (805) 967-0105
Fax: (805) 967-5094
Hours: 10:00 am - 5:00 pm
Monday thru Friday

Closed Saturday & Sunday

Santa Maria Service Center
Santa Maria Town Center Mall
229 Town Center Mall (2nd Floor)
Santa Maria, CA 93454
Office: (805) 925-1955
Fax: (805) 925-9206
Hours: 10:00 am - 5:00 pm
Monday, Wednesday, Friday

Hours: 10:00 am - 6:00 pm
Tuesday and Thursday

Hours: 10 am to 1:30 pm;
Saturday

Closed Sunday

Atascadero Service Center
7350 El Camino Real, Suite #201
Atascadero, CA 93422
Office: (805)461-4018
Fax: (805) 461-4021
Hours: 10:00 am - 5:00 pm'
Monday, Tuesday, Wednesday, and Friday

Hours: 10:00 am - 6:00 pm Thursday
Saturday hours are by appointment

Closed Sunday