Nentego Lodge News, Events, and Updates
_______________
NEW!
NENTEGO LODGE…. camping Promotions
2016
Fall Inductions Weekend
at
Akridge Scout Reservation
Come and join the Lodge for a weekend of fellowship, ceremonies and meaningful service projects!
******All attendees should bring 1 non-perishable food item for donation to a Food Pantry that is local to camp as a part of Nentego ****Lodge's effort to support local organizations.****
Donation Suggestions:
Canned goods like spaghetti, tuna, salmon, beef stew, corned beef hash, beans, soups, vegetables and fruit
Boxes of pasta, macaroni and cheese, crackers, cereal, oatmeal, and pancake mix
Jars of peanut butter and jelly
Juice, coffee, tea, hot cocoa mix, instant breakfasts
Shelf-stable milk – either dry or evaporated
Condiments: spreads, ketchup, mustard, relish, barbecue sauce, pickles and syrup
This weekend is open to those newly elected to complete their Ordeal and also to current Ordeal members who wish to seal their membership by taking the Brotherhood. Bring a copy of your medical Health form; If you brought one to the spring or summer weekend it was saved
Letter to parents of Candidates
___________________________________________
Please click the link above to pay your annual Lodge Dues before December 15th to avoid the late fee. Dues for the 2016 year are $15.

All lodge members are encouraged to pay their annual dues. Please continue to support the Order of the Arrow and keep your membership in Nentego Lodge active.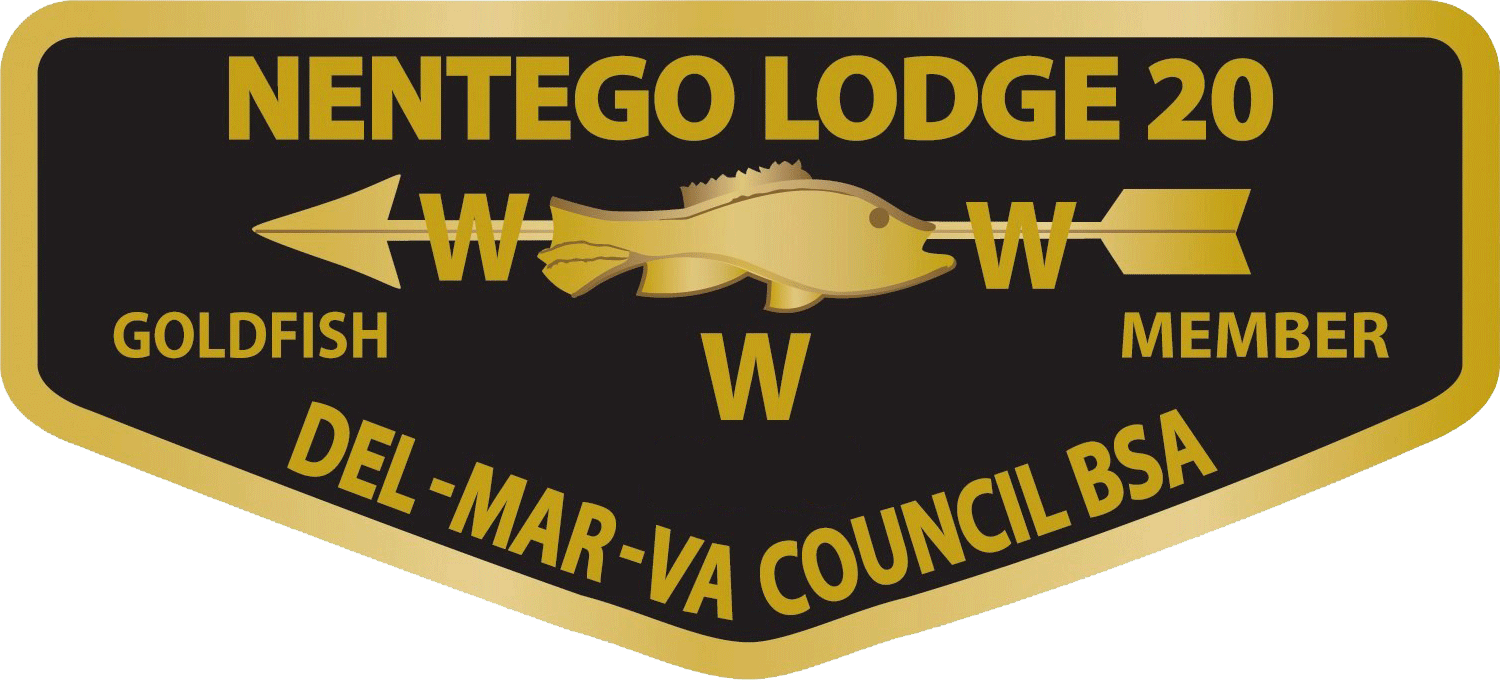 A Gold Fish Cl
ub
membership is also available.
The Gold Fish Club costs $75 per year and includes the regular fee for the following: Dues for 2016, the 2016 Banquet on February 13th, the Spring Weekend on April 22nd-24th at Henson Scout Reservation, the Summer Weekend on June 3rd-5th at Rodney Scout Reservation, and the Fall Weekend on September 23rd-25th at Akridge Scout Reservation. Participation in the Gold Fish Club is a savings of up to $35 for participation in the Lodge's annual events.

As a Gold Fish Club member you will still need to register for the events but the fee will be removed at the time of payment.
If you were formerly a member of Nentego Lodge, you can REINSTATE your membership in the Order of the Arrow by clicking here!
If you are a member of another Lodge, click here to TRANSFER your membership to Del-Mar-Va Council's Nentego Lodge.
---
---
Upcoming Events
Library Documents