The Great Outdoors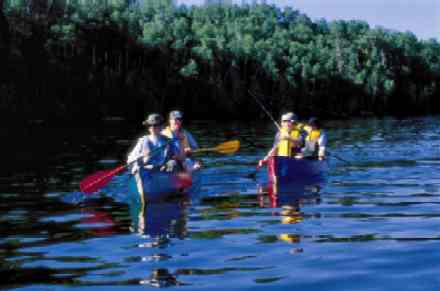 Scouting provides many opportunities for young men and women to help plan and participate in rugged outdoor adventures. From day hikes to camporees and summer camp, the Scout unit plans activities that match the interests and abilities of the Scouts. Older Scouts may participate in high-adventure programs such as rock climbing, rappelling, and whitewater rafting. Younger Scouts may attend summer camp and learn teamwork within their patrol and troop. Summer camp blends fun program with advancement requirements to reinforce skills learned throughout the year. In Scouting, fitness is fun with a purpose.
Boy Scout Camping
Camp Geronimo: Scout Leaders and Parents check this out!
Scouts and Campers check this out!

Camp Raymond: Scout Leaders and Parents check this out!
Scouts and Campers check this out!
Cub Scout Camping
Cub Scouting`s camping and outdoor activities fulfill Tiger Cubs, Cub Scouts, and Webelos Scouts dreams of fun, excitement, and adventure. They provide a natural setting for quality time with family and friends. Modern council camps, with qualified leadership provide an ideal setting for these activities.
As more people use parks and recreation facilities, LEAVE NO TRACE guidelines become even more important for outdoor visitors.
Leave No Trace is a plan that helps people to be more concerned about their environment and to help them protect it for future generations. Leave No Trace applies in a backyard or local park (front country) as much as it does in the wilderness (back country).
Cub Scouting Day Camp - Day camp is an accredited, organized, one- to three-day program for Tiger Cubs, Cub Scouts, and Webelos Scouts under certified leadership at an approved site, and is usually held during daylight or early evening hours, but not overnight. Den members are supervised by den and pack leaders.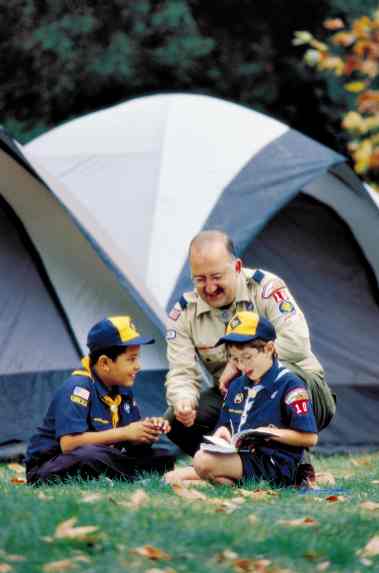 Pack Overnighters - Cub Scout packs are encouraged to provide their youth members with positive outdoor experiences. The format under which an entire pack can camp is a pack-organized camping activity. In most cases, the youth member will be under the supervision of a parent or guardian. Pack-organized family camping must be held in council approved camping facilities that meet certain standards. It is important that early camping experiences be successful ones if we want boys to continue to have a desire to camp as they progress through Scouting. Proper equipment, age-appropriate activities, and careful planning are essential.
Resident Camping - Resident camping is an organized, accredited overnight camping program covering at least two nights and conducted under certified leadership in an established Scout camp operated by the council. Cub Scouts, Webelos Scouts, and parents participate with den and pack leaders in a theme-related outdoor program.
Webelos Den Overnight Camping - Webelos Scout-and-parent overnighters introduce the boy and his parent to the camping program, under the leadership of the Webelos den leader. The Webelos Scout will be under the supervision of his father or mother or a parent-approved adult.
Philmont Scout Ranch
Each year the Grand Canyon Council puts together provisional crews to attend the Philmont Scout Ranch in Cimarron, NM. To register for the 2014 Philmont Contingent Trek, please click here. Please note this is open to individual Boy Scouts, Varisty Scouts, and Venturing Scouts.
PLEASE NOTE: The above descriptions are intended to provide a general overview of BSA camping programs. For specific information about BSA policies regarding adult leadership and supervision requirements, Cub Scout camping, age-appropriate activities and restricted activities please review the BSA?s Guide to Safe Scouting