National Scout Shops & Council Trading Posts
!! COME IN AND CHECK OUT OUR GREAT SPECIALS !!
For your convenience, the Grand Canyon Council is proud to host two Boy Scouts of America National Scout Shops and three Council Trading Posts.
The National Scout Shops provide a full line of:
Scout uniforms & patches

Camping equipment

Advancement & recognition items

Scouting literature

Craft & activity projects

BSA logo clothing items
National Scout Shop Locations and Hours:
RETURNS:
As of 10-19-2015, the Scout Shops will no longer accept returns or exchanges for returns or exchanges of OLD Cub Scout program materials. This includes books, pins, belt loops, and cards.

Check out this great Scout Shop Video!
Phoenix Scout Shop
2969 N Greenfield Rd
Phoenix, AZ 85016
(602) 224-0778
M-F: 9:00 am - 5:30 pm
Sat: 9:00 am - 3:00 pm

Mesa Scout Shop
Mesa Riverview Shopping Center
1061 N Dobson Rd Ste 109
Mesa, AZ 85201
(480) 926-0345
Mon-Sat: 10:00 am - 8:00 pm
Closed Sundays
Council Trading Post Locations & Hours
Council Trading Posts offer for sale a variety of BSA books and literature, advancement and recognition items, as well as a selection of other popular items.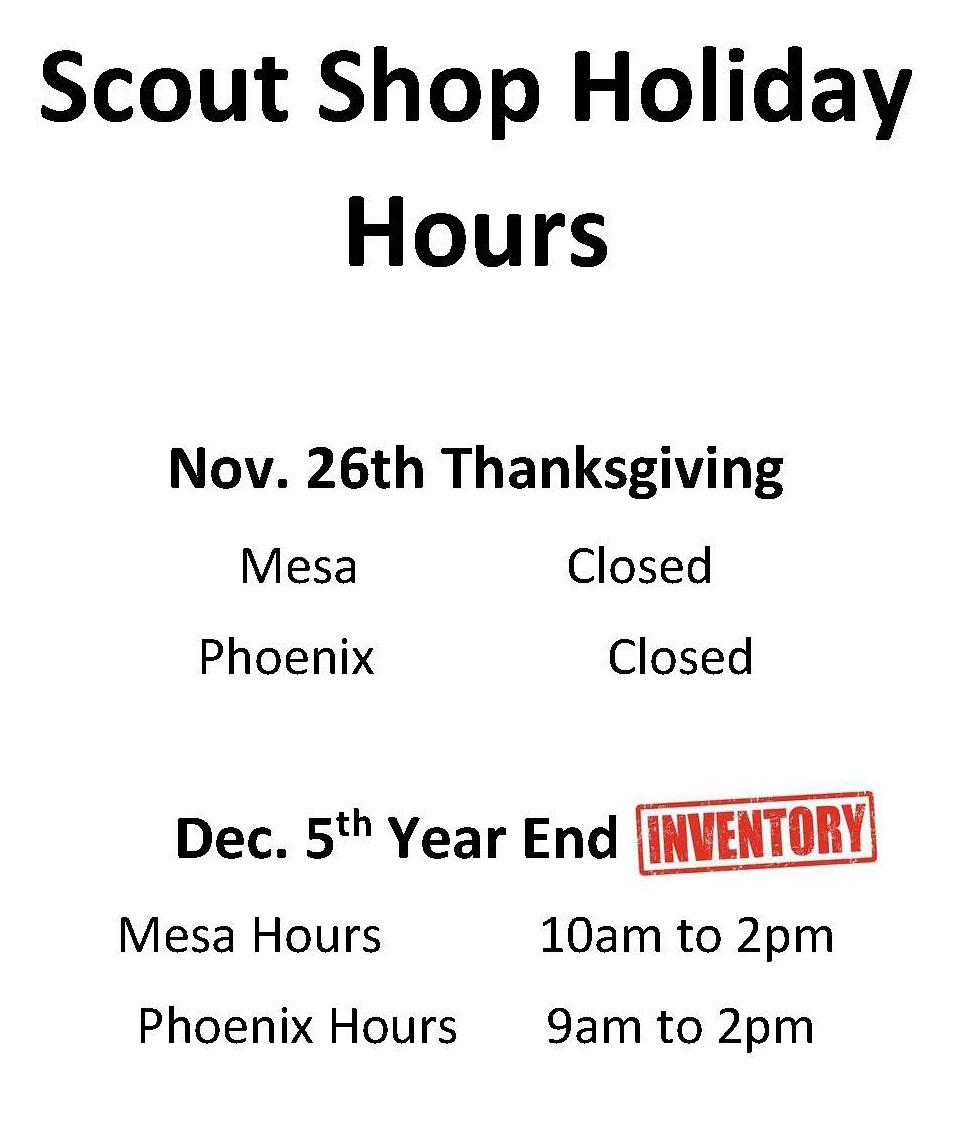 Flagstaff Service Center
2224 E Cedar Ave, Suite #2
Flagstaff, AZ 86004
(928) 774-7335
M-F: 10:00 am - 6:00 pm
Saturday: By appointment - Please call Lori at 928-600-3903

Safford Trading Post
Bank of America Building
301-A W Main St
Safford, AZ 85546
(928) 428-1976
Thursday: 9:00 am - 6:00 pm

Yuma Trading Post
1950 W 3rd St
Yuma, AZ 85364
(928) 782-1896
Monday - Wednesday 3:00pm - 7:00 pm
Saturday 9:00am - 12:00pm

June & July by appointment only
Please call Danny Farar (928) 343-1197
or McKay Allen (801) 425-9193